Third-year Kansas City Chiefs quarterback Patrick Mahomes is a walking record book: more touchdown throws than any QB in NFL history in their first ten games, the first quarterback in Chiefs' history to throw for 300+ yards in eight consecutive games, the franchise leader in career post-season passing touchdowns—the list goes on.
The Kansas City metro area has its own share of accolades: tapped as a 2019 must-see destination by National Geographic Traveler, one of Condé Nast Traveler's 16 cities to visit before your friends catch on and one of Thrillist's 25 best U.S. cities to spend a weekend, to start.
What do they have in common (the obvious football connection aside?) Both the person and the city know what it means to be underestimated.
"Calling Mahomes a project is a major understatement," wrote USA Today's Steven Ruiz. "He's nowhere near ready to play in the NFL. And, honestly, he may never be."
"There's a chance that you're not entirely sure where Kansas City is," wrote Marley Marius in a story for Vogue magazine. "There's also the fact that you might not really know where, exactly, Missouri is. Unless you grew up there…its spot on a map is hardly obvious."
Until now.
From Doubt To Victory

When the Kansas City Chiefs drafted Texas Tech alum Patrick Mahomes in 2017, industry analysts questioned the team's logic.
"Mahomes has a high ceiling, but he's going to have to learn how NFL offenses are run, and the Chiefs are going to have to rebuild his mechanics from the ground up," wrote Mel Kiper of ESPN.
Even the NFL's draft report didn't mince words about Mahomes' perceived weaknesses.
"Can be inconsistent in his approach. Needs to play inside the offense and show more discipline. Too eager to go big game hunting. Ravenous appetite for the explosive play can also bring unwanted trouble."
Then that smiling face topped with a mop of curly hair arrived in Kansas City. He made his NFL debut in the Chiefs' final game of the regular season against longtime rival the Denver Broncos. In that game, he completed 284 passing yards, the second-most by a rookie passer in a single game in franchise history, according to the Chiefs. And he's continued to add to the record books ever since.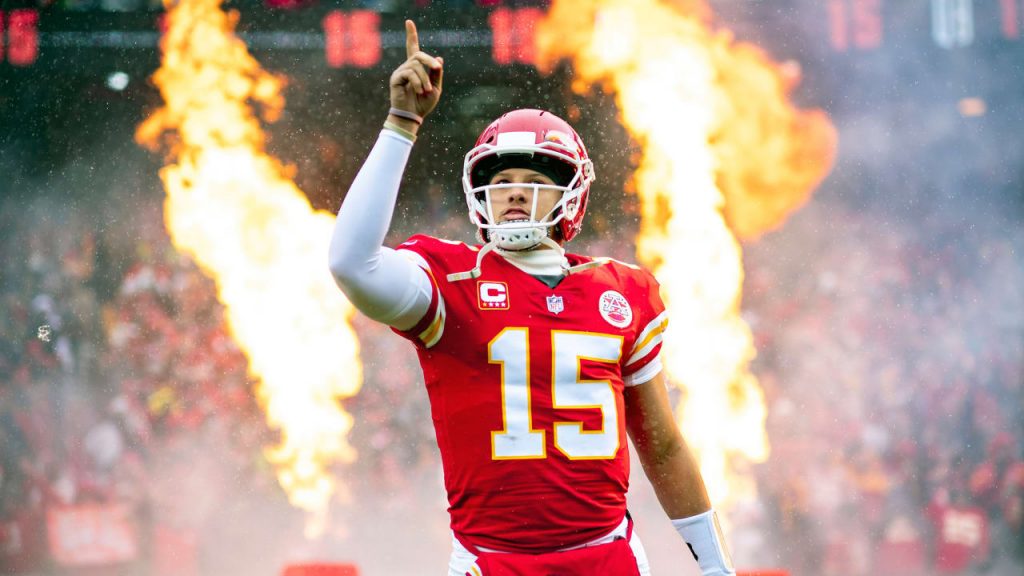 Now, just three seasons later, Mahomes and the Chiefs are headed to Super Bowl LIV in Miami Gardens, Fla. Reaching the pinnacle of professional football in just three seasons might make you think that Mahomes is making the most of a charmed life, especially given the knee injury he suffered midway through this season. Yet underneath the smile, that powerful throwing arm (rightfully dubbed "the cannon") and seemingly unflappable command of the field is a true recipe for success: grit, talent, discipline, and humility.
"Everything that critics want to knock me on, I know I can fix with hard work," Mahomes wrote in his NFL draft cover letter. "I am not a project quarterback. People who say that aren't really watching my tape. I know that I can make any throw, especially when my team needs a big play."
A City Reborn

Decades before the world would know the name Patrick Mahomes, Kansas City was crumbling.
Explosive growth in the suburbs, fueled by a white flight seen in many sizable metro areas in the 1950s and 60s, left the once-vibrant city center—and its remaining residents—seemingly forgotten.
"I just remember it as being the run-down place that nobody really goes,'" said Dan Fowler, brother of NPR reporter Sarah McCammon, in a conversation with McCammon published by NPR.
With Union Station filled with crowds clamoring to get photos next to illuminated Chiefs-themed displays, it's hard to remember that, in the 1980s, the iconic building teetered on the brink of disaster. In 1986, only Amtrak's inflatable bubble and the Lobster Pot restaurant were open inside the otherwise shuttered building.

After voters approved a first-of-its-kind bi-state sales tax in 1996, that revenue—combined with private donations and federal funds—restored Union Station to its original glory. A downtown revitalization continued with the creation of the Sprint Center, the Power & Light District, Kauffman Center for the Performing Arts and the Kansas City streetcar, among other economic development milestones.
Downtown streets that were once empty after 5 p.m. on weekdays are now teeming with people, residents and visitors alike. And who can forget the aerial photos showing blue-clad throngs gathering throughout downtown Kansas City to celebrate the World Series Champions, the Kansas City Royals?
The Big Game may be taking place thousands of miles away, but the spotlight is shining just as brightly on Kansas City. And it's been a long time coming.
Let's Unlock Our Potential—Together

As Kansas City continues to celebrate an athletic achievement 50 years in the making, this comeback story is about so much more than sports.
Instead, it's about perseverance and potential. The Chiefs' front office ignored the naysayers and bet big on Mahomes. Kansas City metro residents have done the same time and again, bringing transformative projects like Union Station's restoration and the streetcar to fruition.
Together, we've dismissed the doubters. We've reached down deep inside ourselves to come together as sports fans, as Kansas Citians, as people, to share in what we love and unleash the potential that's coiled inside each of us.
Like Patrick Mahomes and the city itself, we each have the potential to write our own success stories. The Chiefs and Kansas City are palpable proof that greatness comes from within. Now, on the biggest stage in sports, that greatness is on full display. And it's only the beginning of a legacy that shows no signs of concluding.
"I won't try to predict the future, but I guarantee you that if there's one thing I do know, it's how to get better," Mahomes wrote.
So do we, Kansas City. We've come a long way, haven't we? Let's bask in this moment. Together.