On a stretch of road in Midtown Kansas City, a Spanish terra cotta-style building has sat unused since 1999, when its last tenants vacated the space. The building, at 3216 Gilliam Road, was designed by architect Nelle Peters in the late 1920s when Peters was one of the few female architects in Kansas City, let alone the U.S. Although many of her buildings have been demolished since her heyday—one of the most recent casualties being the storybook-like Green Gables apartments west of Country Club Plaza—several of her buildings remain throughout the city, structural reminders of a woman who paved her way through a male-dominated industry. 3216 Gillham Road is one of the survivors, and soon it will get a second life as The Nelle, a modern-day haven for professional women, slated to open in late 2018 or early 2019.
The Nelle co-founders, Sierra Miramontez and Lauren Saks, didn't set out to open their vision in a Nelle Peters-designed building, it just happened to happen, although it is hard to see it as anything other than a bit of cross-generational female-empowerment style kismet. "Nelle Peters was doing something that not a lot of women in her industry did. We feel like that really embodies what we're trying to do as well," says Saks. The Nelle is a part social, part professional, lifestyle club that will both celebrate women and give them a platform and a community to foster their ideas. In a way, it only makes sense that The Nelle will be the building's newest iteration. The Nelle will put Kansas City on par with some of the biggest cities in the world like New York, Chicago, and London, which are home to members-only social and professional clubs, some of which are geared toward women. Although The Nelle will be in a league of its own.
"Nelle Peters was doing something that not a lot of women in her industry did. We feel like that really embodies what we're trying to do as well."
In perhaps another bit of kismet, Miramontez and Saks both independently thought of similar ideas for such a club, without ever having met. Miramontez is a graduate of The University of Kansas and has worked in corporate accounting ever since. Inspired by the women's professional networking clubs she was part of, as well as her involvement in non-profits centered around women and children, she was throwing around ideas for a congregation area for women and how to help their specific needs and careers. Saks, who has lived in major cities and founded a music company at a young age, also envisioned a similar space. They had separately vocalized their ideas to their mutual friend and fellow female entrepreneur Robin Krause of Unbakery and Juicery. Krause introduced the two to each other, knowing their overlap in their visions. The rest, is essentially history. Miramontez and Saks met and hit it off immediately. Deciding to become partners, they forged forward together on what is now so neatly defined as The Nelle.
Think of The Nelle as a more professionally focused Soho House. It will be both a platform for and to women, a literal powerhouse to connect like-minded individuals, as well as a place to unplug. While The Nelle will offer co-working spaces and conference rooms in some areas of its 15,000 square-foot space, it is in no way a traditional office space. The first floor acts as a lounge, where members can host a breakfast meeting, grab a morning coffee, host a catered lunch or gather with their girlfriends. Visit the bar for a pre- or post-dinner drink or close a deal over happy hour. Members can break up their day with a workout in the on-site gym, complete with gender-neutral bathrooms and locker rooms. Or get a treatment or two in the in-house salon and spa. Housing opportunities for both business and pleasure in one space, whether for meetings, networking or social events, is what is so essential to The Nelle. Designed in partnership with Helix Architecture + Design, The Nelle's variety of spaces are adaptable to any situation, whether it is a seminar, one-on-one meeting, or midday workout session.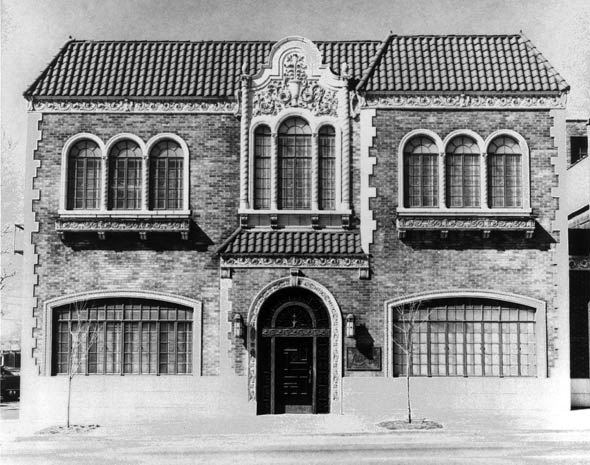 Although the amenities are certainly a selling point, at the core of The Nelle is creating a community for its members to network with each other, to inspire one another, and to build a support system. For the founders, there are no limits to what The Nelle can be, both to itself and to its members. "The space could lend itself to single women working for themselves on their own companies; it could lend itself to large lectures. It is really mixed-use in terms of how we're presenting the space and it being very flexible. At the end of the day, the product is essentially a building where women can do their activities and come use the space however they see fit," says Miramontez.
While the space itself is versatile, it is also important to the co-founders to keep it accessible as well. Whether women are single, married, or have families of their own, the founders are taking steps to create flexibility for its members by thinking ahead of some of the prominent societal issues that affect women. "Take childcare for example, I ultimately feel like childcare is a fallback issue on women," says Saks. "There are so many little holes in our current society that don't necessarily foster community or family. We hope that The Nelle does what it can to fill in some of those holes. It's about providing a certain amount of hospitality for the community." The Nelle will offer short-term childcare to its members in a space on the south side of the building, an important but oft-forgotten feature in business.
Miramontez and Saks also have ideas to push The Nelle community beyond its four walls and Kansas City's geographic borders. The founders hope to bring in local, regional, and national speakers to connect with their community and also plan to host events. Miramontez and Saks admit that development of The Nelle has been a learning process for them as well.
"The space could lend itself to single women working for themselves on their own companies; it could lend itself to large lectures. It is really mixed-use in terms of how we're presenting the space and it being very flexible."
"Our concept is always evolving based on the feedback or the reaction of the community, which very much speaks to the spirit of The Nelle. It is women we're funding, we're being funded by women, we're creating a space solely for women, although it lends itself to families and companies in all kinds of ways." says Saks. It is that same kind of learning curve, The Nelle hopes its members can be to one another. "At the end of the day, I think The Nelle is a place women would seek out if they need a place for a business or they need that amazing support network of movers and shakers in the community, that's where they go," says Miramontez.
Memberships to The Nelle are currently open. To apply, visit The Nelle's website at thenelle.com. Once memberships are full for the first year they will close until the following year. Flexible options are available, including monthly, under-28, corporate, social, and non-profit memberships. Diversity is important to The Nelle, and that includes in ages, as well as social and professional backgrounds. Kansas City is already home to world-class entrepreneurs, thinkers, dreamers, doers, movers and shakers—The Nelle is simply putting everyone under one roof. Whether you're a seasoned professional, expert networker, a business owner, or a new graduate, The Nelle—both literally and figuratively—has a space for you.