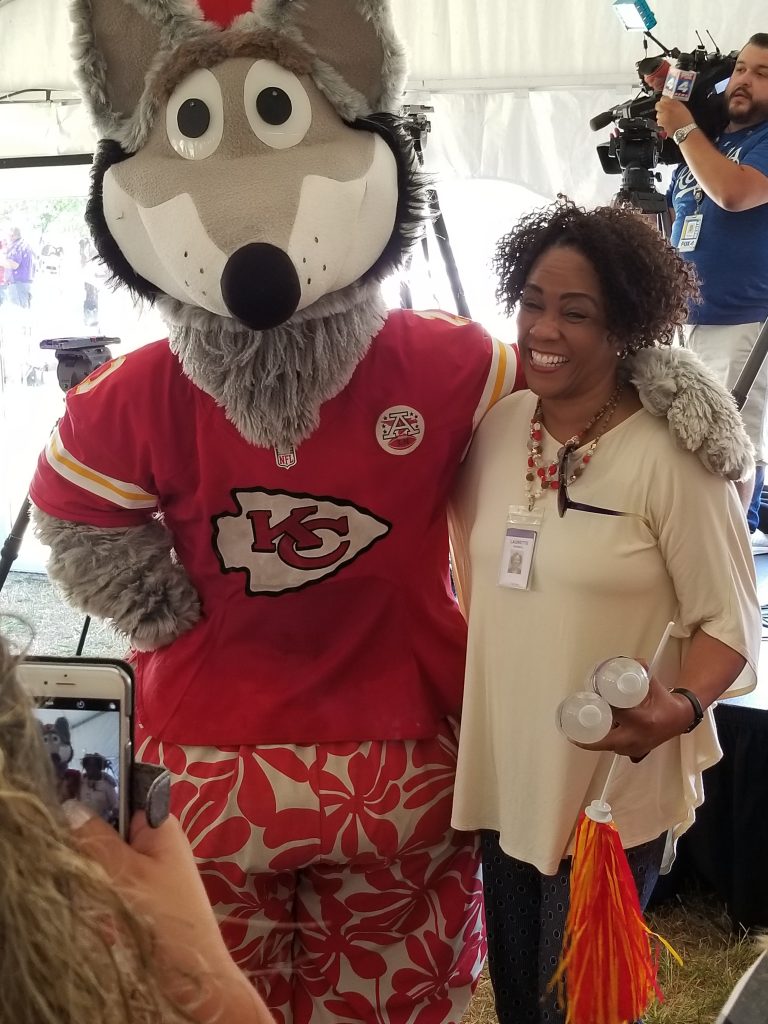 A shocking amount of pomp and circumstance (Marching bands! Cheerleaders! People dressed in suits in 150-degree heat!) greeted Chiefs' dynamo Patrick Mahomes today in Lee's Summit.
Mahomes will be the official spokes-athlete for GEHA, the Government Employees Health Association, the company announced today. The Kansas City Chiefs will also serve as the new GEHA official brand partner for a multi-year partnership.
It's quite a get for the organization—one they celebrated quite loudly during a press conference today. GEHA CEO and president Darren Taylor seemed a tiny bit caught off guard from the whistles, cheers and bravado going on when he made the announcement. "I'm really not used to all this fanfare," he said with a laugh. "This the beginning of an exciting journey and we couldn't be more excited about our partnership."
If you're not familiar with GEHA, this "hidden gem" (as Chiefs president Mark Donovan called the company) is a nationwide not-for-profit provider of medical and dental plans for nearly two million active and retired federal employees, retired military and their dependents. Now the two local powerhouses are combining forces for "education and inspirational" wellness programs and a military appreciation initiative among other things. "We're proud to play an essential role in the healthcare community," Taylor said. "We want to let people know who we are and the great programs we have to offer."
For the popular Mahomes, that means even more facetime for the omnipresent quarterback. Expect to see him appearing in TV, digital, and print advertising launching this fall.
The joint effort appears to be a win-win for both organizations—and one that certainly elevates GEHA's profile. The Chiefs seem to be just as tickled at the partnership as well. "We're honored they selected us," Donovan said. Now that the T's are crossed and I's are dotted, anticipate a mix of both traditional and modern sponsorship elements including several yet-to-be-named joint community programs.
Of course, the big draw is Mahomes who managed to get a standing ovation after commenting about the local tie-in between GEHA and the Chiefs kingdom. GEHA, meanwhile, can rest easy knowing they've joined forces with Kansas City's hyper-beloved football team. "We've seen steady growth, but in a very quiet manner," Taylor said. "Now we're a little bolder."