… March 15th, hennys! This is not a drill!
According to a recent announcement by Netflix, that's the date Queer Eye will start airing its third season. Both seasons three and four of the Fab 5's well-received reality reboot were shot in/around/near the metro. The show's theme this season? "Love Yourself." We'd like to think of the announcement as the perfect Valentine's Day gift from the boys to everyone in Kansas City.
The Fab Five—Bobby Berk (interior design), Karamo Brown (culture), Tan France (fashion), Antoni Porowski (food) and Jonathan Van Ness (grooming)—arrived in Kansas City last July and spent over five months shooting segments alongside their crew. The premise of the show—in case you've been living under a non-moisturized rock? The Fab Five are introduced to someone who can benefit from a lifestyle makeover—everything from interior design to styling to personal care and appearance.
Always the tease, the boys released a smattering of photographs highlighting some of their adventures—which includes a ride on the famed KC Streetcar and a shot from the top of City Hall.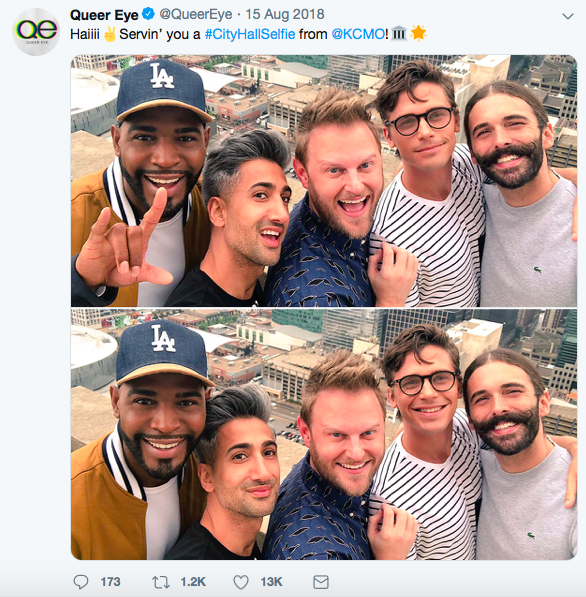 Last November at a sold-out event at Central Library, we quizzed the boys if they ate their way through the city. They answered with an unequivocal yes. When we politely asked, "Which one of your skinny butts gained the most weight while you were here?", the boys burst out laughing. Seems style maestro France was the winner in that category. "I have had so many Messenger cookies and pies and everything they have. Oh, and that place called Brioche, Brioche pastries," says France. "I've put on about ten, well, nine pounds. You guys have some really good Indian food."
If anyone's throwing a good watch party on March 15th, let us know. We'll bring the Indian food—you know, in honor of Tan France.