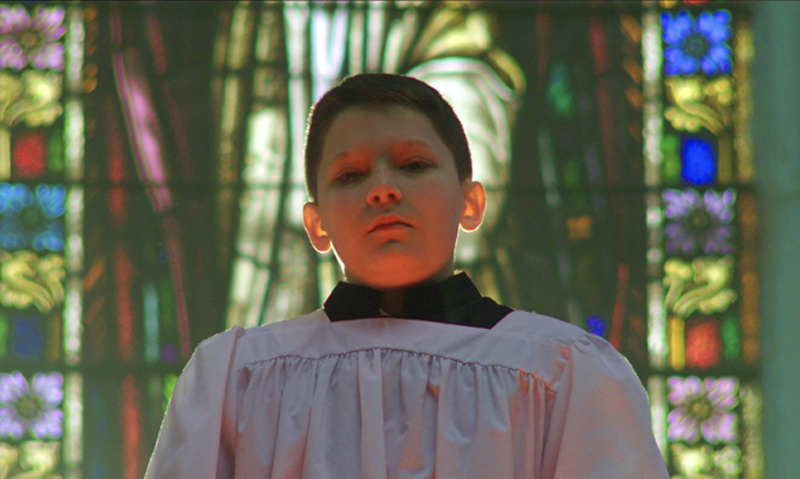 Dan Laurine was having his hair cut at a Crossroads Arts District salon. As long-time stylists and clients will do, the two chatted about what was happening in their lives and Laurine talked about his part in Procession, a documentary being filmed in Kansas City. The film's subject matter made the man behind the chair pause; Laurine and five other local men were revealing on screen that each had been abused by Catholic priests when they were boys. He put down his barber shears and asked his friend, "Are you sure you want to do this? To be so vulnerable—so naked?" 
"I have to," Laurine replied. "I keep thinking about all those kids who didn't make it. Committed suicide, gave in to drugs or drinking to tap down the pain. I'm doing this for them."
The trauma survivors—Joe Eldred, Mike Foreman, Ed Gavagan, Michael Sandridge, and Tom Viviano, along with Laurine—had specific reasons to participate in Procession. Each intention is displayed, ranging from a whisper to red-hot rage, throughout the documentary. They couldn't save themselves at the time, but perhaps by their bravery, through their emotional nakedness, they could keep other children from what they endured.
Procession is the seventh feature film by director Robert Greene, Filmmaker-in-Chief for the Murray Center for Documentary Journalism at the University of Missouri. His films include Bisbee '17, nominated for Best Documentary at the 2018 Gotham Awards and Sundance award winner Kate Plays Christine.
For his latest film, Greene surrounded himself with an award-winning team comprised mostly of people he's worked with for more than a decade including producers Douglas Tirola, Susan Bedusa, and Bennett Elliot along with the director of photography, Robert Kolodny. That close connection would be necessary as the group tackled a subject that is deeply personal.
The film had its genesis in 2018 when Greene was moved to tears while watching a news clip with Kansas City lawyer Rebecca Randles and three of the men who would eventually participate in the film. Randles has investigated nearly 400 allegations against religious ministers in the Midwest.
"For me, on a personal level, this was the hardest news story I've ever heard," says Greene. "Knowing how silenced the survivors felt, I knew I couldn't participate in that silence."
The project would eventually take three years to film and edit.
He calls Procession a culmination of what he's been working toward for more than ten years. "I believe in the power of collaboration, of working together, the potential for healing that the arts can provide," Greene says. "I've seen it work in other projects, and yet I felt it's been underexplored.
"And," he notes, "I knew we were ready to take on that challenge."
But first there needed to be an abundance of trust. The men had to believe Greene would tell their stories with empathy and sensitivity. "It's trust we didn't earn alone," he says. "We were building on the trust Rebecca and Sasha Black, her right-hand partner, had with these guys for years. That gave us a level of grace."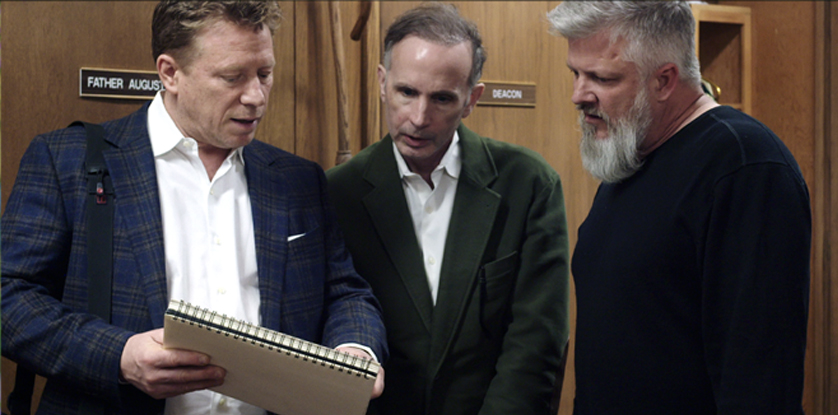 During the filmmakers' first meetings with the men, which included Monica Phinney, a trained drama therapist with a background in sexual assault, it was decided to have the men represent themselves rather than use actors.
"Who else," reasoned Dan Laurine, "would have as much skin in the game?" Yet Greene cautioned that reenacting the most painful times in their lives could retraumatize the men.
They were ready to take the risk. It would end up being especially hard for Laurine; as the location scout for the film, he was involved in nearly every storyline.
For Sandridge, the reason for participation was twofold. "I want to be heard. And I want to be believed." Being believed was at the crux of Mike Foreman's purpose; by the time he had a chance to confront leaders of the church with his accusations, they deemed him to be not credible despite collaborating accounts by other alleged victims.
Ed Gavagan wanted to recreate scenes from his childhood to fight for justice in a pending criminal case against his abuser.
Joe Eldred saw this experience as a way to finally stop the terrifying nightmares that had haunted him for years. Meanwhile, Tom Viviano, who couldn't address his own story because of its ongoing legal status, lent his support by acting in the other men's scenes.
Throughout the film, each victim confronts his demons. Some are triggered by the vestiges of the churches where they worshipped as boys: The exotic aroma of incense and the clanging of the brass carrier. The liturgical garments and stained-glass windows. The polished wood. All part of sanctuaries and rituals meant to reflect peace and love. Taking in the light filtering in through colorful glass shapes at a midtown church, Sandridge wonders out loud, "Isn't it beautiful? You can't imagine anything bad happening here."
During the course of 118 minutes, all the men had breakthroughs, which ranged from dramatic to subtle.
One of the most powerful scenes took place where Dan Laurine and his older brother Tim had been abused by the same priest at different times. The siblings never discussed the attacks as boys; "a testament," says Dan, "to how the church uses intimidation and fear to maintain control." The brothers had addressed the trauma as adults, yet it took that moment, caught on film, to break through the wall.   
This scene, explains Greene, shows how the camera can be used to create genre-influenced scenes, but also for therapeutic reasons. The audience watches as Tim asks forgiveness for not protecting his kid brother, and Dan absolves him of any guilt.
"The camera," Greene says, "became a kind of enabler itself, but in the most positive sense."
Ed Gavagan used his skills as a contractor to construct a set to recreate his abuse at the hands of a priest relocated to Wyoming from Kansas City. After filming, Gavagan destroyed the set with a sledgehammer, literally taking back the power.
It's a physical moment that demands the audience move beyond what Gavagan calls "the polite golf clap" inherent in many films.
"That phrase is important," says Greene. "Ed expressed so eloquently how many subjects of a documentary feel; don't have a boring sort of pity for me—that polite golf clap."
"Ed also tasked us as filmmakers to not use cheap artifices to get to an emotional outcome.
"And there's a third part," Greene continues. "As a viewer you can't just say 'I did my part by watching this film,' then move about your day. You need to think deeply about this and then make some changes in the world."
Procession premiered at the Telluride Film Festival in September to outstanding reviews. Brian Tallerico of RogerEbert.com called it a "stunning achievement" and "one of the best films ever made about not just the long-term impact of traumatic events but the difficult, unpredictable act of healing."
David Ehrlich in IndiWire writes that Greene has made a "sober, powerful and even disarmingly playful film that hinges on performance as a kind of therapy."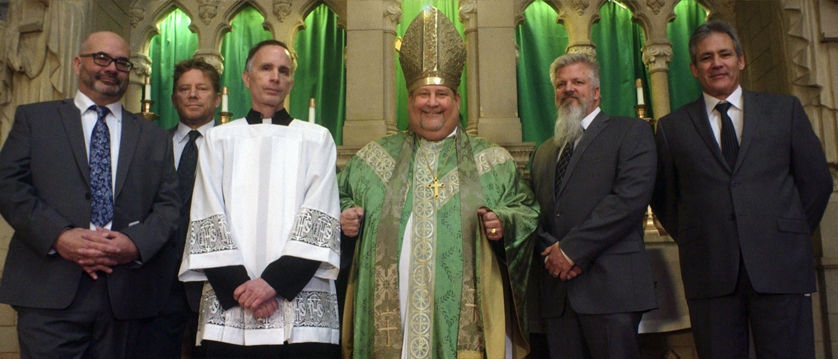 One moment of levity takes place as Sandridge, an interior designer, scouts a location with Laurine. As the men enter a downtown Kansas City church Sandridge hasn't seen in years, he comments on the new columns. "They're beautiful," he quips as he regards the gilt. "But I wouldn't have done it."
In his review, Ehrlich adds that "Greene has assembled one hell of a cast here, and each of the six primary subjects in Procession is heard and understood with a measure of the clarity they've been denied for so long."
But it took the Telluride premiere for Mike Forman to feel he'd been heard. After the scene where he angrily confronts the church's independent review board, the audience stood and applauded for what seemed to last a full minute. "It's unlike anything I've ever experienced," Greene recalls, who is grateful Forman was there to receive the validation.
"What's so powerful," says Greene, "is that there's such an awareness and love and understanding between these men. So, someone else's transformation, another's validation becomes yours." Indeed, Joe Eldred's transformation was life changing. Those nightmares he'd endured several times a week stopped after the filming.
Within days of its premiere, Netflix announced it acquired Procession, and, according to The Hollywood Reporter, "intends to mount a full-fledged Oscar campaign for it."
Greene says the Netflix participation is huge. "This will give us such a powerful audience," he says. And the timing is perfect.
"Here's the thing. I think as a society we're just starting to have meaningful conversations about the effect of trauma. And we need that no matter where it comes from: social unrest, the me-too movement, racial reckoning, the extreme loss so many have had because of the pandemic.
"Ed said he thinks of this group of six men as the Avengers. Like the shared pain has given them superpowers. And I see these men as leaders of this moment. Their bravery in looking their fear in the face and crushing it. It's a miraculous thing to me.
"This film can take you by the hand and help you heal if that's what you need. I'm just grateful to be part of it."
It could also become an avenue for what each of the survivors wants: to shine the light on the abuses and hold people accountable. Part of that would be to change the statute of limitations to allow decades-old accusations to have their day in court.
As for the possibility of an Academy Award, Greene admits it's easy to be cynical about awards. But he adds, "This recognition would be enormous. It means our documentary would be viewed by more people around the world. It could expand the opportunity for conversations about trauma and healing."
Kansas Citians will have an opportunity to see the documentary while the Oscar buzz escalates. In Kansas City, the film will open theatrically at the Screenland Armour Theatre on November 19, the same day it streams on Netflix.