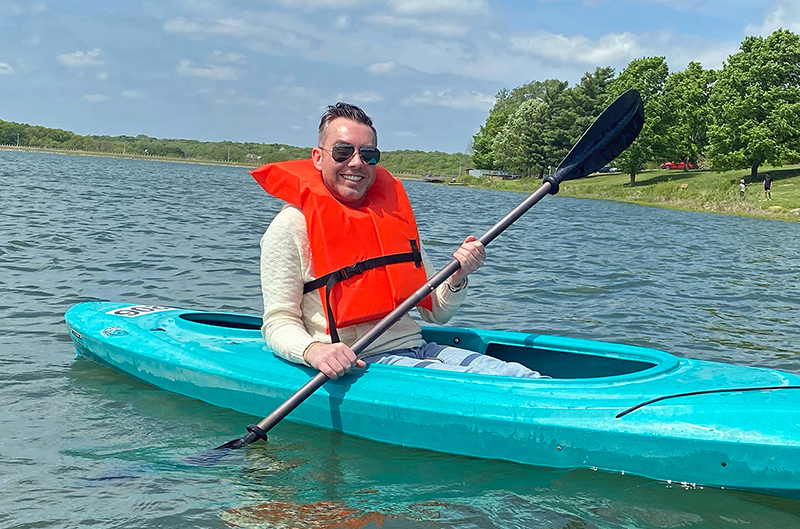 When I began writing this column three years ago (where has the time gone?), one of the promises I made was to incorporate a healthy dose of geographic diversity. So, early on a recent Saturday, when I pulled up my friend's home address on my phone, and it told me I'd arrive in 30 minutes, I knew I was making good on this promise.  
Though I can't wait until my mailbox and inbox are once again overflowing with party invitations—we're so close—I continue exploring pockets of our sprawling city and environs. On this occasion, I accepted a long-time friend's offer to show me around her neck of the woods. I met Stephanie Meyer in undergraduate when she began dating my roommate and fraternity brother, Bryan Meyer. Bryan and I later ended up attending the same law school and living in the same apartment complex. Stephanie was a constant fixture there and enjoyed watching Sex and the City with me far more than my former roommate would ever tolerate. So we became fast friends. Though I know plenty of Shawnee citizens, Stephanie is by far the loudest and proudest. Who better to be my guide?
Because I'm capable of absolutely nothing in the morning without Colombian caffeination, our first stop was McLain's Market. I'm familiar with McLain's but had absolutely zero idea that the good folks of Shawnee had one to call their own. Located in a former auto-body shop, the garage doors are now windows filling the one-time car bays with cheerful morning light. This bakery and coffee shop is a bustling neighborhood gathering spot for breakfast or lunch on a quickly developing portion of Nieman Road. They have pastries galore, an AstroTurf patio for kids to run off a morning sugar high, and even a drive-through. While Stephanie had the Market Bowl with scrambled eggs, cheese, avocado, veggies, potatoes and bacon, I couldn't resist my go-to breakfast favorite—a fluffy, flaky ham and cheese croissant. And that's KWUH-saunh. Just because we're outside the city proper, doesn't mean one can ditch the French pronunciation. This drives my friends absolutely crazy. For good measure, I also had a heaping, foamy cappuccino and picked up a bag of their house-made granola from the in-store market for yogurt breakfasts the following week. And, ok, I couldn't resist a box of donut holes. You know, because it was my job today to sample. 
Overheard
"So, does that come with beef or chicken?"

"It's, uhhh, taco meat.
With a full belly and a pep in my step, we loaded up in Steph's Prius and headed toward nearby Lake Shawnee. I'm told that Lake Shawnee is often listed as one of the top tourism destinations in Kansas, visited by more than a million people each year. And on this sunny, 70-degree day—one perfect for those lightweight sweaters it's always too hot or too cold to wear in the Midwest—I could see why. 
We pulled up, and the sight of sailboats dancing around the water looked more like models floating around the pond in Central Park. Though I fully intend to return and try a sailboat—because, duh, the cute photos—today we were here to kayak. While Stephanie owns her own—of course she does—we opted to rent today. (Yes, you can do that, which is quite handy.)
Now, I've never kayaked. And when asked by the adolescent-looking lifeguard—as he eyed me up and down, clearly judging my poor choice in kayaking attire—I said as much. I thought my sheepish admission would entitle me to some pro tips—or even some novice tips. Instead, I was plunked in and shoved on my way. 
Fortunately, I was traveling with an expert. Oftentimes things look more complicated than they turn out to be. This is not the case for kayaking. In fact, I found it to be quite the opposite. It looks super simple, but even after an hour, I never quite got in the rhythm for a meaningful amount of time. Which is no matter, because the beauty of kayaking is that you've really got nowhere especially urgent to go. And that part I really enjoyed. We paddled over to what amounted to an off-leash dog beach, and I was warned that if I got any closer, I may find one inside my little boat. The idea of being upside down in a boat alongside a splashing wet animal helped me find some speed. We spent the rest of the morning mindlessly making our way around the lush green basin, just chatting. Which was really, really lovely.
Hot Gossip
Who was in town for no more than a weekend but still able to terrorize local restaurants with his familiar send-backs?
After our kayaking stint, it was obviously time for another meal. Though I felt incredibly compelled to try the practically famous Old Shawnee Pizza, I'd just spent the past two evenings finishing off the incredible, annual, limited-time Joe's KC BBQ Pizza at Minsky's. So, I could not fathom another pizza pie meal. Tacos it would be. At Sancho StreetSide, we rested our weary arms—save for the taco lifting—and continued our gossip sesh. I will not exit a Mexican food restaurant without having had queso, so Stephanie obliged. When it came time to order entrees, I went a more exotic route with an apple jackfruit taco (jackfruit sofrito glazed with sriracha apple and topped with guacamole and pineapple) and a Philly steak fajita taco (you already know). Besides their downtown Shawnee restaurant, Sancho StreetSide is probably more known for the food truck that started it all. You can often find it parked outside, feeding the neighboring brewery crowd, or rented for a private event. 
Next up was a super special treat—a wine tasting at Wandering Vine at the Castle. You may have previously visited when Rene Kelly's Harvest graced Caenen Castle, but this stunning 1907 property is now home to a beautiful restaurant, event space, and shop for the Grace Hill Winery. Owners Carla and Daniel Dyer were more than pleased to share some of the castle's history as well as their recommendations for wine. (There is also, of course, an on-site sommelier—Chris Valentine). 
We all settled on selections from their "Premium Flights" menu—why order one glass when you can have three? Bryan opted for "The Adventures of Cabernet," and Stephanie and I went for the "Sommelier's Selections" flight, with interesting inclusions from France, Spain, and Chile. When our flight landed, we both decided we liked the 2011 Lopez de Heredia Vina Cubillo so much that we wanted another full-glass ride. Wandering Vine serves dinner as well, and after a peek at the menu, I wished we hadn't just zipped in from tacos. Another time for sure, as this was a positively delightful haven, fortressed away from the chaos of everyday life.
Switching from wine to brews (I said I was up for anything!), we headed back toward the main drag to Transport Brewery. Located inside another historic stone structure, this spot was positively jumping as we arrived. To my un-surprise, Steph and Bryan were both members of the apparently exclusive "Trailblazer Mug Club," which entitled them to yank their customized mugs right from the wall as we entered. I'm in the presence of legends! After trying very hard to be interested in their beer advice, I did what any serious taster would do—choose one with the most fun name: "Passive Aggressive Post-It Note." It turned out to be an American Pale Ale just as fun as its namesake. Next up was "Hot Strawberry," which turned out to be one they actually recommended. And, who knew that sweet strawberry and hot sriracha could pair together so well for a spicy radler? Seriously—a super fun place. 
For comparison's sake, though, they thought we should really squeeze in one more brewery not far away. Thus, it was off to Pathlight Brewing. Here, I went a totally different direction with their "Moo-La," a milk stout that was an absolute winner. Also different was the aesthetic. Here, it was a bright white, pared-down, modern vibe. Think, white, molded Eames chairs vs. corrugated metal bar stools—each with their own charm, mind you. It was also a friendly spot for families, with a backdrop of kids happily playing the day away.
Overheard
"When he's not horrible, he's really wonderful."
So, after a wine tasting and two breweries, it was of course time for—one more local watering hole? Yes, and they saved the best for last. I'd been alerted by my extensive sources about Drastic Measures before venturing here and was delighted it found its way on my so-gracious guides' tour schedule. Wait for a green light (thankfully we arrived early, as there was a decent-sized line upon exiting), buzz in, and sink into the velvety, sophisticated lounge. Their menu exclaims: "No Wine. No Beer. Just Cocktails." And they're serious about 'em. I had one of their hits, "The Campground," which was a "smoky black Manhattan riff for the thoughtful drinker." Which I consider myself to be. A house campfire whisky blend with amaro sfumato and amaro Averna, it was super smoky and super delish. Even beyond the tasty bevs, this place nails it: gorgeous, fluted glassware, obscure ingredients, perfectly clear custom ice, all the things I sing about. If my tour hadn't already been so drink-heavy, I could have stayed and sampled all night. Fortunately, I know how to find my way back.
Before heading home, we got a serendipitous ring from another old friend, Ozan Kumru, who harkened back to those college days of yore. He wondered if we might drop by his nearby house for a quick hello. We arrived at what I'd heard really caught on during the days of quarantine—a neighborhood driveway party. Being that my downtown condo affords me no driveway, this was a first. A special invite from a long, but not forgotten friend, and the most quintessential way imaginable to wrap up a full day in a different—but not that different—part of our city. Another gleaming reminder that the more I push myself to explore, the more I fall in love with this diverse city. But you've gotta get out there—if you want to see it and feel it.
---
So, KC—where do you want to go? XO
email: dlair@inkansascity.com  | Instagram: @damianlair #OurManINKC