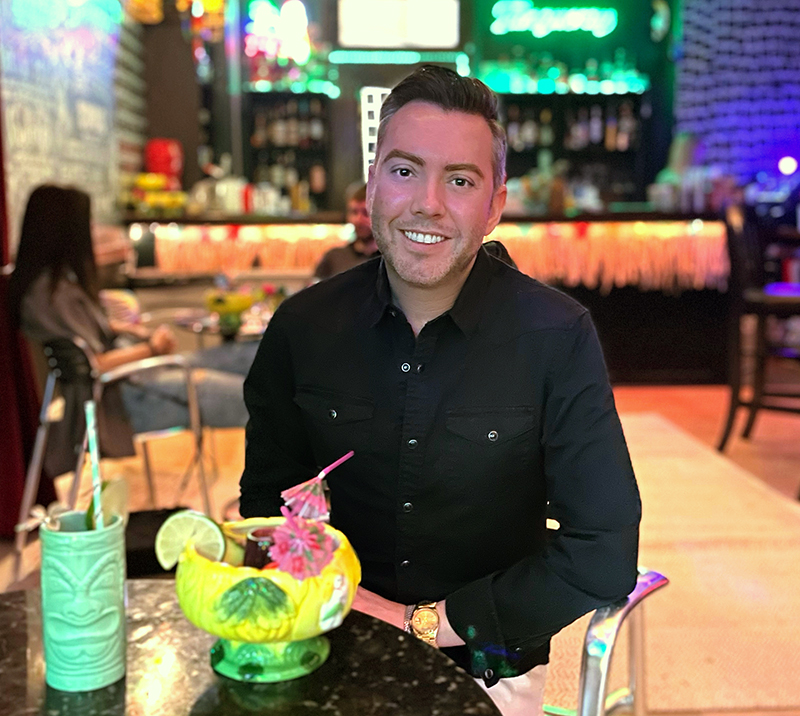 All Aboard!
Did you know there's a secret bar in Union Station? Well, I didn't—until recently. You check in at Pierpont's host stand, where they will direct you to a special elevator that whisks you up one level. Perched above the station's expansive grand hall was a view of Union Station I'd never before experienced. There, you'll find the Conductor Club.
Based on a rotating theme concept, the ambience is in perpetual flux. Past iterations centered around holidays (most recently Valentine's Day and Christmas), but on my trip the space had undergone a complete Tiki Bar renovation. Every element from the décor to the music to the kitschy, tiki drinkware was on theme. I started out with the Hula Girl (watermelon-basil vodka, herbal liqueur, maraschino, lemon, and soda) but thereafter spotted the flaming Scorpion Bowl (for two) and quickly downed Hula so I could add a fiery tiki cauldron to my Instagram story content. All about the Gram. My bestie got to sip with me, via a second straw, as if we were Lady and the Tramp slurping on spaghetti. How romantic. As for the bev, it contained what must have been 45 varieties of rum, cognac, allspice, crème de banana, and mango.
And speaking of spaghetti, did I mention the club has a light-bites menu? Everything is shareable. Order a few, and you can check dinner off your list. You know I love to sample, so we got the fried Hawaiian pickles, tiki teriyaki meatballs, Hamachi ceviche, charcuterie board, steak tartare, crab cakes, annnnd French fries.
Overheard: "Well, he's got Scooby Doo over here on his case. And I'm solving mysteries left and right."
Given the smallish bistro tables, I would not recommend my approach of ordering 75 percent of the menu all at once. Our poor little table could not quite accommodate my hungry eyes. That said, we enjoyed every bit of what I selected, particularly the tartare which comes with a beef fat butter candle in the center that—you guessed it—eventually smothers the plate in silky, melted butter that's perfectly absorbed by the accompanying focaccia, ready for stacking with the raw steak and relishes. Totally genius.
Also—and you heard it here first—the next version of the club will be a Willy Wonka theme, which I am positively screaming for. I have the perfect round spectacles for the occasion. The switch will happen in late summer. Reservations for the Conductor Club can be made via Pierpont's (yes, that pile of food we snacked on was prepared there as well). Book a ticket, and choo choo your caboose over to check it out.
---
I Heard it on the Radio
Among my favorite causes and parties of the year (yes, even virtually) is KCUR 89.3's Radioactive. Last year, I was tuning in from the balcony of a mountainside retreat, dining on a gourmet dinner. This year it was from my sofa, with pizza. P.S., did you know you can have Joe's Pizza in Westport delivered to your doorstep with Uber Eats? I did not, until this day. They even include honey for drizzling across your pepperoni. Swoon.
With Joe's in hand, the evening kicked off with familiar KCUR personalities dancing in the studio. Best moves, hands down, go to newcomer, Hartzell Gray. Paul Nyakatura emceed with gusto, dressed in a track-suit tuxedo.
The spring class of KCUR interns (belonging to the paid internship program that the event exclusively supports) interviewed Ailsa Chang, host of the venerable All Things Considered. Ailsa talked about how after graduating from Stanford Law and landing a plum firm job, she abruptly quit and became an intern (yes, at age 30) at her local San Francisco NPR station. A fateful step that ultimately catapulted her to national fame and praise. She also talked about how reporting changed during the pandemic, and what it's like to cover tough, emotional news topics. She left us all with her belief in the importance of finding a job you love that fulfills, challenges, and broadens your world. "Be a student of life."
Later, station general manager Sarah Morris gave a heartfelt tribute to reporter Aviva Okeson-Haberman, who was abruptly killed earlier this year by a stray bullet that entered her apartment. A former station intern, it was announced that the internship program would be named in Aviva's honor.
Finally, we all raised a glass to reporter Chris Haxel for the announcement earlier in the day that his podcast "No Compromise" was just awarded a Pulitzer Prize (the station's first). Amazing work—and again, entirely free to the public, due to generous donations collected through efforts like this. Ready to support the station and party with your favorite public-radio nerds in person? Well, mark your calendar, because on June 10, 2022 we'll be having one heck of a good time as we make up for these past two years apart. I can't wait.
---
Tranquility and Testimony
With the temporary closing of The Nelson-Atkins Museum of Art during the pandemic, it may have been a while since you've wandered its hallowed halls. As of this writing, you'll still need to reserve a ticket online (it took me two minutes), and I can say that stepping back into the museum after a year away felt so superb.
Though I made the rounds to check in with old friends—Rothko, Caravaggio, Kehinde Wiley, and Deana Lawson to name a few—I visited on this day with two particular agenda items in mind. First, I wanted to experience Monet Water Lilies: From Dawn to Dusk.
Hot Gossip: When he's not playing bridge at K-triple-C, who's wishfully preparing for a second act as a cabaret star?
Through January 2022, the museum has moved its Claude Monet masterpiece to a room all its own, complete with an immersive sound and light installation that provides visitors with a new way to experience the massive painting. There's a ten-minute program (runs on repeat) that emulates the rise and fall of daylight, complete with chirping birds and delicate pond water ripples. If you're looking for several minutes of meditation-inducing solitude—this is your place. Or, if a trip to France wasn't in the cards this year, take a virtual visit to Monet's Giverny at a museum that is always free to the public.
Second, I wanted to see the new exhibit, Testimony: African American Artists Collective. I was lured by the marketing materials I'd seen (marketing works!) featuring a captivating painting, whose creator I immediately guessed: Harold Smith. I had the great privilege and fortune of both meeting and working with Harold on a life-altering project last year, and I can report that he is as humbling as his works of art.
This exhibit, of which Smith is a part, assembles works from a variety of media—painting, photography, jewelry, textile, film, and spoken word—all sharing a similar origin story. Each work is from an artist belonging to the African American Artists Collective (AAAC) based here in Kansas City. The organization endeavors to increase visibility of Black artists, and it builds exhibits and mentorship opportunities in that pursuit. The exhibit is a collection of works by more than 35 artists, each providing their personal "testimony" of the Black experience. In addition to Smith's Friday Night Blues, which captures the shifting topics of discussion at these time-honored Friday get-togethers, I was also particularly drawn to Jason Wilcox's Survivor, Michael Brantley's A Seat at the Table, and Alton "AT" Webb's DeadDeadNDead.
Overheard: "Our only means of communicating is via Venmo."
Like the Wiley painting around the corner, this exhibit is a course-corrective step on the journey to ensuring that people of all races can explore a museum of international importance and see images of, and works created by, people who look like them. Such has not always been the case.
The exhibit is also an indication of how seriously the museum takes its responsibility of being a welcoming space for all people, as well as its role in a community that's as diverse as the 42,000 artworks it shelters. You have through March 2022 to visit. And on your way, don't miss Smith's recent untitled addition to the museum's permanent collection, just down the corridor. It's quickly making its way onto my list of old friends who require regular visits.
---
Bamboo & Breakfast
You know the tide is shifting when you begin hearing about restaurants opening, not closing. One of the best parts of writing this column is that I'm often invited to serve as "practice" for new restaurants approaching their opening day. This month, I had the opportunity to visit two.
The first: Bamboo Penny's at Park Place in Leawood. A concept of chef Penny Mufuka, this tropical Thai restaurant is both comfortable and delicious—traditional Thai cooking with a stroke of contemporary panache. They say, "This is where 'mild, medium, or hot' isn't a question of preference, but a test of one's courage," and I found that to be quite true. Only the brave could contemplate the unmentioned "Thai hot."
While there, I started with the Summer Fizz cocktail, crafted with cucumber vodka and lime. I nibbled on the summer rolls (lump crab meat, cream cheese, cucumber, bean sprouts, cilantro, and mint, wrapped in soft rice paper), and the moo tod (crispy pork bites tossed with garlic Thai spices and herbs)—highly recommend this one. For entrées, I tried the panang duck (crispy half-duck served with curry sauce) and the pad Thai à la Penny. The pad Thai was easily the most beautiful I've ever seen. The entire rice noodle entrée comes gift-wrapped in a golden egg crepe. You have to see it. And it was as scrumptious as it was stunning.
Upon spying what others were ordering, I wish I'd also tried the gorgeous pineapple fried rice (served in a halved, hollow-cored pineapple). If you'd prefer to drink your dinner, the establishment also boasts a Polynesian-inspired rooftop bar, the "Bamboo Room," complete with retractable roof. What a perfect place to spend the rest of the summer.
Hot Gossip: Who nearly died when stumbling upon a dead body in the Lake of the Ozarks?
I also had the opportunity to visit the newest outpost of Shack in Lee's Summit. Now their fourth location (in addition to Lenexa and two in Overland Park), and I hear more are on the way (wink), they hardly needed any practicing.
My rule: cocktails first. I was alerted by friends to order one of the "boozy shakes," so I did. I chose the Captain Crunch (rumchata, spiced rum yogurt and crushed Cap'n Crunch), telling the waiter how I'm not really a milkshake person but would try it anyway. Gone. I can see why they're so popular.
Something else I'm not: a breakfast person. So, very funny to be previewing a breakfast-centric restaurant (though they have a smaller lunch menu). Even funnier is that I found myself wanting to order everything. I somehow limited my selections to the big crunch French toast (encrusted with corn flakes and powdered sugar), the country-fried steak, the tostada salad (because you know—health), and the chili cheese dirty fries. I loved it all.
Also, a special shoutout to the owners' sense of humor in naming menu items. A few of my favorites: "Why the French hate us," "Please dad, don't buy that Affliction T-shirt," and "I had a salad for lunch."
Before leaving, I grabbed a Sharpie and scribbled my name across the wall, as is encouraged. It was a blank canvas on my visit, but with lines often around the corner at Shack locations, it won't be blank for long.
---
So, KC—where do you want to go? XO
email: dlair@inkansascity.com  | Instagram: @damianlair #OurManINKC