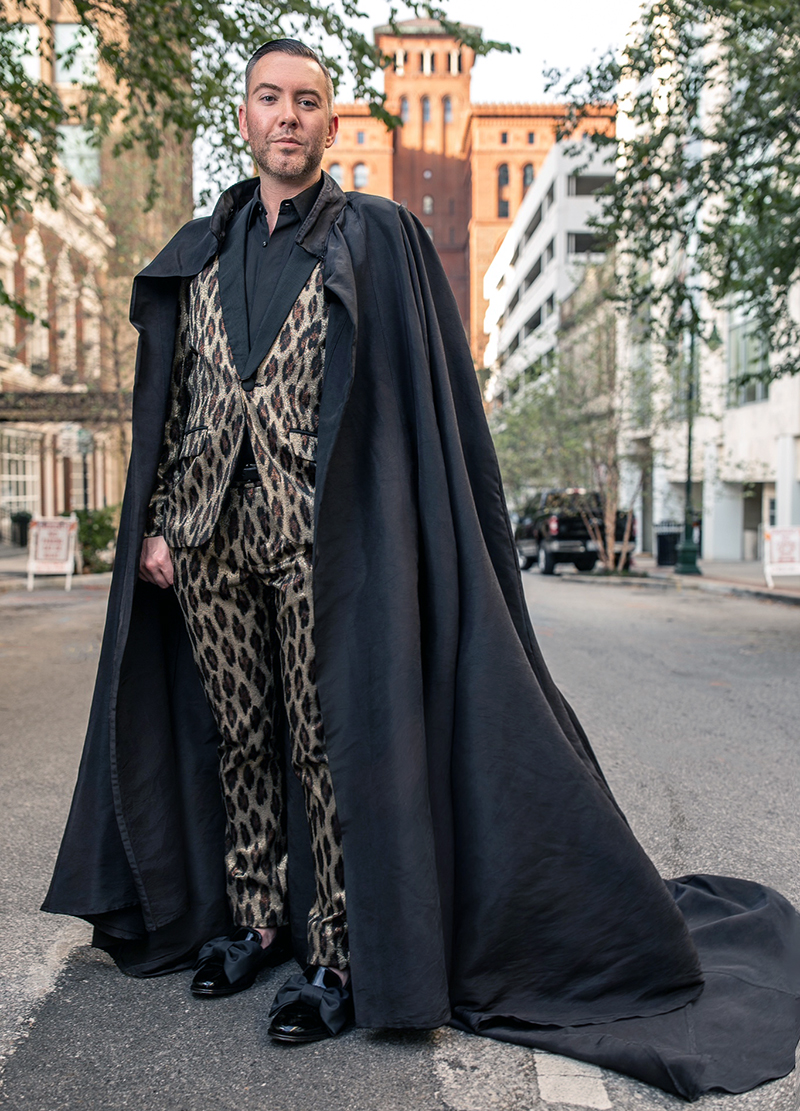 Damian Lair en route to the Kemper Gala. Photo by Djordan Savage
Time to Gala Again
Earlier this year, my grandmother Lois died. She was a saver of things. And that's putting it mildly. My grandfather used to say: "If you haven't used it for ten years, keep it for another ten—just in case." For mementos, though, there was no such rule. They were saved indefinitely.
So as her treasures began reemerging, like fossils peeking through ages of sand and silt being swept away, my aunt Marsha would mail bits and pieces to me as they were uncovered. There were postcards from my nomadic travels (complete with the pre-printed, friends and family address labels I schlepped with me to far-flung foreign places). Turns out I've always been an organized note-sender.
And peculiarly, she had a copy of the resume I'd prepared for my law school applications. I nearly tossed it, thinking there'd be nothing particularly interesting worth rereading or reliving. But I was wrong. As I reread it, what struck me was all the things I'd done in college that, if one was paying attention, would turn out to be the very things I'd be passionate about—and even more so—many years later. Member of the diversity programming council, member of the fine arts council, civil rights lecture series organizer, county elections board member, certified safe zone ally— I barely remember doing any of that. Or, how on earth I got involved in doing any of it in the first place. It's a very weird feeling to look at a 16-year-old piece of paper and realize that it was a foreshadowing of my future endeavors, if only I'd known through which prism to look.
Overheard: "Ima bout to run around this party and snatch all the stray Chanel bags."
Each of those causes have carried forward into my adult life, in deep and meaningful ways. And what made me think about all this right now was the recent wrapping up of my two-year stint as co-chair (along with the most lovely Emily Fehsenfeld) of the annual gala benefiting the Kemper Museum of Contemporary Art.
Last year, we opted for a gala-in-a-box and a very small, timed-entry reopening of the museum with outdoor live performances and socially distant cocktail fare across the day. This year, after early and frequent polling about patrons' comfort with and appetite for a large in-person event, in addition to requiring either proof of full vaccination or a negative Covid test, and holding virtually the entire event outdoors, we went about hosting one of the first large, prominent events (kicking off an avalanche of other scheduled charitable events all autumn and winter) since our world unexpectedly shut down 19 months ago.
And it was a true party in every sense of the word. People were ready. The ARTBEAT "theme" this year was simple. "Attire: Exuberant Party Wear." It was a nod to the fact that the Kemper Gala has always been a fashion show and that people emerging from this period of party-free existence were anxious to finally pull something exciting out of their closet or shop for something new and exhilarating. As for me, I did both. I wore a metallic leopard suit, presciently purchased mid-pandemic with no parties in sight. I bought a new pair of patent leather opera shoes, adorned with absurdly large grosgrain ribbon bows. And I did something I'd always wanted to for the Kemper Gala, but never started planning early enough—I commissioned a garment made by a local designer.
At the recommendation of my friend, artist Peregrine Honig, I reached out to Rex Wall, who worked with me over the course of about three months to bring to life a voluminous, billowing cape, inspired by a Chanel haute couture piece created by Karl Lagerfeld for André Leon Talley. Calls, fittings, and roughly 15 yards of heavy, black silk faille—it ended up a dream. And the wind that evening made it all the more dramatic to wear.
Hot Gossip: Whose posh rehearsal dinner had out-of-town guests footing the bill for cocktails?
The party began under the museum's porte-cochère, where guests were greeted with juxtaposed glasses of Champagne and a posse of disco roller skaters. Organized by Amber Bolton, the skaters mesmerized guests with their gracefully fluid moves that much more resembled dancing than skating.
After cocktail hour, we moved to the enormous tent behind the museum for dinner, dancing, and pent-up revelry. Lon Lane's Inspired Occasions prepared a delectable meal with pan-seared salmon piccata and braised short ribs. Tajma Stetson performed as guests dined (and stayed all night to dance). Late-night food trucks, including Café Ca Phê, KC Smoke Burger, and Ragusa's were on hand to satisfy twilight cravings. And DJ Sheppa (in addition to entrancing guests with his didgeridoo performance) had everyone tearing up the dance floor until the clock ticked midnight.
It was the perfect evening, with the perfect weather, hosting the perfect crowd, for celebrating and perpetuating an institution that means so much to so many and offered an important respite during the past many months—both digitally and in person. As we wrote in our invitation for the event: "While the world rests not in a state of perfection, there is optimism. The sun on a new day rises, and we can feel its pulses of warmth."
Spotted: Honorary Co-Chairs Helen & Frank Wewers, Emily & Wesley Fehsenfeld, Mary Kemper Wolf & Gary Wolf, Georgia Wolf, Liz & Paul Uhlmann III, James Uhlmann, Christy & Bill Gautreaux, Karen & Jack Holland, Sharon & John Hoffman, Sean O'Harrow, Linda Lighton, Lauren Merriman, Lisa Garney, Katherine Fox, Jan Kyle & Dr. Wayne Hunthausen, Kim Weinberger, Dr. Regina Nouhan, Ellen & Jamie Copaken, Ada & Dr. Kevin Koch, Pam & Gary Gradinger, Kat McDaniel, Ursula Terrasi, Gloria Rudd, Dan Meiners & David Brinkerhoff, Dan Nilsen, Katrina Revenaugh, Kim Klein & Dr. Jeffrey Goldstein, Scott Heidmann, Ken Petti, Amanda Rismiller, Lynn & Lance Carlton, Anne Hickok, Phillip Charlton, Dr. Pat McCormick & Barry Eisenhart, Courtney & César González, Katie Van Luchene & Jerry Foulds, Dan DeLeon & Jerry Katlin, Lauren DeLeon, Kristi Katlin, Chadwick Brooks, Ryan Hiser & David Tran, Loretta & Tom Mentzer, Lee Page, Garret Toms, Angie Jeffries, Heidi Markle, Matt Schulte, Adam Weindling, Rachel Price, Crissy Dastrup, Michael Edmondson, Colby Oberbroeckling, Meredith Allen, Andy Martinez, Brad Nichols, Robert Schmidt, Hannah Shah, Stephen Gronek, Brian, Pospishil, Chris Warman, Edwardo Delgado, Marissa Starke, Amber Botros, Christian Michael Schuster, Mark Allen Alford, Jr., Holly Bawden, Mary Marty, Emily Moore & Zohaib Haque, Rachel Smith, Matt Anderson
---
An Electric Opening
Since J. Rieger & Co. opened its massive distillery (with fireworks) in 2019, I've revisited a number of times—a spirits tasting and tour, events and dinners in the upstairs Monogram Lounge, and a memorable birthday party for my dear friend Deirdre Devine in the shadowy and surreptitious basement Hey! Hey! Club.
Every time I walk in the building I'm impressed, and I leave only more impressed. So, when a box arrived in the mail with the coolest light-bulb bottle filled with Nathan's Lemon Lime Vodka, for serving with the accompanying Fever-Tree Tonics, and an invitation—well, I couldn't refuse. Why do more invitations not arrive in their own boxes?
The occasion was a preview of the stunning new addition to the sprawling property—the Electric Park Garden Bar. Some may know that the East Bottoms neighborhood where the distillery is located is Electric Park, named for the amusement park located there from 1899 until 1906. (Electric Park later moved to 46th Street and Paseo Boulevard, and Walt Disney cited it as his primary inspiration for the first modern theme park, Disneyland.) With a history like that, why wouldn't you christen your newest bar with its name? Not just a bar, though, it is a complete urban park that happens to house a bar. There are fire pits, pergolas, and swing tables (the seats are hanging swings), and all can be reserved.
Here's a pro tip. Have you ever found yourself planning a large party gathering and nearly pulled your hair out trying to find a restaurant that could accommodate your 10+ person party? I experienced this just last week as a mass of out-of-town friends swooped in, and I nearly called it quits after a dozen restaurants couldn't seat our unwieldy group. This would have been perfect.
Overheard: "Coldwell Banker called, and they'd like their junior associate blazer returned."
But back to the garden—and cocktails. I took the more unconventional route (vodka) and had the No Laws with passionfruit and seltzer. For those after Rieger's more notable hooch, the Tasting Room menu was full of great whiskey and gin options, too. Perhaps in addition to that cocktail you need a bite? Well, despite their capable kitchen operation inside, all food in the garden will be served out of a food truck. Cool, right? While there, they were passing around the Electric Sliders (basically your favorite dinner-style smash burger à la Town Topic). Believe me when I say, the poor woman bringing in tray after tray of these burgers was mobbed on every trip in, never getting more than a few steps before her tray was ravaged. They were that good. And it's not like we were starving. There was a full buffet of hot chicken, cheddar mushroom fries (the mushrooms are crispy, almost dehydrated)—sooo good, and the Cottontale folks were spinning up some s'mores cotton candy, the smell of which enveloped the space like an actual campfire.
And on that note, with the cool weather here finally setting in, I already can't wait to go back for gathering a group of friends around one of the fire pits to nibble, sip, and enjoy this sweater weather time of year.
Spotted: Lucy & Andy Rieger, Andrew Olsen, Susie Brown & Bob Thill, Joan & Jerry Riffel, Terry Anderson & Michael Henry, Kevin Hancock, Missie & Tim Schaffer, Jim Sight & Dr. Heidi Harman, John Teasdale, Ashley & Wes Brown
---
Renovation Sensation
I stopped being surprised a long time ago when someone would mention the coolest event/party/fundraiser, and I'd never heard of it. After years of writing here, and a decade prior to that of bouncing from party to party, I used to think I'd been to them all. But there's so much going on that I'm often confronted with the fact that I've only just scratched the surface.
Such was the case when a friend asked if I'd want to tag along to the opening patrons party for "RenSen." My reply: [blank look]. For those unfamiliar, RenSen translates from Brangelina speak to Renovation Sensation. It's an annual event benefiting the Shawnee Mission East SHARE program. SHARE (Students Helping in Areas Related to Education) is one of the largest student-led community service organizations in the country and contributes more than 4,000 hours each year to helping charitable organizations in Kansas City. Throughout the year, the organization contributes to approximately 50 local causes—some recurring annually and others that fluctuate based on individual students' interests. SHARE is funded entirely by Renovation Sensation.
Overheard: "It's an assault on Beauty."
RenSen itself is a tour of homes—you guessed it—that have been recently renovated. Big renovations. At the home hosting the patrons party the night before, belonging to Jamie Crosbie Bisson and Shane Bisson, one couldn't tell which parts of the home's expanded footprint were preexisting or new. And beyond the structure, everything was new—and beautiful. It entertained a gathering of hundreds of guests with ease.
The next day, I dropped by the four homes on the tour. Each were unique in style and very well reimagined. All were fodder for anyone's future design projects or just the guilty thrill of checking out someone else's home—in person, not just flipping through pages of a magazine. Though I do like those a lot, too.
---
So, KC—where do you want to go? XO
email: dlair@inkansascity.com  | Instagram: @damianlair #OurManINKC