Jazz & Tacos
Wanting to soak up every last bit of the perfect autumn weather, I headed to the 18th & Vine district for alfresco apps and cocktails at Soirée Steak & Oyster House. Over fried green tomatoes, mac and cheese, and crab cakes, I caught up with friends—old and new. There was live jazz on the terrace, which was the perfect backdrop for dropping back a few "Ellingtons," Councilman Brandon Ellington's signature drink at Soirée. I'm not telling you what's in it—you'll have to whip over to find out for yourself.
After happy hour, we wandered over to the American Jazz Museum for their Bird is the Word event. Surrounding the iconic, patinated bronze Charlie Parker Bird Lives sculpture, artists were painting en plein air, including Deaunte Thomas and Skiggity, among others. Saxophonist Nneoma Lanea played, and attendees were encouraged to bring their own paint supplies to bring the memory of Charlie Parker (and the ongoing centennial celebration of his birth) to life. 
After chatting with some of the artists, we meandered back to 18th Street, which happened to be kicking off another one of 18th & Vine's First Friday events. Kismet! Still missing the bustling First Fridays of yore in the Crossroads, this checked all the yearned-for boxes—and more. There were vendors galore lining the streets. Clothing, art, jewelry, cosmetic products—you name it.  I picked up some shea butter crème from a budding grade-school entrepreneur, some funky sunglasses, and a rose-oil rollerball from Melaninated Magic. Food trucks kept everyone fed and hydrated. And there was more than ample room for social distancing. Plus, more music. We also ran into local leader Joseph Thomas, registering people to vote. Awesome work.
As the sun was disappearing behind the downtown skyline, we bid adieu and headed toward our next stop: KCK. On the agenda? The new KCK Taco Trail. Launched by the Kansas City Kansas Convention and Visitors Bureau (KCK CVB), the KCK Taco Trail is a mapped-out trail of over 50 local taquerias serving up authentic tacos all across the city. The trail is intended to provide a flavor-filled experience of culture and history through food, with chances to win prizes along the way. Sign up for free online (kcktacotrail.com) and hit the trail! Check in as you hit up new spots (you have a full year!), and earn prizes like decals, hot sauce, and T-shirts. If you make it to every taqueria, you'll be treated to a Taco Trail Championship Flag and have your name included on the Taco Trail Walk of Fame. Spicy! Lucky for us, we had the KCK CVB executive director, Alan Carr, as our personal taco guide.
We first popped into Bonito Michoacan. Foremost a grocery store, Bonito Michoacan serves a variety of Mexican food dishes for dine-in or carry out. I went with a variety of street tacos and was delighted. We also peeked inside next door Bonito Michoacan Bakery, which has an eye-popping array of more than 50 varieties of Mexican breads. They also have cookies, cakes, and other traditional pastries. We grabbed some breads and pastries for the next day's breakfast. 
Overheard: "Well you're the spiciest nut I know."
Second stop: El Torito Supermart. This eatery, connected to a grocery store rather than directly inside one, had equal charm and authenticity and boasted a full Mexican menu. I opted for my guilty pleasure: the chimichanga. Absolutely stuffed after only two stops, we decided the other 52 trail stops would wait for another day—or rather, many days.
Not quite ready to call it a night (when am I?), with Alan's guidance, we made our way to Dotlander's Bar, a quintessential sports bar, complete with pool tables and the perfect amount of dive-bar character. After a cocktail, it was on to Breit's Stein and Deli, where I hear they're known for their Reuben sandwich, but that was certainly not in the cards. Cocktail it was. And one final stop for good measure, Chicago's. Replete with jukebox, pinball machine, and a ceiling papered in dollar bills, it made me feel like I was back in college. Unfortunately for me, I don't quite bounce back as quickly as I used to, so I was responsibly shuttled home. I'm often asked what I'm doing to keep myself busy in the era of canceled galas and postponed benefits. And this is a great example. Even during a pandemic, the city is full of create-your-own-adventure opportunities. Choose a neighborhood or district and start exploring. Passport not required. Though you may want to grab a taco pass.
Spotted: Crissy Dastrup, Michele Watley, Marquez Beasley, Lee Page
Hot Gossip: Who bought up all the hot sauce in KCK?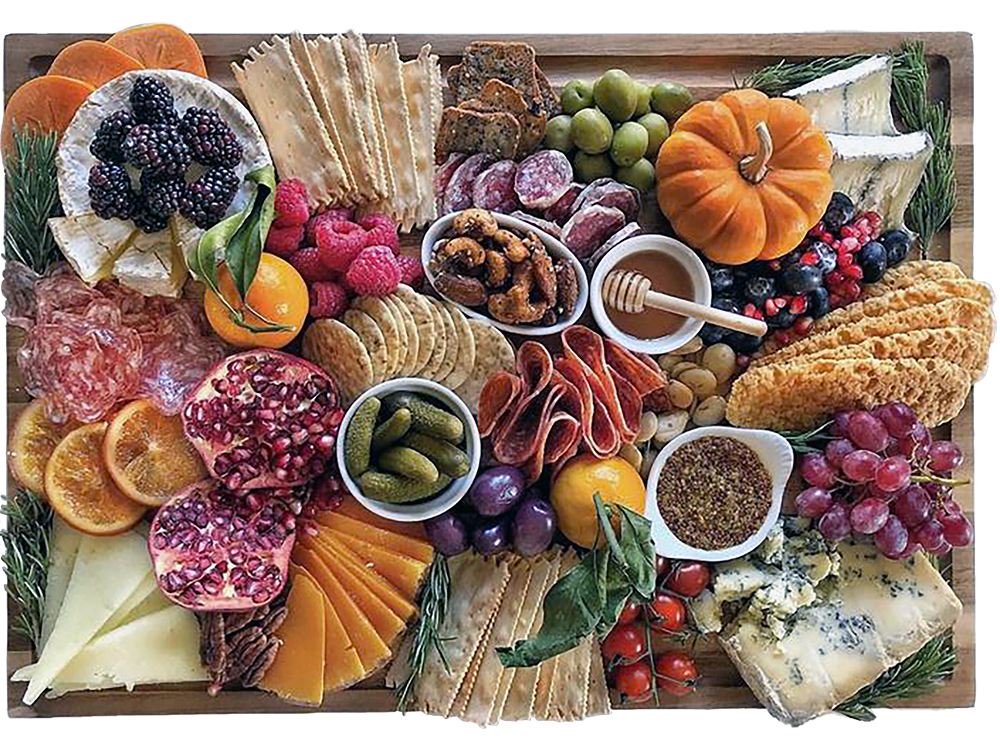 Charcuterie for a Cause
At this time of year, I'm typically scrolling through the list of Flavor! events hosted every autumn for Thrive Health Connection (formerly Good Samaritan Project), trying to narrow down a few to add to my calendar. Over the years, I've attended numerous iterations of these events, typically hosted with clever themes at beautiful homes across the city. 
While the Flavor! series endures, like many events, they've responsibly adapted to our socially distant situation. Thrive is a regional leader in providing health and wellness care to individuals living with HIV/AIDS, as well as prevention, programming, and education services. This year, to support their efforts, I chose the "Build the Perfect Charcuterie Board" event, which I figured would be both educational, as well as delicious. I was correct on both counts. And what better time to further sharpen my skills in the kitchen? (Let's not revisit the recent virtual apple crisp lesson, when I neglected to add the sugar.) 
With all the necessary supplies carefully assembled by Thrive, I opened my bag and awaited instructions from our host, Rachel, of Charcuterie by Rachel. First off, while "charcuterie" is a French term for preserving meat (prior to the advent of refrigeration), today the term is used to describe the plentiful smattering of meats, cheeses, and crackers for party-guest grazing. And while charcuterie has really taken off in recent years, the assemblage has become something of a beautiful art form of excess—just check out Rachel's Instagram for a glimpse (@charcuteriebyrachel). 
Overheard: "Is this human food?" (Spoiler: it was not human, nor delicious.)
For a good spread, gather a variety of any of the following: cured meats, cheeses, berries and vegetables, olives and pickles, jams and jellies, dips, crackers and bread, garnishes like rosemary or edible flowers, and a bit of dark chocolate to boot. Rachel recommends placing the largest items first, like dip bowls or large cheese wheels. 
Next, create an S-shaped "river" of round, sliced meats—folded into pie-shaped quarters and stacked together to create a meandering streak across the board. Then just keep adding items—stacking and layering as you go. It's nice to keep color in mind as you assemble, e.g., you wouldn't want two beige things together, like crackers and hummus. Pro tip: consider color diversity as you're grocery shopping for supplies.  Finally, fill in the remaining gaps with small things like nuts and berries. 
You can place all this on a wooden serving board, or for large spreads, use brown butcher paper. Lately, I've seen some mind-blowing charcuteries covering entire kitchen islands or tables, to dramatic effect. I would love to say that my board turned out Instagram-worthy, but after a long day at work, and nibbling as I followed along, the end result was a bit spare. That said, I learned a lot and cannot wait to apply the skill to my own mega-charcuterie party, once it's safe to pack my home with hungry friends.
And shout-out to local Green Dirt Farm, whose rosemary sheep-milk cheese spread and "Dirt Lover" cheese (coated with vegetable ash) were so delicious that I had none left when the time came to place the crackers. A must-add for your future boards!
Hot Gossip: What luddite socialite finally succumbed to buying a cell phone?
Symphony in the Park
On a colorful, leaves-changing evening, I met my sister and her husband, plus their three little ones, at the Shawnee Indian Mission for an outdoor concert performed by members of the Kansas City Symphony. While it's not currently possible to settle into the Kauffman Center for a full symphony experience, a grassy spot with blanket turned out to be an adequate substitute (for now). This pop-up event was part of the symphony's generous endeavor to send musicians around the community to share a bit of their musical joy, when we could all use a little extra.  With cello, viola, and violin, the small ensemble filled the park with Bach, Beethoven, and Handel pieces, including one of my absolute favorites: Bach's Goldberg Variations, Aria. 
We dined on chicken wraps from nearby Longboards in Mission and tried out the new Quirk Spiked & Sparkling seltzers from Boulevard Brewing Company. The wraps hit the spot, and the seltzers packed the punch of a cocktail, but without the saccharine aftertaste that accompanies too many of the other more commercial products in this category. The pear yuzu flavor was tops. And bravo to the symphony for actively working to engage with the community and bringing its music to the people, when we cannot enjoy it indoors.
---
So, KC—where do you want to go? XO
email: dlair@inkansascity.com  | Instagram: @damianlair #OurManINKC