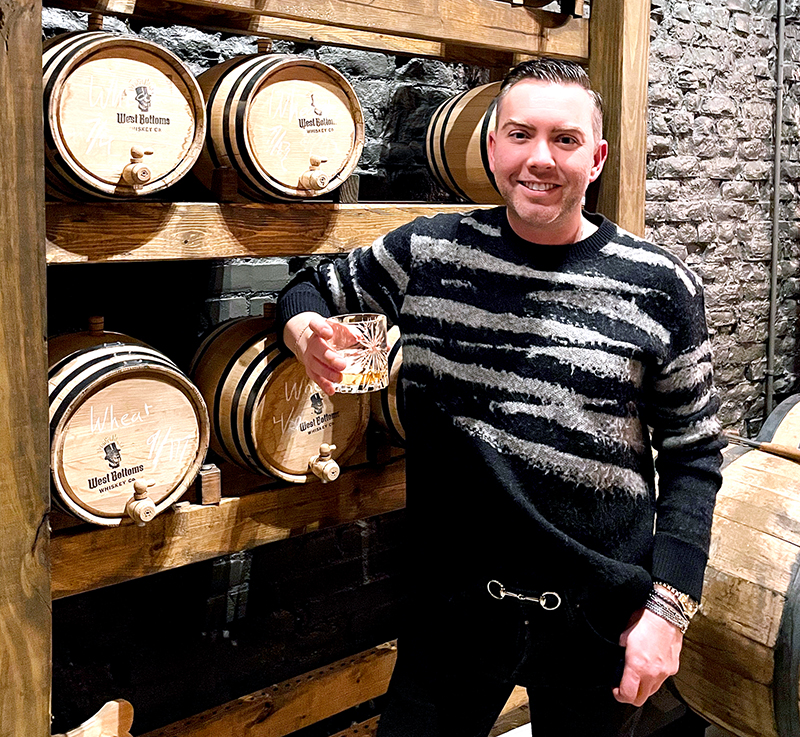 A year ago, just steps from my downtown condo, I was thunderously applauding the Kansas City Chiefs during a decades-in-the-making hometown Super Bowl parade. Little did I know that in the coming days a long-planned trip to China and Singapore would be scuttled by a mysterious, Asia-confined virus. And I'd have never believed you if you'd told me that for the next year, there would be essentially no parties, galas, live performances, games, large gatherings, or restaurant openings. On top of that, there would be unimaginable loss and suffering.
Boy, what a year it's been since that jubilant day. Amidst it all, however, your intrepid "man about town" got extra creative. Not only to offer ideas for passing the time, but for maintaining my own sanity as well. Gradually progressing from virtual floral arranging and charcuterie making to masking up and making my way back into the (more distanced and sanitized) world. We're hardly out of the woods just yet. But like many, I can finally see a glimmer ahead of what life used to be like and might flourish to be like again. So as I eagerly trudge forward, I continue these monthly create-your-own adventures. In a vast field of uncertainty, they've become an unexpected pleasure. And they are among the many such joys that I'm likely to carry forward into what "normal" looks like next. But I still miss parties.
---
Bottoms Up, Up, Up!

This past month, several reasons (some old, some new) brought me to revisit the Historic West Bottoms. Often, one new and shiny thing will be the impetus for a day of adventure that I build the rest of an outing around. Give it a try next time you hear of something new.
In this case, the "new" was the soon-to-open (and now, actually open) West Bottoms Whiskey Co.. A friend, Michael Hopkins, alerted me of the opportunity—and oh, how I love getting a first peek. (Read: I adore invites—you know this.) Easy as that, I met Michael and owner/master distiller Alex Lindsey the next day for a tour and tasting.
Another necessary introduction: Murdock. He's industrious and hard-working, classically refined, and comes from the gilded age that represents optimism, discovery, and progress. He's a beacon of excellence. And he's the top-hatted, steel-jawed symbol of WB Whiskey Co. This fictitious (or is he?) character is the embodiment of the vibe at WB Whiskey Co.'s cocktail parlor. Not a bar. Intimate, and open for reservations only (heads up, this could change by print time), this lofted parlor has all the charm of a Westworld saloon.
Hot Gossip: What former KC welcome wagon's private Twitter account is causing quite the stir?
First things first—a cocktail. I was, without option or menu (they do have one), promptly served up "Kansas City's Best Old Fashioned." Who am I to disagree? Alex wielded a flame torch to sear an oak-barrel stave, capping the rising, woody smoke with a cut-crystal double old-fashioned glass. The smoldering cloud was the perfect, husky complement to the whiskey and orange bitters.
Enjoying my cocktail on a buttery leather sofa upstairs, tiny slivers of golden light peeked through the wooden planked floorboards from the distillery below. Alex explained that this space once housed a tractor factory, and we were inside the train track tunnel that delivered raw materials and then carted away completed machinery. Much like that grueling, industrious process, the whiskey now manufactured here represents invention, innovation, and hard work. WB's signature tonic is a 50/50 blend of American bourbon and rye whiskeys and a spot of 15-year-old oloroso sherry, for a hint of sweetness.
There are also experimental micro batches that they'll be releasing on a quarterly schedule. American malt, wheat, and rye will be among the first. But you'll have to remain patient for those. Besides simply grabbing a single cocktail or dropping in for a full evening of general buffoonery, you can also reserve all or a portion of the parlor for your own private or semi-private tasting. That's next on my agenda, having vetted the joint for my discerning partners in nonsense.
Not in the area or still sticking close to home? Fortunately, you can pick up their sold-out first bottling batch at Mike's Wine & Spirits (MO) and Lukas Liquor (KS).
After whiskey, I dashed directly across the street to Hatch + Home, which I'd been meaning to check out ever since I missed their opening event roughly a year ago. Hatch + Home is a retail and design studio, all in one. The retail offerings lean bohemian, with plenty of jewelry baubles, clutch bags, and home accessories.
I picked up a nice Trapp and Company candle in a transition-to-spring scent. On the design side, they've got walls full of fabric samples, wallpapers, kitchen and bath fixtures, tile, countertop materials—you name it. A one-stop design service shop.  And the space is so perfect; they certainly know what they're doing.
Needing to make my dinner reservation, I jaunted a handful of blocks to check out the expanded dining room at The Ship. Named "All Else The Sea," the new space is a brighter and more spacious addition. I'm told that The Ship's "bar & grill" have both been in effect for quite some time, but I'm going to shamelessly admit that I've only ever hit the bar, utterly oblivious of the grill. I'm happy to report it was worth the wait.
True to form, I took charge and insisted that my gaggle order "one of everything!" How else can you get a representative first sampling? We wallowed in fried pickles, smoked salmon dip, and cheesy corn. For entrées, we primarily went for the sandwiches, which they're known for. We had the Ship-Fil-A (chicken, not fish!), the Cubano, the KC Reuben, and also an order of jerk chicken alfredo to boot. Desserts included chocolate bread pudding, cookies, and a lemon tart. Everything was yummy, and I'm still reeling that The Ship has food! When you're ready to stretch your sea legs, check out the new dining room. Or you can always order for pick-up, dockside.
Hot Gossip: What little one privately boasted about having co-hosted a party, when the host had no idea?
Not able to pack everything on my West Bottoms list into one late afternoon, the following day I ran back over for a few more stops. First up—Bottoms Up. As in Bottoms Up Antique Market. Open on Friday, Saturday and Sunday of the first weekend of the month, or on Saturdays-only the rest of the month and located on the second floor of the former Stowe Hardware Building, you can always find something you didn't know you needed. 
Though I have a routine of making the full loop at this consortium of individually managed shops, I'm really there for The Green Door Antiques & Fine Art, which happens to be the outfit of my friends Darren Killen and Dustin Swartz. They've always got a beautifully assembled menagerie of home-and-garden goods that reflect the care they put into sourcing each item. There's typically a healthy dose of the Belgian aesthetic I continue leaning toward. Nothing is fussy or precious. Check it out. And if that's not your look, I guarantee one of the other dozen or so shops will match with your particular taste.
Next up on the list? One more retail jolt: Fetch. It's a super fun shop with lots of artisan cards and paper goods, gifts, and a ton of vintage apparel. Anyone who knows me can attest I love sending greeting cards. I almost always stay loyal to our hometown Hallmark, but I make an exception for really small, independent brands—which Fetch is full of. I can flip through cards for hours, and at Fetch I quickly amassed a stack of very silly ones.
Fetch also has a wide array of gifts that are just perfect for a housewarming, birthday, or any time you need to bring a host gift (i.e., always). Pro tip: Dedicate part of a closet near your front door to storing fun, versatile gifts that you can choose among on your way to a gathering or party (now is a great time to stock up!) For this purpose, I scavenged until my arms were full. Devotional candles (paying tribute to Dolly Parton and Tupac), boxed unicorn chocolates with rainbow sprinkles, quirky stationery—I could go on, but don't want to spoil future gift surprises.
Overheard "Oh, I do love a good boat shoe in winter… " "Shut up and have a sip of your Cosmo." "It's a Pomtini."
The staff was lovely—eager to jump down from their Mardi gras-bead hanging with offers to help. Having an appointment to get to, I took a rain check for delving into the extensive collection of vintage wear, for which I cannot be in a rushed mental state.
Final stop—my framing appointment at Dolphin Frames, tucked inside Haw Contemporary. At the recommendation of a good friend with the shrewdest art eye, Peregrine Honig, I scheduled time to meet with Archie Scott Gobber.
I'd recently purchased a large photography artwork, and (unusual for me) I needed advice on how it should look, framed. I brought along a snapshot of the piece, dimensions, and another pic of where it would ultimately hang in my home. We tackled the issues of matting, frame color/shape/size, as well as mounting and glass options. Aiming for a gallery-like look, it was a breath of fresh (masked) air to plow through the smallest details with someone who's a true pro.
I'll also note that for such a large work, I had a scary budget in mind. I happen to know Dolphin is trusted by many of our city's finest art collectors, which is why I'm all the more delighted to tell you that their bid came in reasonably less than what I was expecting. Before you head to a big-box craft store or online, give them a ring. Everything is very custom, very personal, and you'll be far happier than you would be with more commercial options. And their thoughtful guidance along the way is worth something, too.
---
So, KC—where do you want to go? XO
email: dlair@inkansascity.com  | Instagram: @damianlair #OurManINKC