Hallmark. Garmin. Sprint. AMC Theatres. These companies all have one thing in common: they started as small businesses in Kansas City and grew to global brands.
Now, a new generation of businesses is taking up the challenge. And they're putting Kansas City on the map by building a national, sometimes international, following. From hand-painted wallcoverings to chocolates to swimwear and, yes, barbecue, get to know these businesses and why they'll always call Kansas City home.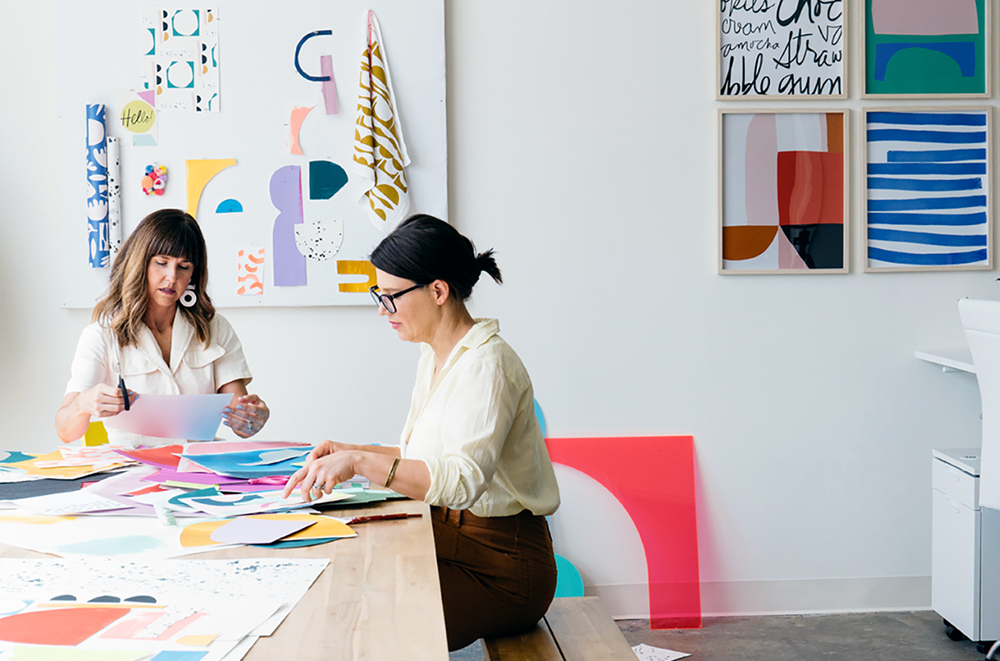 Ampersand Design Studio
Carrie Kiefer and Morgan Georgie know a thing or two about iconic Kansas City businesses.
The two met while working full-time at Hallmark, then left to start their own business in 2010: Ampersand Design Studio. Now, the brand is known for vibrant, energetic patterns that adorn everything from kitchenware and apparel to bedding and accessories. "For us, it's all about the artwork and the pattern and the illustration that's on the products," Georgie says. "A lot of our work is colorful and energetic, but also sophisticated enough that it can live in your house for a long time. It's suitable for kids and the young at heart."
Part of building Ampersand Design Studio includes creating relationships with other brands that license Kiefer and Georgie's art to feature on their products. One brand in particular proved to be a milestone. "One of our most sought-after clients was The Land of Nod, now Crate & Kids," Kiefer says. "We had approached them with not much success. Then they approached us, and it felt like there was validity in what we were trying to do."
Then came another significant moment: seeing their art prominently displayed in a The Land of Nod store. "There were tears," Georgie says. "We were wandering around like little kids!"
It's not always easy for artists and creatives to negotiate the use of their work, especially when considering rights and fees. That's just one reason that Kiefer and Georgie had pursued The Land of Nod, which led the way in listing artist and designer names on products. "They were really innovative in featuring the artist and making that an important part of the story," Kiefer says.
Another brand with a similar practice? Blue Sky Planners, which has been one of Ampersand's longest running partnerships. Stroll through aisles at Target, for example, and it's easy to spot Kiefer and Georgie's work featured on planners and other stationery products.
Now celebrating ten years in business with a rebrand and a product refresh, Kiefer and Georgie credit Kansas City—and Hallmark—for helping to foster their success. "I don't know if we really understood how amazing of an artistic community Kansas City has until we got to Hallmark," Kiefer says. "We had talked about going to New York, but the pull here is so great. It's impossible to leave!"
Kansas City's depth of talent has also given Kiefer and Georgie ample resources to not only create locally, but also manufacture their products. "We use local printers for our T-shirts and anything screen-printed we have done here in Kansas City," Georgie says. "Our glassware is printed in Lawrence, and we partnered with Sandlot Goods to produce a custom tote bag. There's so much talent and resources here that people might not guess exist in Kansas City. And with so much crazy awesome talent here, there's lots to be inspired by."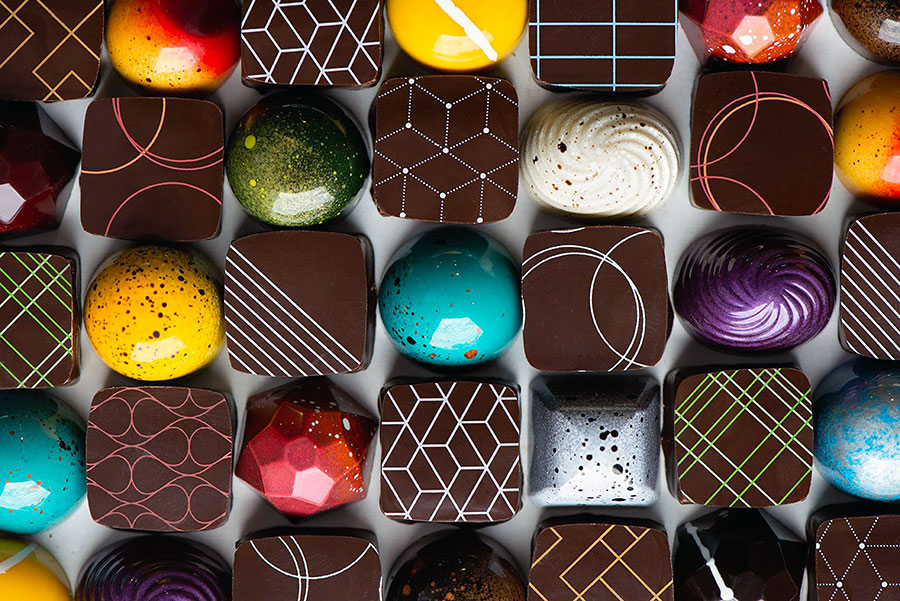 Christopher Elbow
It started with Oprah.
Less than a year after launching Christopher Elbow Chocolates, business suddenly spiked when Elbow's hand-painted confections graced the pages of Oprah's magazine. "That put us on a trajectory that really set the pace of the business," Elbow says. "We were very fortunate to get that press less than a year after starting the business."
Mail orders soon evolved into a comprehensive eCommerce system to enable online ordering. Thorough testing and research—approximately two years' worth!—helped Elbow and his team identify the best shipping materials and methods to protect product quality.
A brick-and-mortar location soon followed: 1,000 square feet tucked in the back of the Southwest Boulevard building that now houses the Blue Gallery. Later, Elbow opened a full storefront, complete with production space, at 1819 McGee in the heart of downtown Kansas City's Crossroads neighborhood. And in 2018, the company opened new headquarters near The Roasterie, combining production, packaging, warehouse, shipping, and offices under one roof.
The last few years have also seen an expansion of the Christopher Elbow brand to include Glace Artisan Ice Cream and, more recently, Fairway Creamery, which introduced doughnuts to Elbow's line of inventive and wildly popular sweet treats.
When it came time to expand outside of Kansas City, Elbow used customer data to help determine the ideal location between contenders like Dallas, New York City, Chicago, and San Francisco. "We had a substantial amount of orders going to the Bay Area and had built a customer base there," he says. "Plus, San Francisco is a great food city and the climate is ideal for chocolate year-round since it never gets really hot."
Most businesses have had to make some sort of pivot during the pandemic, and Christopher Elbow is no exception. Elbow says the company is even more focused on strengthening the eCommerce experience and revenue, especially while in-store shopping is constrained. "We want online to be a more important part of our business," Elbow says. "We're scaling back our wholesale orders and bringing those sales in-house so that we can ship directly to the consumer. We want to try and control that customer experience, whether it's coming into one of our stores or ordering online."
More excitement is ahead for the Kansas City-based confectionary brand. Elbow's been looking for creative ways to fill empty space in the McGee shop since production moved to the headquarters facility. And he's got something delicious up his sleeve.
"We're going to build a cacao experience so that people can learn more about cacao, its history, and the farmers that grow it," Elbow says. "Then they'd be able to see the cacao beans transform into chocolate and taste along the way. It's coming—I just don't know when!"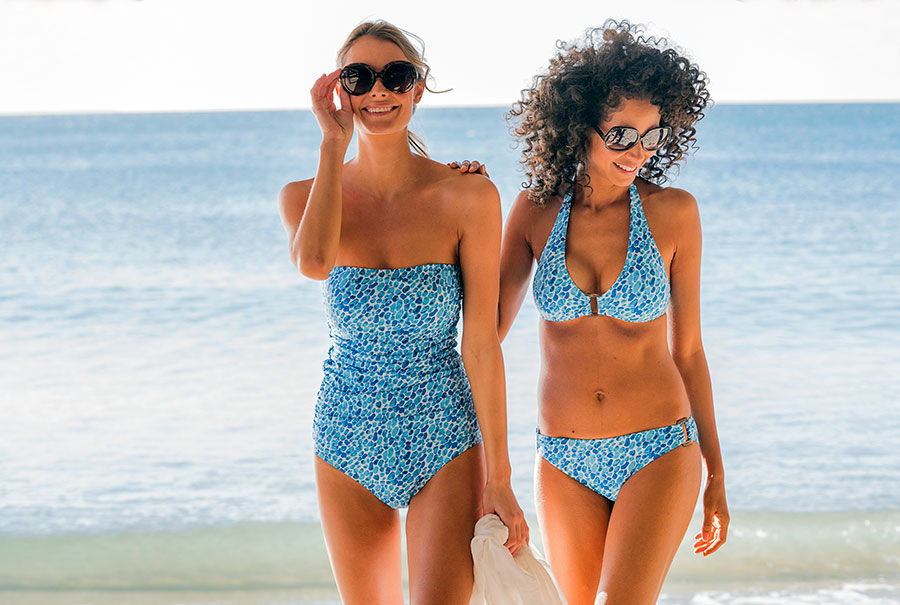 Helen Jon
So many businesses are created to fill a gap in the current marketplace, and Helen Jon is no exception.
The swimwear and resort style brand, founded by Gwyn Prentice and Missy Neville, originally specialized in stylish, well-fitting board shorts. Think of a cross between Billabong and Land's End, Neville says.
Since Helen Jon launched in 2012, the brand has expanded to include more swimwear options, including the original board shorts in prints designed by Neville, as well as resort and leisure wear. Visit the Helen Jon website and a new and unexpected product is prominently featured: protective face masks made from the company's swimwear fabric. "Masks are certainly something we didn't envision carrying," Neville says. "Our production manager in LA was instrumental in helping to make mask production happen in our LA factory, and they appreciated the business. We're doing what we can to help retailers and other related businesses make it through this difficult time."
In the years since Neville and Prentice founded Helen Jon, the company has grown to include a team of 14 employees. Talented, friendly people are one of the many reasons that Helen Jon remains headquartered in (relatively) land-locked Kansas City. "The people you can find to work with you are so good," Prentice says. "Our CEO is incredible; she's been with us for probably seven years now. Everyone who works in customer service is wonderful, and everyone's stayed with us. When you work in a small office, having employees that are genuinely nice, caring and thoughtful makes the experience a pleasure."
Prentice originally lived in Kansas City when Helen Jon launched, and has since relocated with her family to Naples, Fla., the ideal testing ground for swim and resort wear! "We don't even go on vacation anymore—we live in paradise," Prentice says.
Neville lives in Kansas City and shares design and other creative work with Charlotte Munyard, Helen Jon's design director. When Neville isn't working on Helen Jon-related projects, she's likely at her second (yes, second!) business, a private therapy practice.
Although Neville and Prentice have celebrated several milestones, including wholesale relationships with resorts and a customer base that spans the country, Neville says the company still has a lot to accomplish. "We're really excited about where we're headed," she says. "We keep setting new milestones, new things that we're working on. And we're motivated by our success, but also our failures—you don't get it right every time."
Much more often than not, Helen Jon gets it right—just scroll through the online customer reviews, which praise the fit, the quality and the overall experience. That customer feedback plays an integral role in Helen Jon's ongoing product development. Neville says a customer recently asked for added cuffs, and the team quickly moved in an unexpected direction as a result. "We'll just stop everything and say, 'That's a good point,'" she says.
Adds Prentice, "It's scary to run a business, especially in the fashion world. You're always having to predict what someone's going to like and living in a world of semi-doubt. Seeing those customer reviews always helps me exhale and know that we're succeeding."
Dreaming of their favorite places to wear their swimwear doesn't hurt, either. If Prentice does opt to leave Naples, she prefers the Bahamas or the Florida Keys. Neville loves to hop a plane for a four-day winter getaway to Cabo San Lucas or Cancun.
"It helps me reset," she says.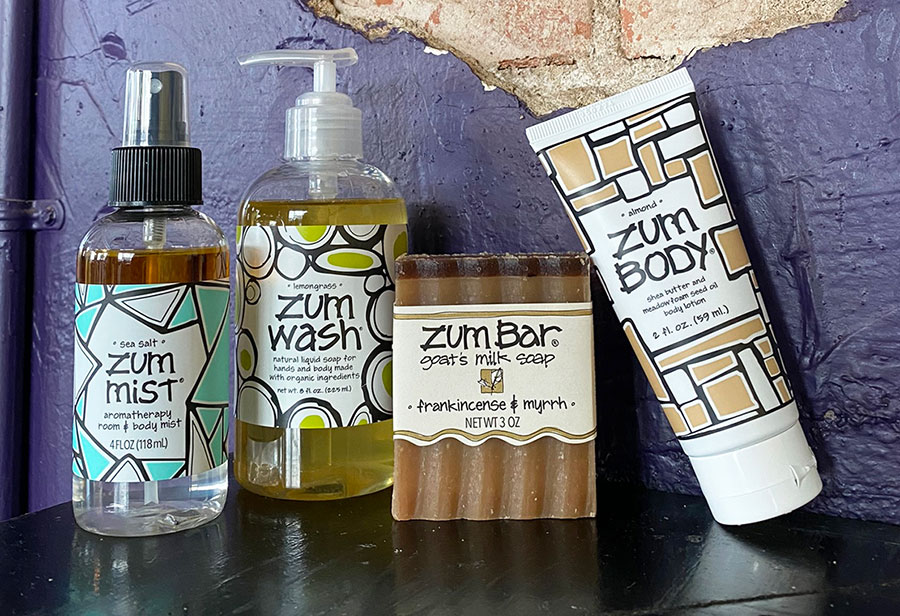 Indigo Wild
If you're familiar with Indigo Wild's fragrant, addictive plant-based body and home products, it's hard to imagine the line without Zum Bars, goat-milk soap that's instantly recognizable by a rippled texture that's reminiscent of corrugated metal.
Yet when Emily Voth began cooking up all-natural, cruelty-free products in her kitchen in 1996, she started with face creams, body oil, and bath salts (among other products) before adding Zum Bars to the mix.
In fact, when Zum Bars were soon offered at a local farmers market, a quick sell-out told the Indigo Wild team they were on to something. That early business highlight was later followed by another milestone: a distribution agreement with Whole Foods.
Now, Zum products are available nationwide in grocery stores like Hy-Vee, Publix, Giant Eagle and, of course, Whole Foods. Zum products are also widely available in locally owned grocers and boutiques. The ultimate Indigo Wild shopping experience awaits at the company's Kansas City headquarters.
A renovated building in midtown at 31st and Wyandotte streets is home to the Indigo Wild Zum Factory, which includes an adjacent retail store that's temporarily closed as a result of the pandemic. When the store reopens, it's the perfect place to shop discounted products and new goodies that aren't yet available in stores. In a nod to the transparency that's always guided Indigo Wild's business philosophy, visitors to the factory shopping store can watch raw, organic ingredients transformed into bath and body products.
"Every Zum Bar and Zum Brick is a one-of-a-kind work of art, and watching it go from slab to bar or brick and into your hands is what makes us happy," says Keelia Killip, marketing director.
If you haven't yet given Indigo Wild products a try, Killip says it's easy to make a recommendation. "Our gateway product is the frankincense & myrrh Zum Bar—it has almost a cult-like following," she says. According to the company, this "deep, mysterious combination of scents brings to mind the woods after a rainstorm or the incense wafting through an ancient roadside chapel."
From there, Killip recommends dabbling in three other Zum Bar fragrances that are customer favorites—lavender mint, sea salt, and patchouli. Although Zum Bars are a perpetual hit, that doesn't stop the Indigo Wild team from continually exploring new product ideas. That creative curiosity led to a product expansion that now includes laundry soap, room and body mist, liquid soap, and a facial care line.
And more new products are always under consideration, as are plans to grow the number of stores that carry Indigo Wild products, both here in Kansas City and nationwide.
Jones Bar-B-Q
Jones Bar-B-Q quickly went from beloved local barbecue joint to a nationally known brand when sisters Deborah "Shorty" and Mary "Little" Jones appeared on season three of Queer Eye.
Viewers worldwide quickly became enamored with the humble, caring sisters, who are as quick with a joke as they are with a hug. After stepping into their father, Leavy B. Jones Sr.'s, footsteps to run Jones Bar-B-Q, they were focused on fulfilling a promise they had made to him: to get the family's barbecue sauce, made from his recipe, sold in stores.
The Queer Eye 5—Jonathan, Antoni, Bobby, Tan, and Karamo—did just that. Now, Jones Bar-B-Q sauce has a worldwide following, thanks to an online store that includes sauces, rubs, and a Jones Bar-B-Q T-shirt. "Something came over my soul," Mary says. "If there was ever anything I could do for them, I don't care how big or small, I'll be at their door the same day. When people started ordering our products and coming from overseas, I don't even know how to explain it. I never thought things would blow up like that."
Deborah and Mary, two of Kansas City's only female pitmasters, are no strangers to hard work. And when the cameras and crew cleared out and the episode aired, they continued focusing on their business while navigating their newfound fame—sometimes literally! "I had a guy chase me on the highway," Mary says, laughing. "We both pulled off at the exit and talked for a few minutes. That overwhelmed me! How can you recognize someone while driving on the freeway?"
The seemingly unflappable sisters have even found creative ways to deal with the pandemic and keep feeding their customers. Earlier this year, Deborah and Mary introduced a 24/7 vending machine that dispenses sandwiches, wings, and sides. The refrigerated vending machine is restocked daily to ensure food quality, and has given customers a convenient, contactless way to get their favorite food any time of day—well, while supplies last, of course!
Despite their TV stardom, Deborah and Mary remain as humble and driven as ever. Yes, Mary still uses Ziploc and plastic bags as a purse and wallet. "We're down-to-earth people," Mary says. "We just do what we gotta do, every day, and treat people like we want to be treated. This show did more for us than we could have imagined."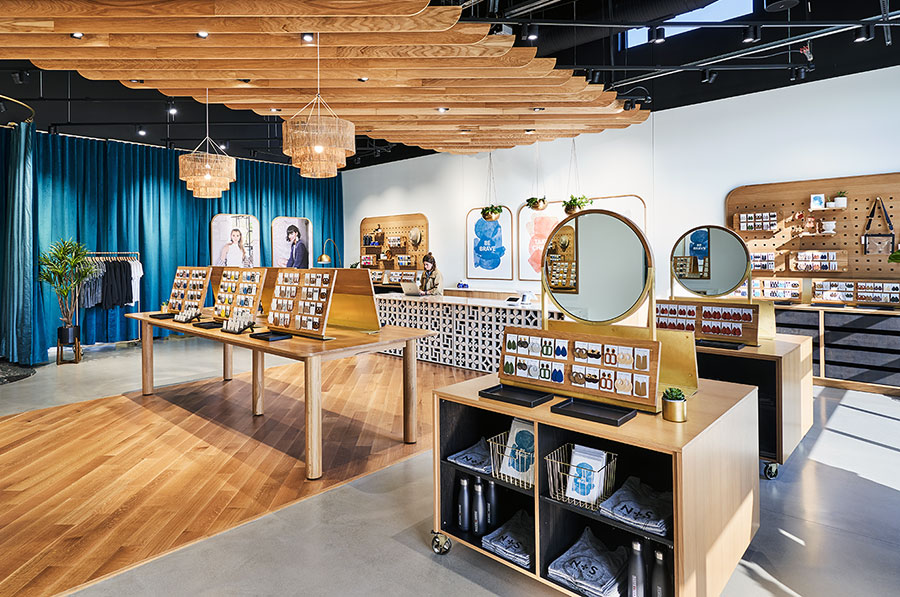 Nickel & Suede
When style blogger Kilee Nickels finally tired of her signature silver teardrop earrings and couldn't find a similar option in gold, she channeled her inner entrepreneur and went the DIY route.
She cut into a piece of hammered gold leather and created the first pair of teardrop-shaped earrings that would soon spark an entire business: Nickel & Suede. Jewelry fans quickly flocked to the brand to add pops of color or texture to their outfits with the eye-catching earrings that, even in the largest size, feel virtually weightless.
Now, six years after launching the business, Nickel & Suede has grown to three retail locations, including the company's HQ store in Nickels' hometown of Liberty. A strong customer base in Texas made Dallas an ideal fit for the company's first out-of-state boutique, which recently celebrated its grand opening. And in September, Nickel & Suede hit another milestone: a Plaza boutique opening.
"Having a store on the Plaza is a dream come true for me," Nickels says. "Our HQ store in Liberty is our template store where we can try things out, stage products, and experiment for our other stores. The Plaza location is really the Kansas City crown-jewel store for central Kansas City. Any time people come to Kansas City, they typically go to the Plaza, and it's exciting to have our name there."
Internal company growth has proved just as transformative. Guided by Nickels' keen eye for that elusive blend of timeless and trendy, the company's signature teardrop earrings are now joined by more than a dozen styles, including geometric gems and a new arrival for fall—indie fringe. Leather remains a core material for every pair of earrings, but some styles introduce other embellishments like acrylic half-moons and decorative posts. Capsule collections drop regularly, featuring seasonal hues, updated textures, and new styles. Nickel & Suede also offers leather cuffs, rings, and chic hats that reflect Nickels' own enviable fashion aesthetic.
After keeping a tight hold on wholesale distribution to help control the rapidly growing brand, Nickel & Suede is now carried in approximately 50 boutiques around the U.S. Don't be surprised to see more Nickel & Suede shops open around the country next year and beyond. Yet no matter how far the brand grows, Kansas City is always a key part of the company.
"In a bigger city, there are so many new businesses trying to make it that it's easier to be drowned out," Nickels says. "Kansas City is a tight-knit community, so it's also easier to get help and support. And it's a great place to find talented employees."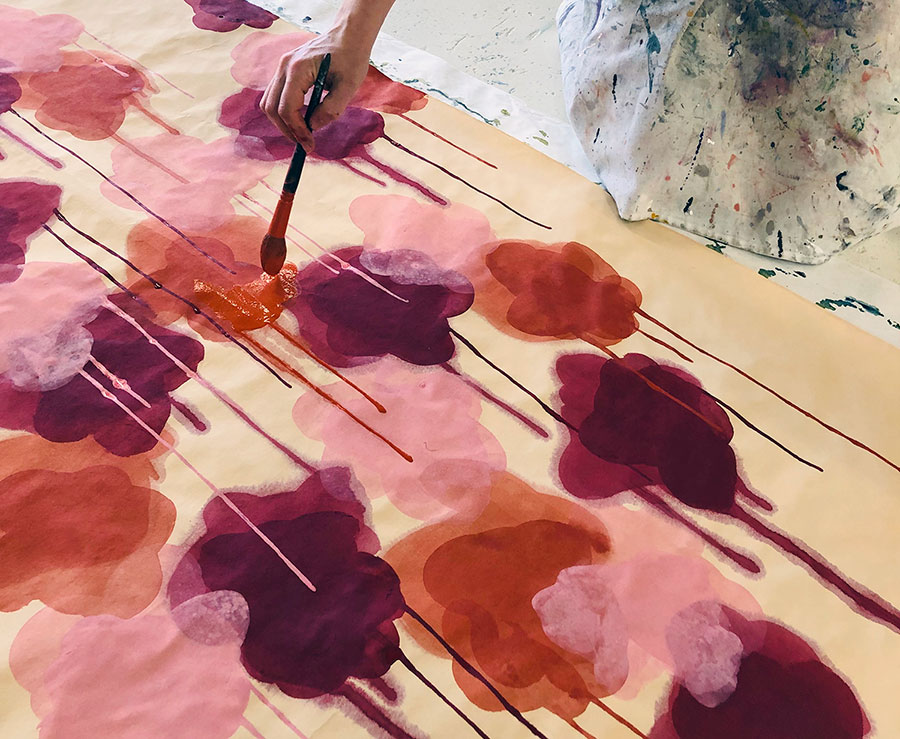 Porter Teleo
A chic Parisian residence, a bustling New York City hotel lobby, and the penthouse of the world's third-tallest residential building all feature Porter Teleo's wallcoverings and textiles, hand-painted here in Kansas City.
Artist Kelly Porter and designer Bridgett Cochran joined forces to launch Porter Teleo 16 years ago. "We wanted to bring the best of those two worlds—fine art and interior design—together," Cochran says. "And we wanted to create a product line that's interactive with the designer and gives them room to be creative within our line."
That might mean creating a custom color palette or pattern that's then meticulously applied to imported Japanese paper (for wallcoverings) or imported Belgian linen or heavyweight silk taffeta (for textiles).
The magic happens inside Porter Teleo's east Crossroads studio and office space. Porter describes the process of painting the wallcoverings or textiles as "painting huge puzzle pieces" that are seamlessly fit together during the installation process. Porter Teleo employs several artists, some of whom are Kansas City Art Institute graduates. "It's been important for our business to be located in such an artistic city that's home to so much talent," Porter says.
In fact, when the interior design industry first began hearing about Porter Teleo, Porter says designers were curious about the product's origins. "They'd ask us, 'Where in the world is this coming from?'" Porter says. "People were excited to see that it was from somewhere different. And it's a fun opportunity to meet with designers and educate them about Kansas City."
Now, these luxurious, Kansas City-made products are featured in homes and businesses around the world. "To think of how many thousands of people see our work every day is something we don't take lightly," Porter says.
Adds Cochran, "There are so many beautiful things that we make in the studio that we don't get to see installed. Two that we've had interactions with—the 432 Park Avenue penthouse and the Lotte New York Palace lobby—were amazing to see in person."
For Porter Teleo's clients, the brand is synonymous with luxury and an impeccable attention to detail. And just as Porter and Cochran channel their creativity to create the company's portfolio of sophisticated patterns, they encourage clients to tap into their own creativity when considering how to incorporate Porter Teleo into a project.
"We've been able to make our products while keeping several factors in mind—the people, the art, the environment, the quality, and the sustainability," Porter says. "The end result is why clients are drawn to our products, because those things matter to them, too."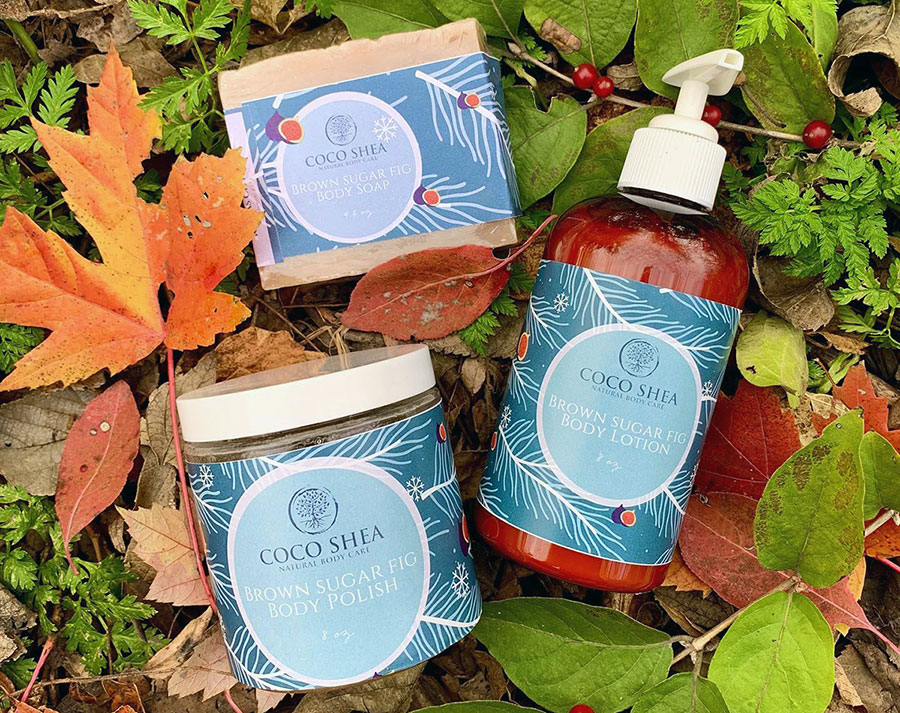 Coco Shea Natural Body Care
Little did Asiyah Lites-Rasheed know that a personal challenge would launch a business.
Yet that's exactly what happened in 2013. Lites-Rasheed's son has eczema, and she grew tired of continually filling prescriptions for chemical-heavy products laden with impossible-to-pronounce ingredients that had little to no impact on her son's skin.
On a whim, she mixed up a batch of whipped shea butter from a recipe created by her great-aunt, Rae Rae. When her son's skin improved, word quickly spread.
"Everyone I knew wanted my shea butter," Lites-Rasheed says. "This led to the creation of Coco Shea Natural Body Care."
Since then, the Coco Shea line of products has grown to include body and facial care products, soap, men's care, and more. Every product includes plant-based and unrefined ingredients that occur naturally in the earth. The company also prioritizes Fair Trade ingredients, including shea butter imported from Africa.
"We believe that taking care of yourself should be an organic process that doesn't hurt the Earth or your body," Lites-Rasheed says.
Just as important to Lites-Rasheed: an accessible price point. High-quality, all-natural skin and body care can often carry a high price tag, but she's committed to helping as many people as possible use her products to treat their own skin conditions and take care of themselves.
That includes shipping to customers in the U.S. and Canada. A subscription service is also in development. Lites-Rasheed is focused on continually growing Coco Shea Natural Body Care while also juggling a second business: Brown Sugar Chicken & Donuts, owned by her brother, Jamaal Lites.
The fried chicken and donut restaurant opened last December in Kansas City, Kansas. Just as Coco Shea Natural Body Care started with a family recipe, Lites wanted to make "brown sugar"—his family's favorite endearment—a focal part of the restaurant.
In fact, you'll find brown sugar in some of Coco Shea's products, too, like the brown sugar lemongrass body soap or the hemp seed lotion. It's a thoughtful nod to the importance of family—and proof that a little love goes into everything made by Coco Shea.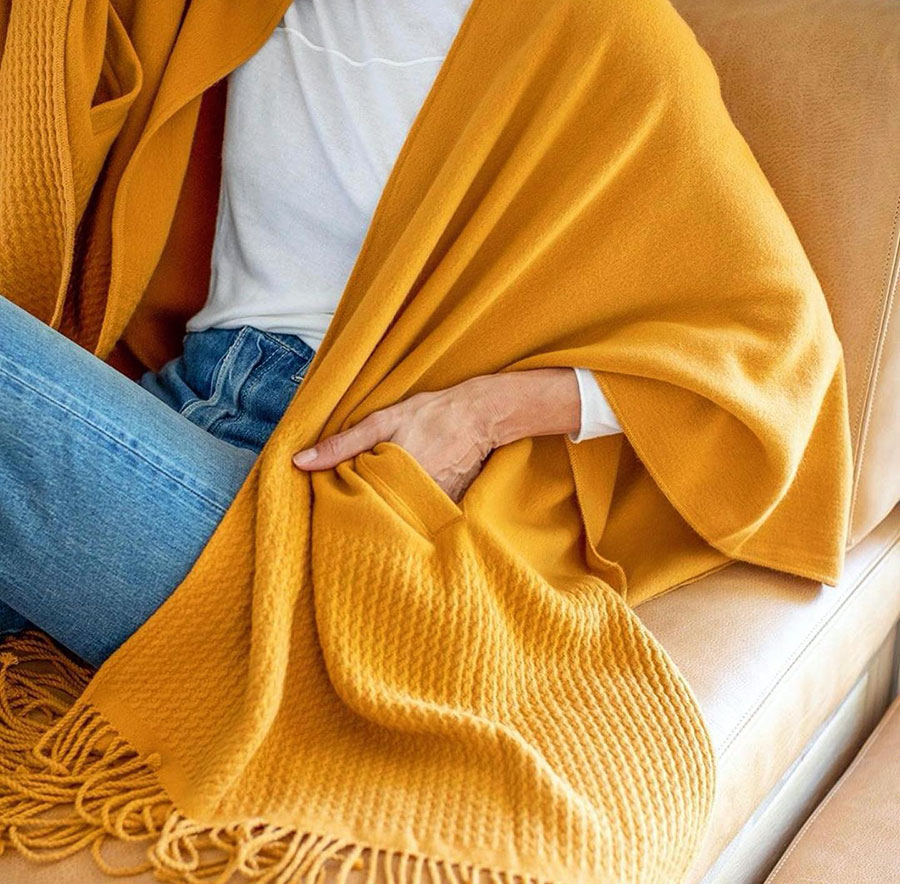 Mer-Sea & Co.
If you feel yourself becoming calmer and less stressed as you browse Mer-Sea & Co.'s travel wraps, candles, and other products, that effect is intentional.
"At Mer-Sea, we think life should be simple, like life at the beach," according to Melanie Bolin and Lina Dickinson, Mer-Sea co-founders. "We try to reflect this attitude where utility, tranquility, and simplicity reign supreme."
One of the company's signature products, the classic travel wrap, embodies this ethos. The lightweight acrylic wrap drapes effortlessly over the body, making it the perfect accessory for a chilly plane ride, a meandering stroll, or an evening spent curled in front of a fireplace.
Since founding the company in 2013, Bolin and Dickinson have grown Mer-Sea's product portfolio to include clothing, accessories, home fragrance, and beauty products. The clean-burning soy candles have become a cult favorite and are packaged in reusable canvas bags that reflect the company's beachy aesthetic.
Mer-Sea's products are carried by a number of distributors, but perhaps the most exciting partnership so far is with Anthropologie. The clothing and home décor retailer is synonymous with impeccable merchandising and product curation, creating retail spaces that you want to live in instead of merely shop. Anthropologie carries Mer-Sea bath and beauty products ranging from lotions and foaming body scrubs to hair towel wraps and reusable face cloths.
Bolin and Dickinson may have been inspired by wanderlust, but there's no doubt that they're committed to operating their business as locally as possible. They're headquartered in Lenexa, a space that includes a warehouse (keep an eye out for periodic warehouse sales!). Candles, room sprays, and soaps are all poured here in the Kansas City area. And when Bolin and Dickinson need to source products elsewhere, they strive to support small businesses. Their travel wraps are a perfect example: many of them are made by a family-owned company in Ecuador.
This emphasis on thoughtful sourcing is yet another facet of how Bolin and Dickinson have intentionally approached their business. Fragrances, color palettes, materials, packaging—each element is designed to evoke the effortless allure of the sea.
Yet in a time when travel is currently limited, it's equally important to make your home just as welcoming and relaxing as an oceanfront getaway. That sense of place helped inspire Bolin and Dickinson, longtime friends, to create Mer-Sea after they both relocated to Kansas City to support their spouses. Now, they can bring the best aspects of a beach getaway to others, no matter where they're located.
"To us, physical and mental travel are equally important and can bring just as much pleasure," Dickinson says. "A good book and a scented candle can take you anywhere, while a travel wrap is the perfect companion on any journey. We're dedicated to the travelers, the dreamers, and the doers—we really do believe 'the world is your oyster."