If Kansas City had a Monopoly Board, what local attraction do you think would take the coveted Park Place spot from the classic game? Would it be Arrowhead? Or maybe Power & Light? What about Union Station? Or the Plaza?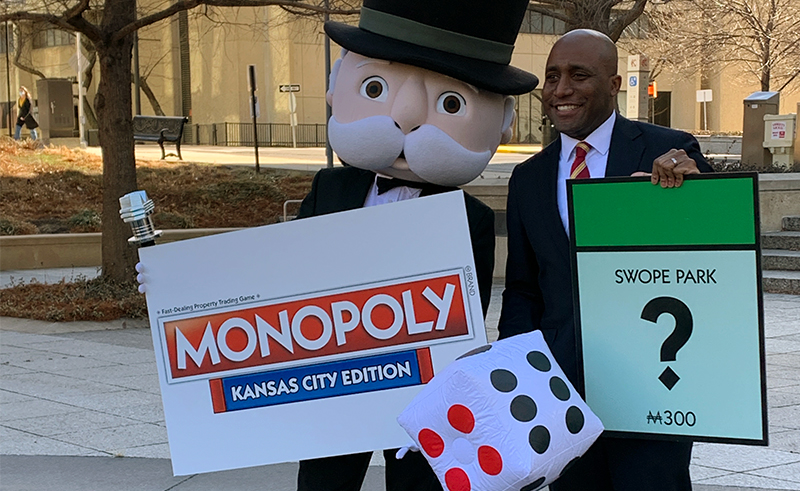 There are lots of possibilities, and soon Kansas City, along with the rest of the planet, will get to play Kansas City Monopoly. But first, the makers of the classic game are asking Kansas Citians to weigh in on which Kansas City landmarks should map out the board. 
"It has been a wonderful time to be a Kansas Citian, even more fun to recognize our great city through Monopoly," says Mayor Quinton Lucas. "I, like many people, grew up playing Monopoly, and it is still something my family and I do for fun. I think it is amazing and outstanding that Kansas Citians will not only get to enjoy Monopoly in the normal ways but also celebrating parts of Kansas City." 
All the spaces on the new board will be rebranded to represent Kansas City, as well as Community Chest and Chance playing cards, making the game the ultimate Kansas City gaming experience.
Kansas City Monopoly will be released this fall, and locals can suggest the spots they'd like to see on the board from now until March 13, by emailing KansasCity@toptrumps.com—there are even prizes involved.
"We want to ensure that the Kansas City Monopoly is an accurate portrayal of what locals love about their cities, so we would love for everyone to get on board and send us their recommendations of what they would like to see included," says Katie Hubbard, a representative of Top Trumps, the company that manufactures the game under the Hasbro name. "Anything and everything is up for consideration—The Kansas City Chiefs, 18th & Vine, The Scout, The Nelson-Atkins Museum of Art, we want to know what your favorite place is to go to in Kansas City."