When it comes to cultural celebrations, there are few more poignant and beautiful than Dia de los Muertos. The holiday, which falls on November 1st and 2nd, is a celebration of life and death. Those who remain on earth honor their loved ones who have passed on and believe that they may visit them on earth. 
If you've seen Disney's Coco or 20th Century Fox's The Book of Life, you may be familiar with the holiday and its traditions, such as sugar skulls and ofrendas. In Kansas City, it's more than just a movie–with our vibrant Latinx community, Dia de los Muertos has found a home here as well. Several celebrations are happening in Kansas City, starting this weekend, so gather your Abuela's favorite snack and celebrate! 
What: Kansas City Museum's 8th Annual Day of the Dead Celebration Altar Viewing
When: October 23, 6 p.m. to 9 p.m.
Where: 3218 Gladstone Boulevard, enter from Indiana Avenue 
Fresh on the heels of its reopening, the Kansas City Museum will explore the art and pageantry of the holiday with its 8th annual Day of the Dead celebration. Because of COVID-19 restrictions, activities will remain outside. 
Guests are invited to view altars built by the museum and contribute to the community altar that will grow throughout the day. There will be live music by Mariachi Estrella KC and performances by the Stone Lion Puppet Theatre and Grupo Folklorico Izcalli. Tickets are $5 for adults and free for children under 12 with a parent. Register 
What: Dia de los Muertos Celebration by Sala de Arte in KC
When: October 30th, noon to 8 p.m.
Where: 9th and Van Brunt Athletic Fields 
Sala de Arte in KC invites guests to join them in celebrating the holiday with a day of art, music, dance, an All-Star soccer game, and their inaugural Dia de los Muertos parade. They will also host a contest for the best tamales. Art and food will be available for purchase. Guests may also contribute to the community altar. Admission is free.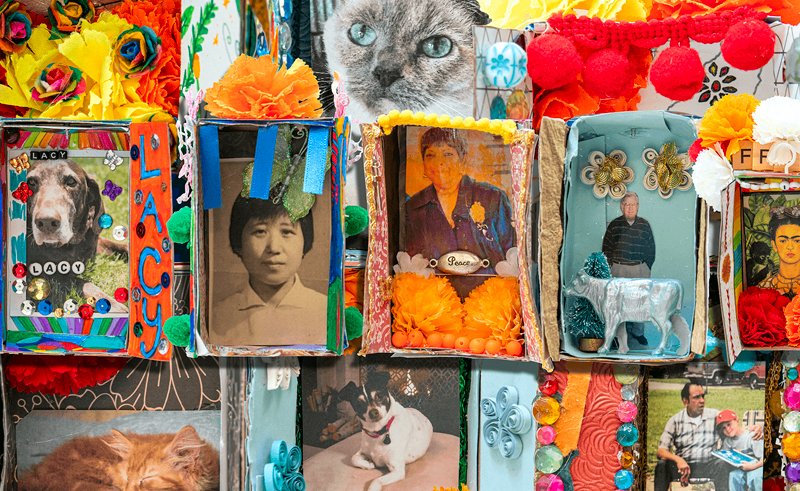 What: Day of the Dead display at The Nelson-Atkins Museum of Art
When: November 1-15
Where: 4525 Oak Street
The Nelson-Atkins Museum of Art collaborated with the Mattie Rhodes Art Center, the Mexican Consulate, and local artists to create their altar using traditional elements and housed in an elaborately decorated house structure. Visitors can add their remembrances and take home a special activity sheet. The altar is available during opening hours every day. 
What: KCK Day of the Dead Celebration
When: November 6, 2 p.m. to 9 p.m.
Where: 1120 Central Avenue
The Central Avenue Betterment Association (CABA) welcomes guests to their celebration, including a parade at 6 p.m. and live music, food, and art throughout the day.