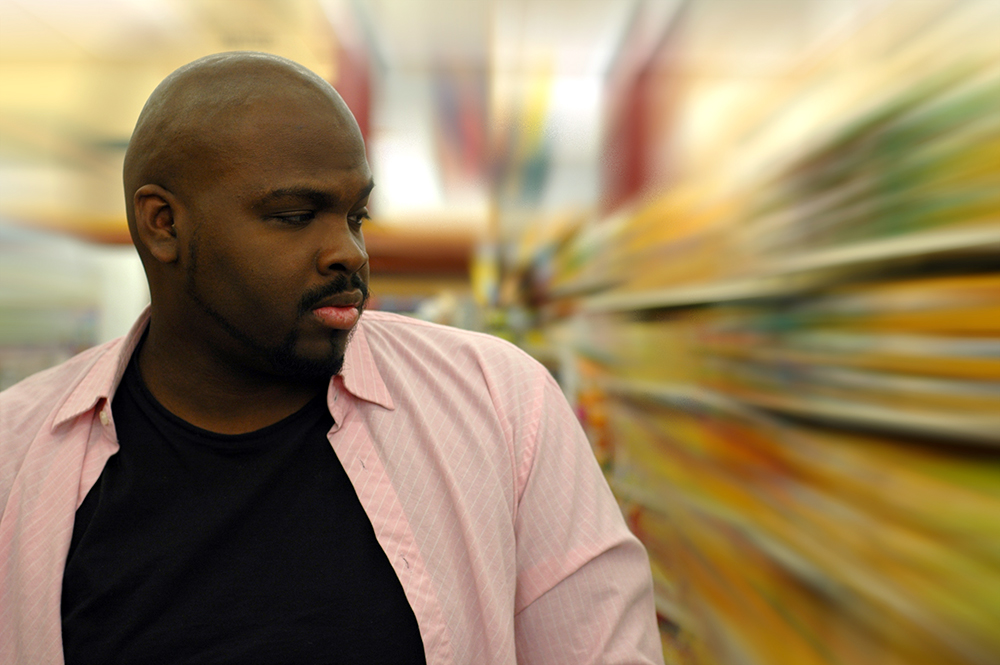 Max Kaniger did not design the business model for Kanbe's Markets to enter into a philanthropic endeavor, per se.
Like any entrepreneurial businessman, his intention in 2016 was to meet a market need, to find paying customers. In this case, for the lack of access to affordable fresh fruits and produce in lower income neighborhoods of Kansas City.
"I didn't start this to run a charity," Kaniger says. "I started it to solve a problem." 
These aren't the words that people expect to hear associated with attempts to address hunger. But it's the direction some new entrants into the field are stressing through business models that promote sustainability and scalability. It's a far cry from the breadlines of past generations, when quantity, but not necessarily the quality of the food, led.
The Kanbe's approach shifts food distribution. The effort has inserted small refrigerated display cases full of healthy options in 12 area convenience stores; shops often thought of more as places to grab cigarettes, liquor, snack items, and soda rather than nutritious fresh staples. 
It's a perspective that skips models of literally serving people, say in a food line, but offering to them, for purchase, healthy items at sites where they are already shopping. The onus is on the customer to choose the products offered—carrots, tomatoes, broccoli, lettuce, apples, oranges, peppers, cucumbers, collard greens and more.
Standing in the rented warehouse space on Troost Avenue where he and his childhood friend and program manager, Keith Mulloy, work, the scene is one of a budding business. Mulloy is integral because he has management experience in the grocery business. The space is cramped for the amount of food they envision moving. Negotiations were still underway for a larger refrigerated space, deals still to be structured to secure the financing.
But Kanbe's Markets is running on an efficient, seven day a week delivery schedule. They have one refrigerated box truck.
Kaniger envisions Kanbe's as a model that could be scaled to national proportions. Kansas City is the testing ground.
Functioning from a similar perspective, Emily Brown is moving toward serving her clients through the convenience of digital online orders for their food needs, much as how big retailers Amazon, Target, and Walmart are shifting. The only difference is that her products are strictly for families who need help affording celiac safe and non-allergy triggering foods for their children.
Brown stresses that the Food Equality Initiative, which she helped found in 2014, foremost seeks to answer a medical need.
Gluten-free is expensive. Substitutions for dairy milk are costly too, or not available in the smaller groceries that serve many neighborhoods. And yet, food allergies are believed to affect about ten percent of children living in the urban center of Kansas City, potentially a financial disaster for families on a tight budget.
"As long as the management for the disease is food avoidance, there inherently will be health inequities," Brown, CEO of the effort, says. "Some patients are going to be able to afford it. And some will not."
Brown, who is African American, knows that she is pressing against accepted norms. The face of someone struggling with a food allergy, or shopping for gluten-free products, is generally white.
And most of the people leading non-profits in food scarcity issues don't look like her. The clients do.
A former preschool teacher, she entered the field when her daughter was diagnosed at the age of one as allergic to peanuts, eggs, dairy, wheat, and soy.
The Food Equality Initiative operates on a pantry within a pantry model. Two sites currently operate locations, in Midtown at Metro Lutheran Ministry and Chapel Hill Presbyterian in Blue Springs. Brown is also planning a location in Brookside and hopes to open in Johnson County in 2020.
For now, once the medical diagnosis and income guidelines are met, families can set up an appointment to go to the pantries for the items. The process works through the Special Supplemental Nutrition Program for Women Infants and Children (WIC).
Both of these burgeoning Kansas City efforts fall into the broader category of addressing the issue of food deserts, areas of the metropolitan area where healthy, affordable options for food are scarce. Limited transportation only complicates problems.
In some housing projects, people will be charged up to $25 to be driven to a grocery store, which generally aren't located nearby. That's a business model too, but one that further bites into tight family budgets.
But the new approaches are radically different from the era of viewing people needing food assistance through a lens of pity. The offensive phrase "beggars can't be choosers" is increasingly being met with, "Why not?"
Dignity is now leading. An attitude of respect for the person receiving the food. And it's making all the difference.
The attitude shift plays out subtly, but with a big impact—a cheerful volunteer greeter might meet clients entering what was once a traditional food kitchen, just as any hostess would set the tone for a dining experience at the city's better-known restaurants. Upon being seated, the person seeking a meal would order and be served, rather than standing in a line and being offered the day's options, take it or leave.
This is the concept being used by NourishKC, which serves meals daily at the Kansas City Community Kitchen at 750 Martin Luther King Jr. Boulevard (The Paseo). They serve 350 to 500 meals a day.
Extra bananas and apples were the marker on a recent day, in the hands of most people who were exiting the site.
People linger here, seated at the tables, often known and greeted by staff by their first names.
Teri Lynn Vincent sat at one of the tables recently, finishing her chosen meal of fruit and scrambled eggs.
Around her wrist were hospital bands, left from a recent stay for complications from a head injury. She wore a dress, a pearl necklace and earrings, but said that she'd also been homeless in recent months after her mother's death, which caused her to lose access to their shared home.
The quality of the meals, the friendliness of the staff, offer her hope, she said.
NourishKC is the rebranded name for the Episcopal Community Services, which has served meals for more than 35 years in Kansas City.
The organization also offers a lesson common in business; don't try to grow too quickly and don't be too eager to buy into the plans of a visionary leader who might not be able to deliver on the funding streams necessary.
A planned culinary training program is not operational. A warehouse collaborative effort, refrigerated space to hold the products for several non-profits, was scuttled.
In recent months, NourishKC has refocused on what it does well; providing the daily meals.
Coordination with other agencies is key, said Christina Esteban, director of operations, noting that "we're talking now more than ever."
"Hunger is not new," she says. "But how do we address it differently is."
The attitudes that sustained old breadlines are slowly being dismantled this way, locally and nationally. It's increasingly less common to find people lined up to receive a meal scooped onto a plate and placed on a cafeteria tray. The implication was that the recipient was expected to be grateful for any morsel, a lunch that is decided by the volunteers and good-hearted donors willing to share their wealth. Alms for the poor, tithing as a means to demonstrate one's goodness.
NourishKC also offers an example of the eco-system of sorts that is developing.
The DST Community Garden, at about 10th and Jefferson Street in downtown Kansas City, supplies much of the produce. After meals are served, another company picks up the food scraps from the kitchen for composting. And the compost later goes back to the garden to enrich the plants.
One effort that had planned to launch this year under the non-profit umbrella of NourishKC, is Dotte Mobile Grocer. It's sidelined for now, awaiting a relaunch.
But the concept is fully developed and envelopes a massive array of community partners and buy-in from residents and leadership in Wyandotte County. A community-led committee continues to regularly meet and plans a 2020 launch.
Organizers refurbished a beer delivery truck with the help of architecture students, designed it to hold fruits, vegetables, and other items often not readily available in portions of the county. The truck is sidelined, but only temporarily.
Eggs were the top request, says Matt Kleinmann, a doctoral student at the University of Kansas School of Architecture and Design, who is deeply involved in the project as a co-director of Dotte Agency.
In the past, such activism often focused on trying to entice full-scale grocery stores to move into low-income areas.
Kleinmann is more forgiving, and like many of the people involved in serving food insecure neighborhoods, he can wax eloquent on the market forces that impact the slim profit margins of the grocery industry.
The answer became finding new solutions, like the mobile market. 
"What people want is a sense of dignity in their neighborhood," Kleinmann says. "But if it is left to the free market, we will never get grocery stores where we need them."
Likewise, another effort well-known in the Kansas City area is also directly tied to understanding market forces—this time, of the restaurant industry.
Thelma's Kitchen celebrated one year in operation in mid-August. Thelma's is part of the One World Everybody Eats collective.
The restaurant, at 3101 Troost Ave., received much publicity upon opening as the first donate-what-you-can café in Kansas City. Like the Dotte Mobile Grocer, it is heavily branded, marketed with eye-catching advertisements of the menu.
Thelma's motto is "a gathering place," a nod to the model of mixing paying with non-paying clientele. Diners decide what they can afford, or they can volunteer in exchange for a meal.
But the ratios have not been what the effort desires, says Pamela Infranca, chef and food programs manager.
That's a missed opportunity. Entering the restaurant, a customer eager for lunch will notice first the pleasant smells of the food that is prepared. And the suggested price point is comparable to other local spots. They would like more clients who are willing to pay it forward.
"We are a restaurant," Infranca says. "But I can look around here and call most people by name."    
As Thelma's illustrates, many of the newer concepts ask more of the broader Kansas City community, beyond traditional giving, or even volunteerism.
Sustainability for many of the new efforts will entail more people understanding access to affordable healthy food as a basic human right.
A glorious test of experiential design would be to ask Kansas Citians to imagine what it would be like to even momentarily shed items that broadcast a certain class level; their jewelry, a car, stylish clothing, hair and nails manicured.
Then, have them stand in a line, waiting to be fed. It wouldn't be quite the same as "flying a sign," which is how some term the act of standing on a street corner with a handwritten sign on cardboard pleading "Hungry. God Bless."
Brown, of the Food Equality Initiative, has experienced such a moment and it informs her work daily. She can't strike it, the hours she once spent at a Johnson County food pantry. Her eldest daughter had been diagnosed with food allergies. Her husband's job as a social worker couldn't possibly meet the dramatically increased grocery costs for the young family.  
She went to a food pantry and took her place in the long line.
"It was the most humbling experience that I've had in life," the mother of two says. "Seeing people walking out with carts and carts of food and hoping that when you get in there, there will be something left for you."