About a year ago, Kelly Stromberg was spending Christmas at home with her husband when he asked her what she wanted to be when she "grew up."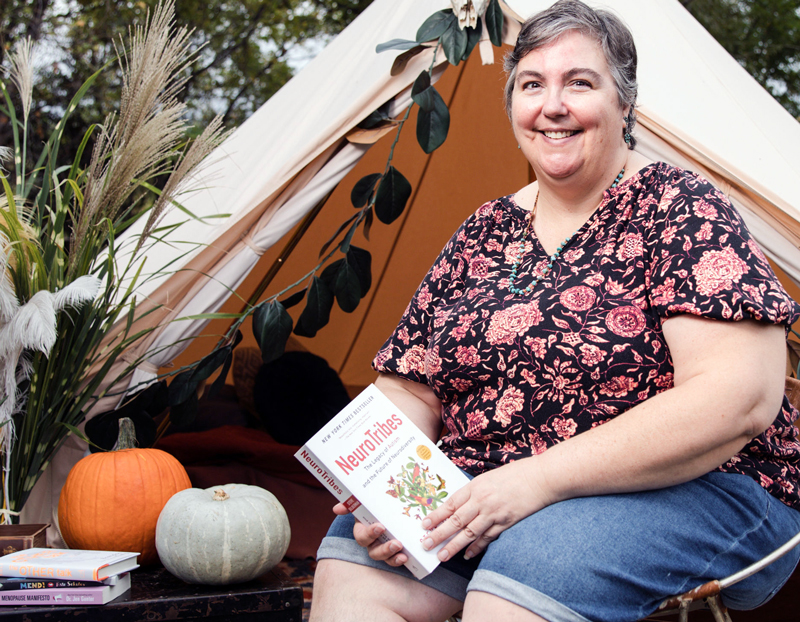 As a housewife raising three children with a husband in the Navy, Stromberg's family moved around a lot over the years. The many moves gave Stromberg the opportunity to volunteer in school libraries of all shapes and sizes, and that inspired the answer to her husband's question.
The standstill of 2020 led to many projects, organizations, and businesses born out of passion. Among those is Stromberg's Helianthus Books, a Kansas City-based pop-up bookstore founded at the start of 2021.
"What a trained librarian can do is phenomenal, and I just wanted to bring out good-quality books with good representation and have them available for families to bring into their homes," Stromberg says.
Since last January, Helianthus Books has popped up around town about twice a month. Stromberg curates a collection of books that offers positive literary representation of marginalized groups.
The selection at Helianthus Books matches the location of the pop-up, but Stromberg's general collection includes books central to people with disabilities, the LGBTQ+ community, BIPOC communities, sustainability, reproductive health and feminist-based topics, parenting, policy, history, and more.
Stromberg reads nearly every book she sells, and her specialty is tailoring books to each customer. 
"I've always found it really easy to talk to people and listen," Stromberg says. "When you listen you pick up on what they're talking about and what their demeanor is. So, if I feel someone is stressed out, I might give them a fun, zero-bandwidth book. Or if I learn someone is in a position of power, a book geared toward that needs to happen. I want people to have informed conversations."
On December 4, Helianthus Books is hosting Grown AF: West Bottoms Book Fair with Firebrand Collective. If you're nostalgic for those days in elementary or middle school when the book fair came to visit, this event is for you.
Complete with a chance to meet local authors, a hot chocolate bar, "school" photo booth, and plenty of books and literary-related knick-knacks, this book fair offers a curated collection of books and vendors for adults.
"All of the local authors are so good, but I think I am most excited about Crystal Webster (the author of Confessions of A Griever: Turning a Hot Mess into an Haute Message)," Stromberg says. "I think so many people are in need of her work on grief right now."
Along with her book collection, Stromberg also plans to offer those scented pencils you probably haven't seen since you were a kid. She will also be accepting books with positive Native American representation to donate to the Kansas City Indian Center.
A portion of all proceeds from the adult book fair will benefit Loud Light. Helianthus Books and Firebrand Collective plan to host the adult-focused book fair once a quarter.