Pah, pah, pah, pow! Oh, that's the sound of the box office blowing up. Star Wars: Rise of Skywalker just hit theaters and it's a mega success. Though Kansas City's very own famed voiceover artist Tom Kane did not return to this movie as Yoda, the franchise has featured his voice in years past and proves what an incredible impact Kansas City-area artists have on both the major—and independent—movie industry.
From the knockout, smash Avengers franchise, which includes area natives Don Cheadle and Paul Rudd, to the highly anticipated El Camino, featuring Chris Bylsma, Kansas City has touched the entertainment industry behind the scenes and in front of the camera since the dawn of film. Let's take a look at some of the best flicks over the last decade with Kansas City ties.

2010 — Iron Man 2 | Directed by Jon Favreau
The follow-up to Iron Man, one of the most exciting movies in the early Marvel cinematic experience, Iron Man 2 finds a gloating, but beloved Tony Stark post-world saving prone to gallivanting, cheerleaders, booze and secrets. His secret? He's dying. The palladium in his heart that keeps him alive is also poisoning him. While he searches for an alternative, an old enemy from Russia uses Stark technology to attempt a takedown and wreck Iron Man's reputation.
This installment didn't receive the best reviews from fans or critics, but over time proved to be a worthy sequel. The best is the introduction of Kansas City's very own Don Cheadle as Lieutenant Colonel James Rhodes/War Machine.

2011 — Horrible Bosses | Directed by Seth Gordon
Nobody is claiming this is the best movie of the year or anything, but it's a great example of when that critical-acclaim fizzle turns to guilty-pleasure shizzle.
Starring KC's Jason Sudeikis, Horrible Bosses is a fantastic raunch-fest of a crime-comedy about three dudes who have the worse superiors ever. We're talking harassment, discrimination, blackmailing, and nuts. So. Many. Nuts. Just all over the place. There's no quitting or reporting. The solution? Murk these bosses.

2012 —Looper | Directed by Rian Johnson
Before he was reinventing his career with Knives Out after a Star Wars debacle, Rian Johnson gave us Looper, a masterpiece of mind-blowing time travel wonkiness. Loopers are time leaping bounty hunters that end their careers by killing themselves—but from the future. I think. It really is an audience-adored, trippy time spiral that gets out of control. But it makes the list because it is set where? That's right. Kansas City.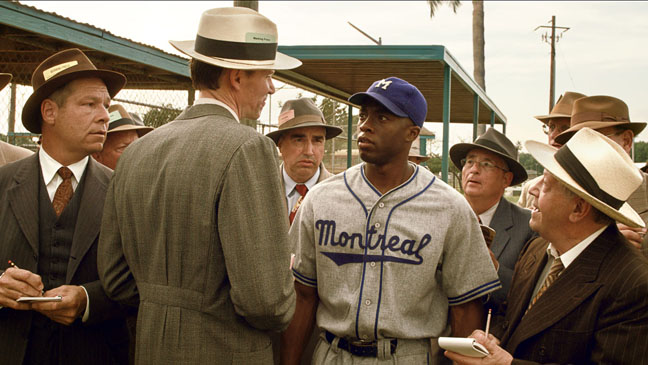 2013 — 42 | Directed by Brian Helgeland
This movie celebrates fortitude of spirit. Jackie Robinson, who got his start with the Kansas City Monarchs, persevered in his career, pushing through prejudice as he broke the racial barriers of major league baseball. 42 is the story of being the first. Chadwick Boseman and Harrison Ford, stars of 42, traveled to Kansas City for the movie's premiere, partnering with Kansas City's Negro Leagues Baseball Museum to bring the film to KC audiences.
2014 — Gone Girl | Directed by David Fincher
Think your wife is psycho and out to get you? Then you haven't seen Gone Girl, the insanely scary, psychological thriller based on Kansas City author extraordinaire, Gillian Flynn's 2012 novel. The film, penned by Flynn, stars Ben Affleck as Nick Dunne, a teacher married to Amy (Rosamund Pike), a bored socialite and former child star. Things spice up in their lives when Amy goes missing and the hubs becomes the prime suspect in her disappearance. This whodunit turns to a diditreallygetdun and spirals into ohmygod quickly.

2015 — Ant Man | Directed by Peyton Reed
Here's another Marvel movie about the villain swiping hero tech to recreate the power for his own dastardly purposes. The thing that separates Ant Man from all others is that ridiculously goofballish charm and handsome humor defined by cherished KC superstar Paul Rudd. But let's not forget actor/director David Dastmalchian (All Creatures Here Below) who sidekicks it in the Marvel universe at Ant Man's side.

2016 — Moonlight | Directed by Barry Jenkins
KCK's Janelle Monáe stared in two high-voltage hits in 2016. Of the two, Moonlight won the Academy Award for Best Picture. It is a tight, gorgeous narrative and cinematic tale about coming to manhood. Learning self and sexuality in an uneasy environment is soothed by the social embrace of people who care.

2017 — Arbor Demon | Directed by Patrick Rea, Screenplay By Rea & Michelle Davidson
Most of the magic happens on streaming platforms these days. Area director Patrick Rea is the king of streaming. Since 2013, Rea has released films to DVD, Redbox, Netflix and now has films on Hulu and Amazon. 2017's Arbor Demon—a film about being forced into finding your true self—wasn't a blockbuster, but it has its genre fans. Rea's horror comedies consistently meet with mixed reviews, but he is known and adored for his commitment to creating central characters for women and Arbor Demon is no exception.

2018 — BlacKkKlansman | Directed by Spike Lee
Ron Stallworth is black. He is an officer of the law. He joins a task force to infiltrate the Ku Klux Klan. To do this, he poses as an aspiring Klansman. Through this undercover work, mostly done over the phone, and in conjunction with his white-ish colleague, Phillip Zimmerman (Adam Driver), Stallworth moves his way up the Klan ranks until he forges what appears to be a deep comradery with David Duke. Yeah, that David Duke.
This crime adventure was nominated for a slew of Oscars and won the award for Best Adapted Screenplay, shared by Kansas City-area filmmaker, Kevin Willmott, and director Spike Lee.

2019 — A Beautiful Day in the Neighborhood | Directed by Marielle Heller
The innocence of a child must be protected. Fred Roger's great mission was to foster it and cherish it. No story better reveals his ministry than the one about his relationship with hard-edged journalist Tom Junod, fictionalized in this year's Neighborhood. Matthew Rhys takes up this mantle as Lloyd Vogel, a man who struggles to believe in goodness because of the incredible rift between him and his father Jerry, played sharply by Kansas City titan Chris Cooper (who also stars in the newly released Little Women).
It is through a series of interview sessions with Mr. Rogers that Lloyd finds Jerry and himself anew. This movie is a moment of patience, kindness, and reconciliation—perfect for this holiday season.