People don't often associate landlocked Kansas City with waterfront living. Yet the metro is home to an incredible variety of lakes, from sprawling recreation destinations to quiet, private waterside enclaves. 
Grab your sunglasses and your favorite beachy cocktail and take a trip to some of Kansas City's favorite lakes, including firsthand accounts of the people who have made their homes along the water. Along the way, we hope you're inspired to plan your own lakeside adventure—or even start your own journey to lakefront living. 
Lakewood | Lee's Summit, Mo.
Aaron Potter, who moved to the 2,200-acre master-planned community of Lakewood with his family in 2016, says it feels like a charming small town, complete with a local watering hole, Lakewood Local; a private restaurant, The Argyle; and a thriving array of social groups, including those focused on bridge, tennis, bass fishing, Pilates, gardening, and more.
When the Potters first moved to the community, they were on a golf homesite overlooking Lakewood Oaks Country Club. A couple of years later, Potter was preparing to list a lakefront home down the street, but when he toured it, he knew it was the perfect fit for his family. 
"There's something about getting up and looking out your window to the glassy water surface, the trees, and blue skies," he says. "It's so serene and peaceful. I can see why people don't move away from the water."
Not only has lake living brought an increased calm to Potter's life; he also celebrates some holidays differently. 
"I couldn't have cared less about the Fourth of July growing up and now, it's my favorite," he says. "We can take the boat out or sit on our deck and watch fireworks over the water. Lake living changes the importance of certain dates—or at least how you approach them."
The approximately 365-acre lake includes a beach, pleasure docks, and two community pontoon boats that are available to rent in the summer months. Maintaining the beauty and vitality of Lakewood is so important that new residents can take a brief online training to understand more about threats to the lake, including zebra mussels and other aquatic invasive species.
Lake Jacomo | Blue Springs, Mo.

 
If you're a fan of windsurfing and sailing, there's likely not a better spot in the Kansas City area than the dazzling 970 acres of Lake Jacomo, part of Jackson County's Fleming Park. 
Lake Jacomo follows limited-horsepower regulations, making the lake ideal for more leisurely water traffic: think sailing, stand-up paddleboarding, or a relaxing pontoon cruise. Rent equipment, stock up on snacks, and more at the Lake Jacomo marina. If you prefer fishing to boating, Lake Jacomo is stocked with crappie, bluegill, largemouth bass, carp, walleye, and more. 
Explorers, adventurers, and history-lovers could make an entire weekend—or longer!—out of Lake Jacomo and the surrounding Fleming Park. Set up camp, or pack food and refreshments and kick back at one of the park's picnic shelters. Other nearby attractions include Missouri Town 1855, a living history experience that gives you a glimpse of small-town life on the eve of the Civil War. 
Outdoor enthusiasts will love the Kemper Outdoor Education Center, which includes rock and fossil exhibits, nature trails, butterfly and water gardens, a day campsite, and more. 
Start planning your Lake Jacomo outing at makeyourdayhere.com. 
Lake Waukomis | Lake Waukomis, Mo.
Michelle Derry, a Lake of the Ozarks native, is no stranger to lake living. 
Derry and her family previously lived at Weatherby Lake before relocating around 6½ miles away to the 90-acre Lake Waukomis, part of a city of the same name that's home to 990 people.
"A childhood friend lived at Lake Waukomis, and I loved the house next door," she says. "I told my friend that I was interested in buying the home if the opportunity arose."
Over the course of several (!) years, Derry's friend kept her updated on the house. The process took nearly seven years, but as they say, it was worth the wait. Derry says there's something special about living on the water, and it's something she can't do without. 
"My husband and I love that our backyard is always moving," she says. "It creates such a sense of calm and well-being, whether by observing the movement of the water or the stillness. I feel such a connection to nature that was such a big part of my childhood."
Lake Waukomis is a haven for nature lovers, especially early in the year. The treed surroundings are a popular spot for wintering eagles. (Fun fact: Missouri is among the leading states for wintering bald eagles with more than 150 active nests, according to Float Missouri). 
Pro tip? If you know someone who lives at Lake Waukomis, finagle an invitation for the city's Fourth of July festivities, which span several days and include a fishing derby, pontoon races, live entertainment, a parade, and more.
Lake Winnebago | Lake Winnebago, Mo.
One of the larger lakes in the Kansas City area, the approximately 400-acre Lake Winnebago is a popular destination for water-loving visitors and homeowners seeking the serenity of lake living. 
Courtney Weaver and her husband visited Lake Winnebago in early 2019 to tour a home that needed some extensive TLC. 
"We were told we needed 'vision' to truly appreciate the home," Weaver says. 
Yet when they walked in, Weaver and her husband were captivated by the home's waterfront location and its potential. 
"Living right on the water with the lake as our backyard and experiencing all that lake life has to offer made the extensive renovation worth it," Weaver says. 
The Lake Winnebago community prioritizes recreation, socializing, and simply enjoying their surroundings. The lake is a haven for boaters, swimmers, and those who love to fish. Weaver and her husband have recently taken up wakeboarding and  enjoy ending the day with a boat or kayak ride. In addition, Lake Winnebago's sparkling waters are surrounded by heavily treed areas, a park, walking trails and, for equestrians, a stable. 
Weaver and her husband love to entertain with Lake Winnebago as their backdrop. Residents can also host special events in Arrowhead Yacht Club, the on-site clubhouse that offers incredible lake views from both the dining room and the patio. 
"We weren't looking for lake life, but it chose us," Weaver says. "As entrepreneurs, we could live and work anywhere, and we'd still consider Lake Winnebago the best location in the Midwest."
Leawood Lake Assoc. | Leawood, Kan.
Imagine this: You wake up as the morning sun is gently filtering through your window. You head to the kitchen to brew a fresh cup of coffee, then grab your mug and head outside. After a quick stroll across a 75-foot steel stringer bridge, you dip your toes in the chilly but refreshing water of Leawood Lake, feeling yourself relax as you sip your coffee. 
This is real life for Bill Quick, who lives with his family in Leawood Lake Association, a lakeside enclave tucked away in old Leawood. The seven-acre lake may be the smallest on this list of local lakes, but it's just as beautiful, relaxing, and interesting as the area's largest lakes. 
"The Alexander Majors Historic Museum is a few blocks away at State Line Road and 83rd Street, and the story I've heard is that our natural spring-fed pond served as the livestock watering hole while people were getting outfitted at the Majors' trading post to head west on the Santa Fe Trail," Quick says. 
Quick, his family, and other residents enjoy a full range of favorite lake activities, including swimming, fishing, canoeing, or hanging out by a firepit on the beach. The treed surroundings are also a haven for all sorts of wildlife spotting, including foxes, beavers, coyotes, wild turkey, and cranes. 
When asked if he would prefer a home location directly on the water, Quick says his home's set-up is part of its charm. 
"It's enough of a transition from home to the lake to make it feel special," he says. "And I'll say that living on the lake has been particularly therapeutic during the pandemic. I have a great view from my home office. It's a wonderful neighborhood."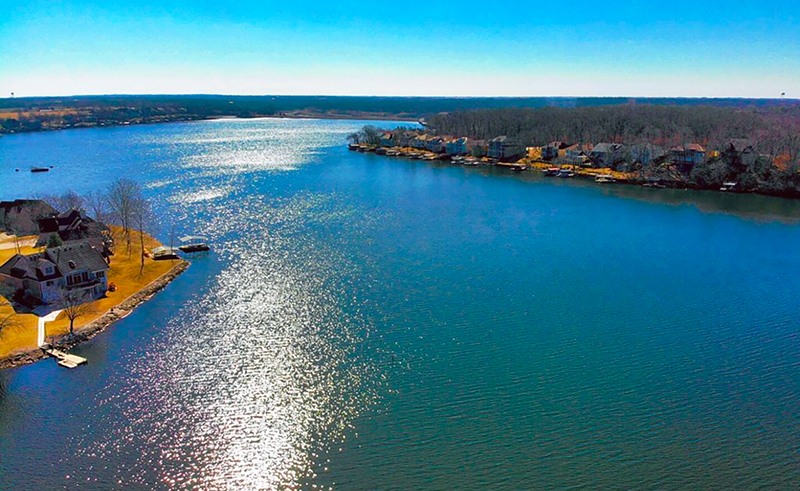 Lake Quivira | Lake Quivira, Kan.
This might seem hard to believe, but when Amy Funk discovered the midcentury-modern home of her dreams at Lake Quivira, it wasn't the lake that captivated her. 
"I grew up in rural Nebraska and the feeling I got inside of Lake Quivira reminded me of home," she says. "Honestly, the lake part was the bonus I wasn't looking for." 
While in the midst of a complete remodel of her home, Funk found herself unable to resist the siren song of true lake living and added a dock and paddle boards. 
"Friends parked their pontoon at my dock, too—instant lake life!" she says. 
Lake Quivira started as the vision of Charles Gault to create "a lake of the finest water in this part of Kansas," according to a historic account from Lake Quivira Country Club. Beginning with a dam in 1929, the lake community slowly came to life throughout the early 1930s. 
Today, Lake Quivira is incorporated into Johnson County as a third-class city with nearly 400 households. And yes, Funk has now fully acclimated to lake life, recently enjoying her second sailing experience. 
"We took part in a regatta, and I was on the crew of the small sailboat," she says. "This wouldn't have been possible if it wasn't for the very nice sailors who invited me into their club. They were willing to teach me and settle for last place to encourage a fellow member to learn how to sail."
Funk says that kindness and generosity extend to all parts of life at Lake Quivira, including lending equipment like fishing poles to sharing golf carts. 
"It really is neighbors helping neighbors who happen to all live on a lake," she says. 
And if you were wondering, Funk says lake-effect weather isn't a myth; just another bonus of living at Lake Quivira. 
"When it's hot and muggy outside it's always nice and breezy on the lake," she says. 
Longview Lake | Kansas City, Mo.
Needing a beach escape without a full-day car ride or air travel? The 930-acre Longview Lake beckons with a sandy beach that's a popular destination for swimmers and sunbathers. The size of Longview Lake makes it ideal for a variety of water activities, including power boating, water skiing, jet skiing, swimming, and fishing. 
You could easily spend a day (or more!) enjoying all that Longview Lake has to offer, but if you're a history buff, save a little time to visit the historic Longview Mansion, located just to the east of Longview Lake (one of the city's earliest and most beautiful examples of lake living). 
In a nutshell, Longview Mansion served as the country estate of R.A. Long, a lumber baron and philanthropist. Fun fact: Long's primary residence was Corinthian Hall, better known these days as the newly renovated Kansas City Museum. 
Over an 18-month period, 1,780 acres of farmland were transformed by a crew of more than 2,000 workers into "the world's most beautiful farm." In addition to the stately mansion, Longview Farm housed 51 buildings, including a horse racing track that could seat 1,000 people, a community newspaper, and a hotel for men. In essence, Longview Farm was its own self-sustaining city. 
Today, the spirit of the farm continues to live at Longview Lake thanks to Longview Horse Park, a picturesque venue that hosts horse shows throughout the year. Another way to enjoy Longview Lake's incredible surroundings? Play a round at Fred Arbanas Golf Course, a challenging course that draws golfers from near and far. 
Lake Lotawana | Lake Lotawana, Mo.
File this away for your next round of Kansas City trivia: Lake Lotawana is the largest private lake in the Kansas City metro at 480 acres.
Like Lakewood, Waukomis, and Weatherby, Lake Lotawana is the centerpiece of its namesake city, a small town nestled in close proximity to Lee's Summit, Blue Springs, and Kansas City. 
According to information provided by the City of Lake Lotawana, "no other lake can claim this variety of diverse options for all to enjoy." Stop by the lake on any given day and you'll likely see sailboats, speed boats, pontoons, kayaks, water-skiing, tubing, swimming, and fishing. And when the temperatures plunge, Lake Lotawana welcomes ice boaters who "sail" the ice-covered water on modified boats. 
Much of the lake's 27 miles of shoreline boasts beautiful lakefront homes occupied by both full- and part-time residents who have developed a close-knit community around the water. Several times a year, residents pitch in for seasonal lake clean-ups to keep the city beautiful and a welcoming natural habitat. 
Raintree Lake | Lee's Summit, Mo.

 
Living on a lake in the Midwest means there are at least a few months out of the year when you're not going to want to be in or near the water. That's one of the reasons why life at privately owned Raintree Lake is so appealing—year-round recreation. 
When the temperatures plunge, bundle up and head to the community's sledding hill for some snowy fun (just don't forget to have some hot chocolate waiting for you at home!)
Then, as the snow melts and temperatures climb, Raintree Lake becomes a bustling hub of recreation, hosting favorite water activities like high-speed boating (and water-skiing) and fishing. The lake is especially popular with swimmers, thanks to no-wake areas along the shoreline and nine protected swim docks. There's an Olympic-sized swimming pool in the community, too. 
Kansas City-area lakes come in a range of sizes, but they all share a focus on immersive recreation on both land and water—and Raintree Lake is no exception. In addition to the lake, the community also offers nearly eight miles of walking trails, another popular destination for residents year-round.
The size and versatility of Raintree Lake has made it a popular location for residential construction, including The Fountains at Raintree, a 55-and-up community. Thanks in large part to the array of homes (over 2,000!) at Raintree Lake, residents have an especially varied network of social activities, including regular canasta games, a garden club that recently completed a fall mums fundraising sale, and gatherings for most major holidays. You can be as busy or as leisurely as you like at Raintree Lake—whatever floats your boat. (We couldn't resist!)
Blue Springs Lake | Blue Springs, Mo.
If you love fishing—especially the competitive sort—add Blue Springs Lake to your "must visit" list. See how you measure up with the "big catch of the day." Hybrid striped bass, bluegill, largemouth bass, carp, and catfish all call Blue Springs Lake home, and there's a handy on-site fish-cleaning station so you can prep your catch before you depart.
The lake, part of Jackson County's Fleming Park and a stone's throw north of Lake Jacomo, is also a hot spot for weekday windsurfing. Kick back on one of Jackson County's favorite swimming beaches or gather a group for a rousing round of sand volleyball. According to lakelubbers.com, an online resource for lake recreation and rentals, the overall Fleming Park area draws over 1.3 million visitors annually.
If you love the water but don't yet have your own lakefront home, keep the Blue Springs Lake marina in mind for annual boat slip rental to easily store your watercraft for the season until you make your lake living dreams come true. 
Weatherby Lake | Weatherby Lake, Mo.
Before Weatherby Lake became a body of water and, later, a city in Platte County, residents in the mid-1830s made the land their own, planting orchards and farming apples, peaches, cherries, corn, and tobacco.
Fast forward nearly 100 years and two developers began buying up land from descendants of these original settlers. In the mid-1930s, the team constructed a dam that created the now 274-acre Weatherby Lake.
Ursula Terrasi and her husband, Jim Miller, have lived on Weatherby Lake for 18 years. Before they married, they were house-hunting and Jim came across available land at Weatherby Lake. 
"When I saw the property, I told him, 'This is it—this is you,'" she says. "It's a sanctuary just miles from downtown. Buy it now; don't blow it!"
Terrasi owns Terrasi Living & Scandia Home on the Country Club Plaza and says it's still a highlight to come home to the water each day. 
"Driving in at the end of the day with a glimpse of the lake, then rushing to share a meal outdoors with birds and wildlife galore—it's definitely our little golden pond," she says. 
Privately owned Weatherby Lake is home to around 2,000 residents and, according to the City of Weatherby Lake, is "one of the cleanest lakes in the state." Weatherby Lake accommodates a variety of recreational activities, including swimming, boating, and fishing. 
"I love fresh fish and alfresco dining," Terrasi says. "Over the years, I've taken many photos of Jim on the dock at dawn working on catching our dinner, then I come home to a great fresh fish feast."