Sponsored content: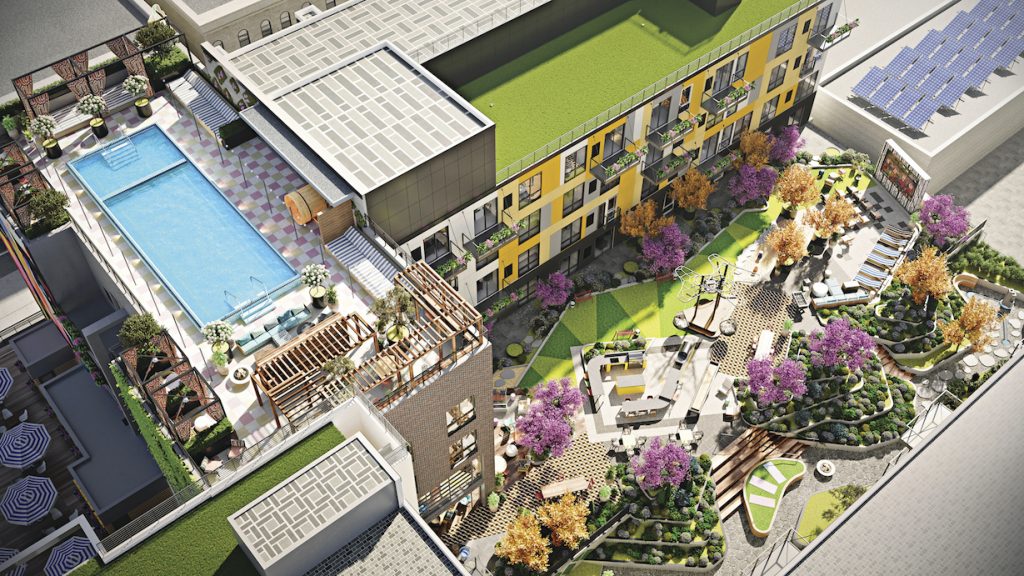 Over the last decade or so, the Crossroads Arts District has become a veritable mecca for movers and shakers—an eclectic mix of people, places, and activities. If you've ever wanted to live and work near downtown Kansas City, the new City Club Apartments Crossroads Kansas City is a perfect match for you.
The spacious, upscale (and pet-friendly) new mixed-use community features an array of amenities and services. "In fact, there's no other mixed-use apartment and penthouse community in Kansas City that's like this," says Mark Winter, the director of communications at City Club Apartments.
What makes the ultra-modern community such a standout? Let's take a look:

7) Everything Old Is (Brand) New Again at City Club Apartments
Construction started on City Club Apartments Crossroads in July 2018. The development began with the historic conversion of the landmark Midwest Hotel. "We've repurposed that building and integrated it in to a new seven-story, architecturally relevant, internationally themed building," says Winter. "We've taken themes we've gathered from all over the world. Starting from the outside and looking in—it's a melding of a beautiful, historic building with an entirely new look and feel." (Residents began moving into their chic new homes this month.)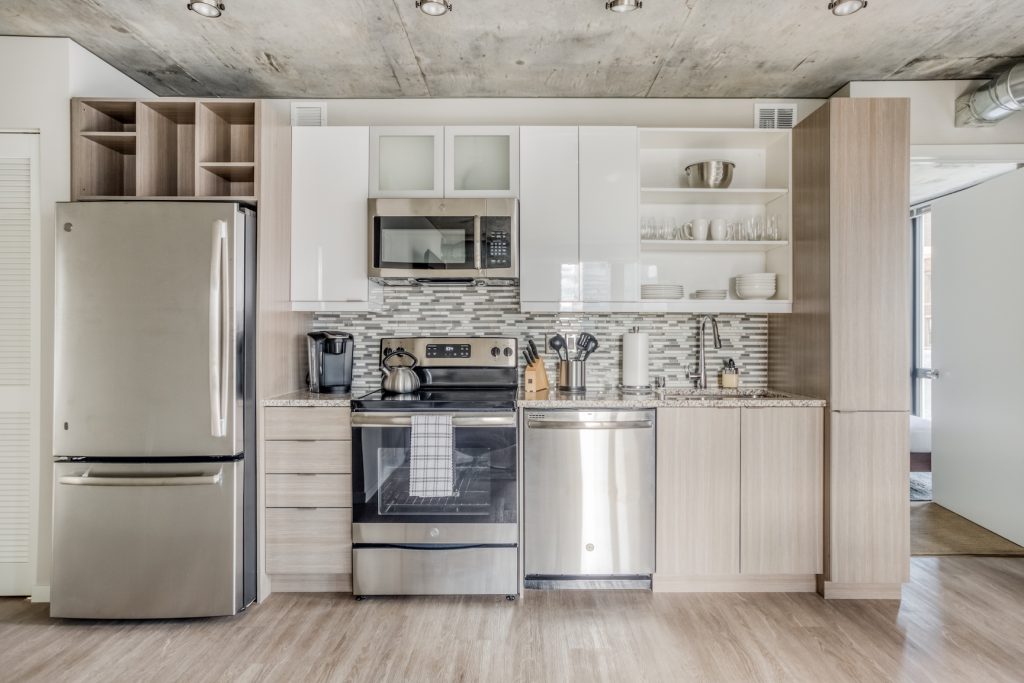 6) Fifty Distinct Floor Plans
Looking for a customized living experience? Besides being located in the heart of the Crossroads, the community features an expansive choice of 283 duplexes, apartments, townhouses, and customized, condo-quality penthouses. (Plus, balconies and terraces and bay windows, oh my!) "It's spacious. There are nine-foot to 20-foot-high ceilings," says Winter. "The apartments feature custom closets, granite countertops, and movable islands, four distinct finishes, and sexy bathrooms." (They had us at sexy bathrooms!)

5) Hello, Howard Hanna!
Recently, City Club Apartments Crossroads Kansas City announced chef Howard Hanna would soon be opening two unique restaurant concepts inside the complex—conveniently connected to the lobby.
Located at the corner of Main and 20th Streets, the combined 6,000-square-foot space will include both an intimate wine bar and an open, airy diner featuring a large, curved bar surrounded by anchored stools. It's a subtle nod to a classic and it includes plenty of outdoor seating.
A hearth-style kitchen is the centerpiece of the cozy wine bar, which seats 50 guests, plus space for private dining.
4) How Convenient—A DGX Convenience Store Is Tucked Inside!
Need a gallon of milk? A pumpkin spice latte? Throw on your sweats and head over to the new DGX offering fresh to-go items, a grab-and-go menu, and a coffee bar. Besides being one of the first DGX locations in the nation, the mini shop meets the unique needs of people living and working in Kansas City's vibrant Crossroads. From beauty products to pet supplies to candies and snacks, it's shopping made simple.

3) Safety First
While the community is green-certified, it's also Clean Rated, which includes a regular 114-point checklist on social distancing, intensive cleaning methods and medical health reporting. "It's just another layer of safety," Winter says. "We want our residents to know that we're doing all we can do to keep people safe, especially in public spaces."
Speaking of public spaces, the community features a club room with a gourmet kitchen, two theaters (one indoor, one outdoor), a rooftop pool, skypark, terrace club and a bark park to let Rover run free. Worried about parking? Fear not, as there are a whopping 300 underground parking spaces. "And the building is wired for 5G," says Winter. "If you're working from home, it's fast connectivity. That's not something you can typically get in an older building."
2) "Bringing People Together"
City Club Apartments Crossroads Kansas City will soon be launching weekly programming and events for community members. Or you can take advantage of the community's outside courtyard, which features fire pits and yoga/Zen garden. According to Winter, the goal is to bring people together. "People from their 20s to their 60s are living here. They all want to be a part of this really great community that's seamlessly woven into the Crossroads neighborhood. It's the ability to live, work, and play in an upscale, urban area."
Even the lobby is designed to be engaging and accommodating, he says. "Think of it as a boutique, hotel-style lobby library. You'll want to hang out here. We've created the perfect gathering place with fun-funky furniture. The detailed design is a great reflection of our community."

1) Opening Weekend Features Plenty of Incentives
Intrigued? Want to know more? During City Club's grand-opening weekend—October 14th through the 17th—they are offering a terrific incentive for guests to tour the luxe grounds. "We're offering a credit for up to two month's rent for anyone who takes a tour. The offer to execute a lease with this incentive will be good for up to 60 days from the tour," says Winter. "It's our way to give back to the greater community."
For more information or to schedule a tour, call (888) 574-8149.