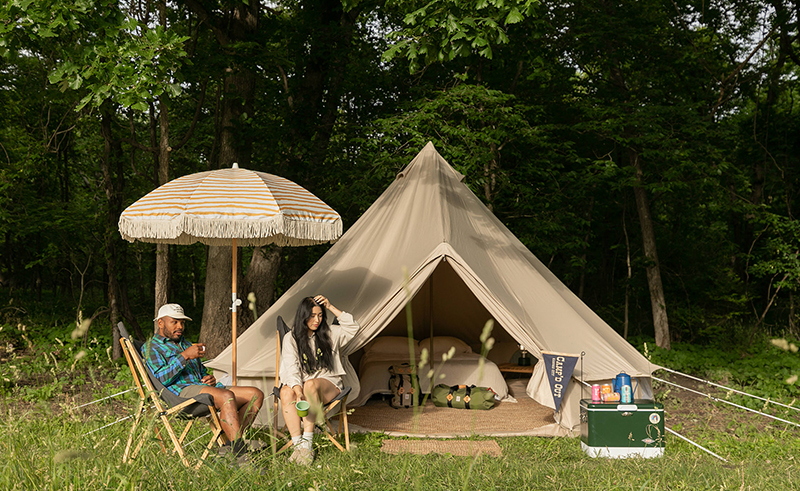 When Kansas City native Kitty Medina moved to Sydney, Australia, she fell in love with luxury camping. She brought the concept back to the U.S. in 2018 when she founded Camp'd Out in Los Angeles, an elevated camping experience she's now bringing to Kansas City.
"I grew up camping on my grandparent's farm (near St. Joseph) and cherish all of the memories spent stargazing and getting cozy around the campfire," says Medina. "This summer, I'm ready to share my passion for camping with my hometown."
From July 11-31, Camp'd Out is setting up camp at The Barn at Riverbend in Peculiar, Missouri.
Ideal for couples, families, and groups of friends seeking the privacy of a well-curated camp with the quality and comfort of a boutique hotel, guests can book one or all of the five unique campsites. 
Each tent allows room for up to two guests and is beautifully equipped for the outdoors. The tents are furnished with one queen bed and cozy bedding, lounge chairs, a side table, pouf, and lantern, with an outdoor setting of two camp chairs, a sun umbrella, and a cooler. Campers will also have the option to add on a camp coffee kit, s'mores kit, charcuteries board, and canned wine.
"I fell in love with this magical property after the first time we visited," Medina says. "It's also home to several weddings and special events throughout the year, and it's only a 30 minute drive outside of Kansas City."
Be on the lookout for more Camp'd Out Kansas City pop-ups in the future. Medina already has plans in the works to host an elevated camping experience at Yoga Brain KC's Fall Festival, and she's partnering with The Russell for a Camp Dinner at The Barn at Riverbend.