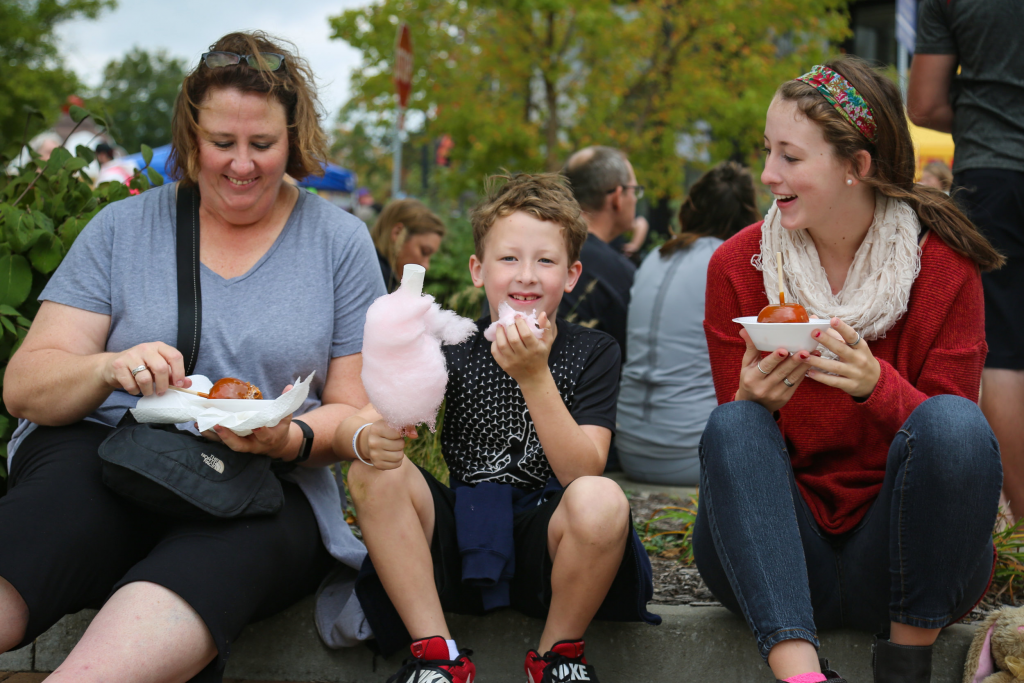 From aura readings and youth group fundraisers to a pop-up shop in its 15th season and events rooted in decades of tradition, festival season has arrived in Kansas City. So prepare to stock up on crystals, grab some comics, or visit your tried-and-true favorites at events across the region this fall.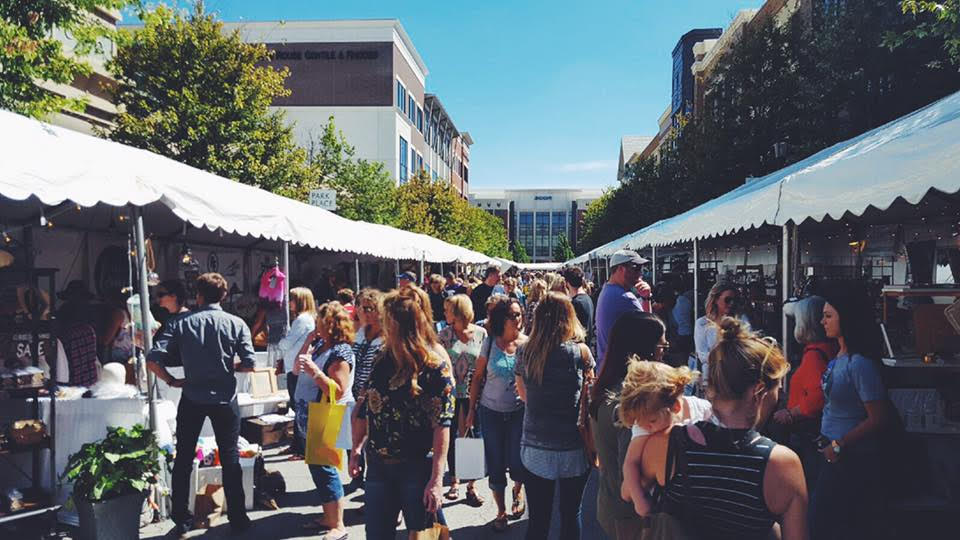 Oct. 5, 10 a.m. – 6:00 p.m.
Oct. 6, 11 a.m. – 4:00 p.m.
Town Center Plaza, Leawood, Kansas
Originally a platform for handmade vintage goods, Chick Event has transitioned to focus more on handmade and local wares. Chick Event president Aimee Jacobson says the initial concept was that the fair-esque events would "hatch all over Kansas City." In October, at Town Center Plaza, the pop-up market celebrates its 15th season. The event will feature food trucks, a fall activity center for children and more than 100 vendors. Art, pottery, and fall decor will line the tables, in addition to the presence of a flower cart.
Jacobson says the first Chick Event was held at Park Place in Leawood in 2014. Since then, the event has visited Lee's Summit, Olathe, and the Northland. They've worked with more than a thousand vendors over 15 seasons. "It's exciting to be coming full-circle back to Leawood," she says.
Cornucopia: KC's Ultimate Fall Festival
Oct. 12, 10 a.m. – 8:00 p.m.
Power & Light District
The Power and Light District is ushering in fall with a brand new event, Cornucopia. As the number of residents in downtown Kansas City grows, Gabriela Cutrera, partnerships marketing manager for Kansas City Power and Light District, says they wanted to create a local attraction with three goals in mind—family friendly, flavors, and festivities. "It's really focused on all things fall, but adding that downtown spin to it," Cutrera says.
Attractions will include carnival and pony rides, food trucks, and craft cocktails, while vendors will sell fall-themed food—think caramel apples and pumpkin pie. The festival coincides with Oktoberfest Live!, which is restricted to those 21-years-old or older and requires a separate ticket. The uniqueness of Cornucopia, according to Cutrera, is its focus on the downtown neighborhood. "We're just really wanting to show downtown and everything we have here," Cutrera said.
Oct. 18, 4 – 9:00 p.m.
Oct. 19, 11 a.m. – 9:00 p.m.
Oct. 20, 11 a.m. – 5:00 p.m.
Kansas National Guard Armory, Kansas City, KS
PRS Psychic Fair, the oldest and longest running metaphysical fair in the Kansas City area, returns this fall for its 49th year.
The event started in the 1970s, when, according to PRS event coordinator Roberta Hu, "like-minded people" gathered to discuss topics that were not as "readily accepted." Over the course of three days, visitors can attend free lectures and check out vendors selling crystals, jewelry, essential oils,  and CBD oil, among other wares. Attendees also can visit healers, who offer reiki sessions and read auras, along with other services. More than 20 psychics are expected at the "open-minded" event, according to Hu.
"We are not there to push anything," Hu says. "We're not there to push a religion, like wiccan or pagan. We're there to help you understand more about what is going on in your life." The event costs $10 for all three days. Dollar-off coupons can be found on the organization's Facebook page and website.
October 19 – 20
Shawnee Mission Park, Lenexa, Kansas
The Kansas City Arts & Music Festival expands this year to Shawnee Mission Park from Arrowhead Stadium. Josh Brown of Outlaw Nation, which organizes the festival, says the change allows for the addition of classic cars, national artists, and musical entertainment. "It's just a lot of fun," Brown says. "It's the best free event anybody could ever go to."
Concerts begin at 1 p.m. both days, and the last act takes the stage at 7 p.m. The rock and country acts feature artists from Missouri, Texas, and Tennessee, including the Jeremiah Johnson Band and American Idol's Kree Harrison. In addition to the entertainment, guests can enjoy a cold brew in the beer garden, admire the talent in the youth artist showcase, or take a stroll through the interactive farm garden. For more information, visit https://kcartsfestival.com/.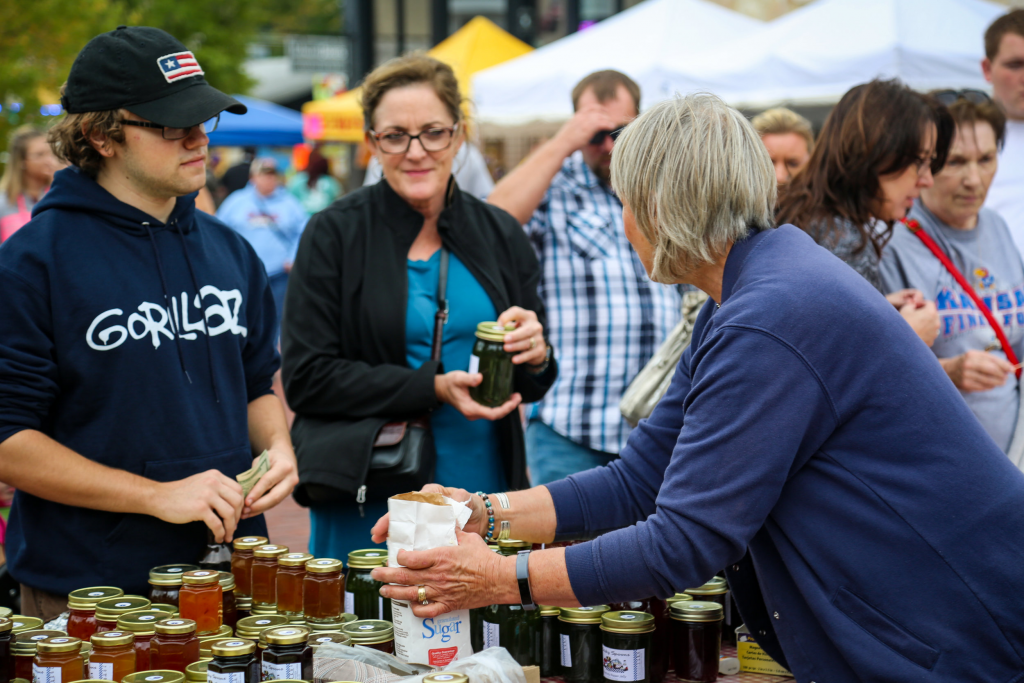 Oct. 19 – 20
Baldwin City, Kansas
Baldwin City's Maple Leaf Festival gives visitors a chance to get "back to the basics," according to Mike Curran, chair of the Maple Leaf Committee. The two-day event has been around for 62 years and, he says, it began as a "white elephant sale" created by women of the community as a fundraiser. Since then, it has grown into the current-day community celebration that features a 5K run, a kid's zone, and a parade.
Curran expects more than 300 vendors over the course of the weekend for visitors to check out while munching on turkey legs or funnel cakes, both made by local organizations. A quilt show will feature quilts from "all over the nation," Curran says, while vendor wares will range from metalworking and baked goods to clothing. To beat the parade traffic, Curran suggests arriving around 9 a.m. Saturday—or for a "quieter, easier" environment, stop in Sunday morning.
(Shawnee) Holiday Treasures Craft Festival
Oct. 26, 9 a.m. – 4:00 p.m.
Shawnee Civic Center, Johnson Dr., Shawnee, KS
This year marks two decades of handmade goods being sold to kick off holiday shopping with a local flair. Matt Mann, city of Shawnee (Kan.) recreation coordinator, says the event typically draws around 1,500 visitors. "It's just a fun Saturday morning to come here, and a lot of these folks have built relationships with the vendors," Mann says.
There will be more than 70 vendors—some, he says, have been with the fair since its inception selling a "variety" of products at the Shawnee Civic Centre on Johnson Drive. "We've got everything from jewelry to holiday decorations, and that includes Halloween and Christmas and just different seasons," Mann says, "but also things that are gift-related. Some candles, doll toys, so that people have something to buy for their grandkids or kids." A local Boy Scout troop will also be serving food.
October 27, 10 a.m. – 6 p.m.
Elite Comics, Overland Park, KS.
Elite Comics in Overland Park, Kan., kicks off its annual Children's Mercy toy drive this month with Halloween Comicfest. The annual event features free comics, local artists, and vendors, gaming and a costume contest. Last year, Elite Comics raised $26,000, according to owner William Binderup. This year's outing will be at the Overland Park Convention Center and features more than 30 artists and more than 50,000 comics for $1. In between perusing 10,000 square feet of pop-culture items, attendees can hang out in gaming alley or take a break at the cyber cafe. All of the festivities coincide with the national Free Comic Book Day Halloween Comicfest. There's no cost to attend.