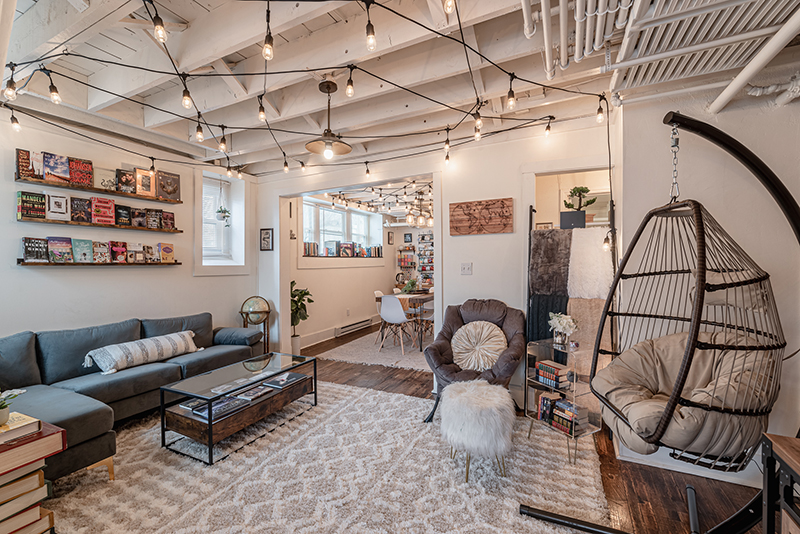 Here in the real world, we usually don't have dragons to slay, a small-town murder to solve, or a steamy, love-at-first-sight romance to experience. But find the right book, and you can bring any of those realities—and many others—to life for a couple of hundred pages.
As adults, it's tricky to find time to escape into the many worlds books have to offer. So why not take a reading vacation? Don't worry, you won't have to go far—The Library Lair just went live on Airbnb.
Filled with over 1,000 books of all genres, the Union Hill-located Airbnb is the fifth Kansas City Airbnb launched by Bloom, a local women-owned vacation rental company. Co-owned by Samantha Salem, Heather Shelton, and Tiffany Watts, the Bloom team is full of book lovers, which made The Library Lair the perfect choice for the team's first themed Airbnb. 
"I always knew I wanted a book-themed Airbnb; it was just a question of how am I going to do it and where am I going to do it?" says Salem. "When we toured this apartment we're currently in, there was a nook area that couldn't really fit more than two chairs, but it was perfect for a reading nook."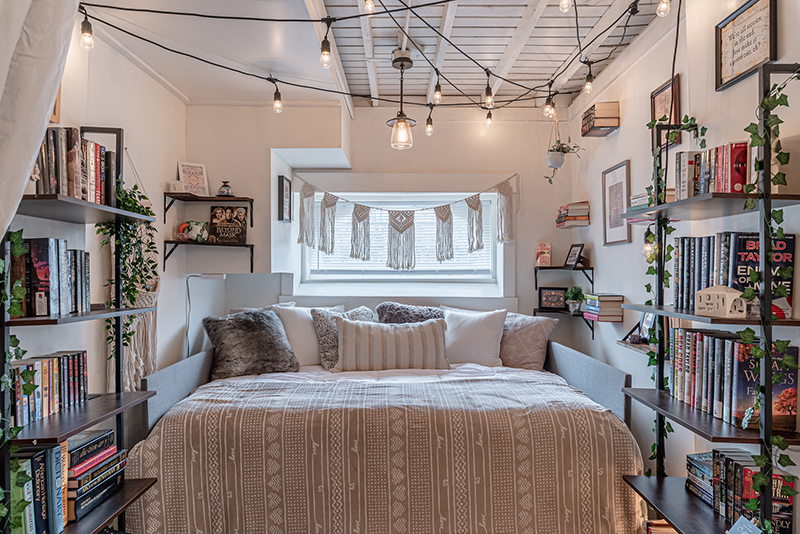 From there Salem started scribbling renderings in her notebook of the space transformed into a reading haven with bookshelf-lined walls and plenty of comfy reading spots.
Guests in the space are encouraged to bring a book to leave behind and take a book they enjoy. Guests are also welcomed to take a book without leaving one behind as long as they send Bloom a photo and bring it back when they're done.
"Part of our goal with this is to enact a book exchange," says Shelton. "We imagine people picking up on a chapter that someone else has just been reading, and that's part of our whole model for the location."
The other theme for the spot? Extreme comfort. The reading cove is softly lit by string lights hanging from the ceiling, and comfy couches and chairs complete with cozy throws and fuzzy pillows that were selected by the team. The bathroom is stocked with bath bombs, and even has one of those trays you can lay across the tub to take down the risk of dropping a book in the tub.
The space is also filled with warm beverages—coffees, teas, hot cider, hot chocolate, etc.— that guests can enjoy in mugs of all shapes, sizes, and colors.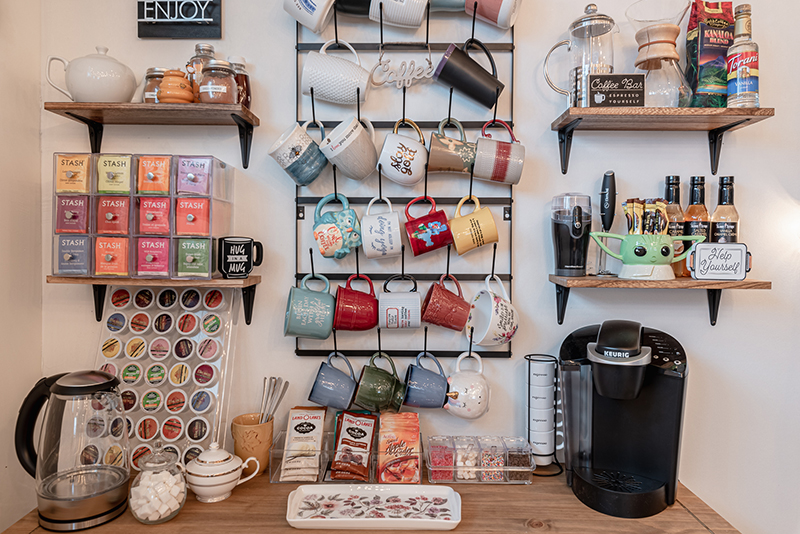 "I wanted everything to scream comfort," says Salem. "We want our guests to come and for the Airbnb to be an experience in itself, where they won't want to leave and can just pretend the rest of the world isn't there while they curl up and read."
The Bloom team took the listing live on January 21, and within three minutes they already had their first booking. They hope to foster a community of readers within the space and online through TikTok, Instagram, and Facebook.
You can stay at The Library Lair for $146 per night with access to all the books, two beds, a fully stocked kitchen, coffee bar, and plenty of reading nooks to choose from.
Not sure what you'll read first? Check out these recommendations from the Bloom team:
Salem: "I've been recently interested in anything by Colleen Hoover. Her books are so captivating and easy to finish."
Shelton: "Anything by Stephen King. The Eye of the Dragon is my absolute favorite, and I'm also looking forward to Fairy Tale coming out in September—I'll get a copy for the lair."
Watts: "I totally recommend the Sherlock Holmes books. I love mystery and crime, and those are some of my favorites."