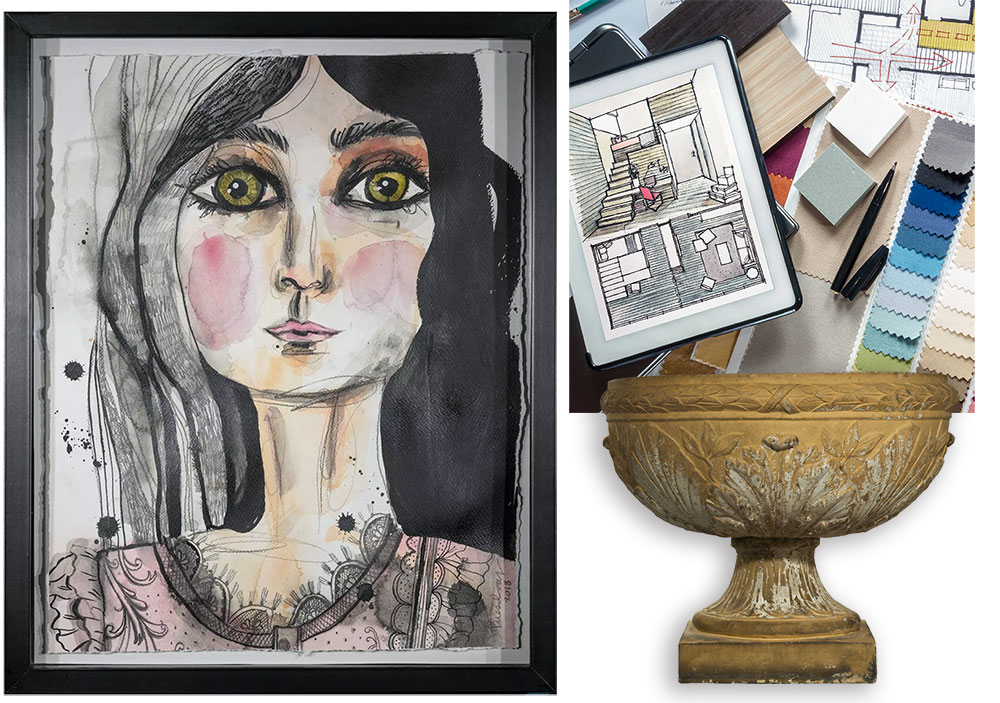 ''At the beginning of projects, one of the things I work on with clients is choosing materials. Cost, durability, and aesthetics are the holy trinity. Every client is different when it comes to priorities, and even then sometimes the priorities can shift given the space and how they plan to use it.   
"Unsurprisingly, if I'm doing something for myself, aesthetic will have a little bit of an edge, but not by too much. The cost has to work with the budget, and the durability and functionality can't be unduly compromised."
—John Eck, architect
---
"All of my projects incorporate original artwork. Sometimes I use it as a jumping off point to develop an entire concept for a room. Other times it's the last piece selected after everything has been installed. Art gives a room personality and is available at every price point. Framing children's art or something sentimental can give a room great soul."
—Kelly Lambert, interior designer
---
"Salvaged architectural elements—mantels, old pillars, garden ornaments—give a home interest and depth. Beyond being beautiful, they honor the history of good design."
—Christopher Filley, antiquarian
---
"My favorite way to start a project is by sitting with the clients and asking a lot of personal questions that may seem invasive. But since wellness through design incorporates psychology, those conversations lead me to the right design solutions."
—Jennifer Bertrand, interior designer and former HGTV Design Star Winner)
---
The Fine Details
Every Day is All There is
You deserve better than wadded-up paper napkins with pithy sayings. Indulge in embroidered linen. Even if you're using bargain hooch (though honestly, why would you?), it will make your home feel much more like your castle. Frog Chorus cocktail napkin (left), from Sharyn Blond Linens
Out of Sight
Does your honey insist on Sweet'n Low on the table and you just can't? Tuck away the aesthetically offensive in these charming jars. #everyonewins. Julie Cloutier Ceramic Lidded Jars (center) from The General Store & Co. 
Be Original
Prints can be as interesting as paintings or photography, but maybe it's time to upgrade from your Ansel Adams poster. Laura Berman's Strata S13 (right) at Weinberger Fine Art