It's now been a decade since local designer Jennifer Bertrand cleaned house and won the third season of HGTV's Design Star. The show—which has since gone off the air—catapulted Bertrand into the design stratosphere. What has she been up to since her days of reality TV superstardom? Everything—and then some.

Go in to the wayback machine—what do you remember most about winning Design Star?
"Honestly, it feels like a lifetime ago. But I love when people tell me they watched the show or voted for me or cared enough to cheer us on. I remember watching the season before me and feeling the same way. To become a TV character in someone's life was really fun. Thanks to the show, I met some amazing friends like my friend Lonni Paul who—name drop!—just designed William H. Macy & Felicity Huffman's home. She inspires me in design daily."
How did life change for you immediately following the show?
"Winning the show is like a pageant title—it looks great on the resume. Plus, there are only eight winners—I'm in great company. My life has been so bizarre from all aspects and I always joke that I am just working on my future People magazine story. But winning the show made it easy to stay busy in design—which I don't take for granted a single moment."
Where's the weirdest place you've been recognized?
"The first time I was ever recognized was in the toilet-paper aisle of a grocery store and I remember hugging her and thinking how bizarre this was! It's fun when strangers feel like they know you—so I can't imagine how nuts it is for real celebs."

Enquiring minds want to know—what color is your hair right now? And how many colors has it been over the years?
"I realize I love color and when I needed happiness I colored my hair bright pink. And hilariously, I didn't feel like it took guts to do it. I've had all over pink, purple undersides, ombre purple to blue—all thanks to the amazing and talented Rachel at Bangs Salon in Westwood. Currently though, I'm blonde and normal. Okay, we all know, I'm never going to be normal."
Are you still an HGTV addict? Why? Why not?
"While I appreciate HGTV, I am actually a huge Bravo fan. Their home shows resonate with me. Jeff Lewis, Million Dollar Decorators and now Thom Felicia and Carson Kressley's show is the best. It talks real budgets. I can guess a lot is still glossed over, but at least they show the difference between a $150K budget and a $5k budget. Oh, and of course, Bobby Berk of Queer Eye is über-talented as well."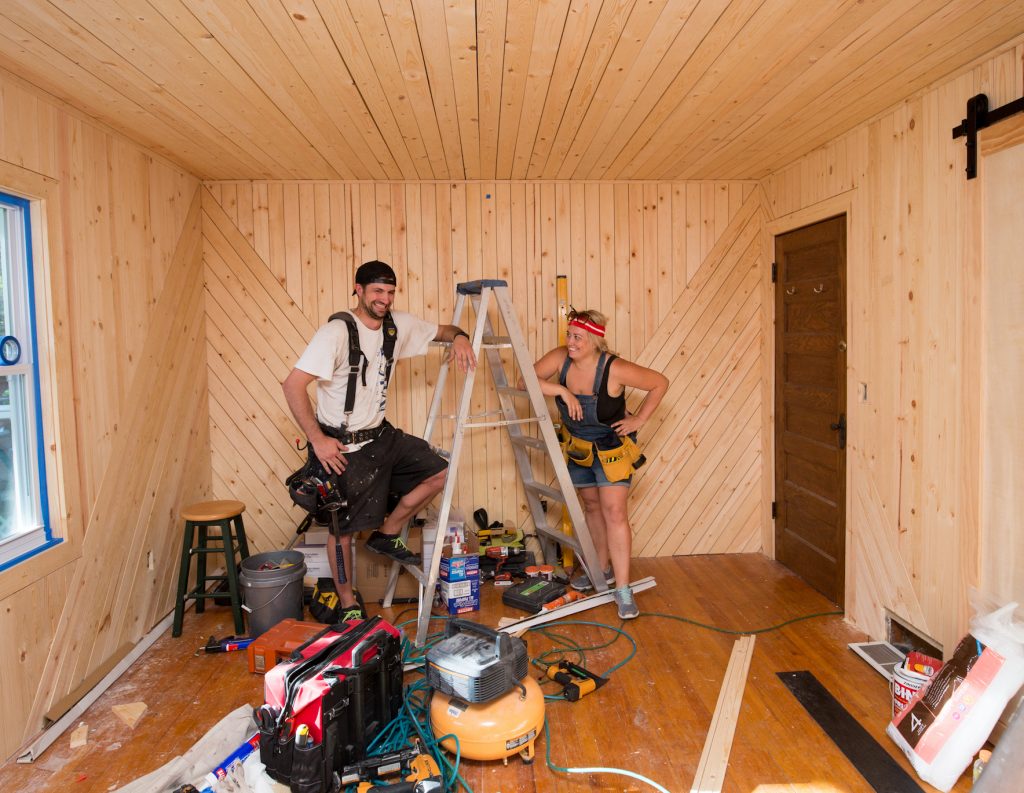 What have you been up to since winning?
"I was lucky enough to win another America votes contest in 2016 with Angie's List in conjunction with Arianna Huffington's book, The Sleep Revolution. We were talking wellness and the design do's and don't's in the bedroom. I also was a National Kitchen & Bath Association Insider with Karl Champley from the Ellen Degeneres Show and an amazing NYC designer Alberto Villalobos.
This year I went to Copenhagen on a design trail and I have to say, I didn't realize how much I would be influenced by Denmark. The design wellness I experienced in Denmark—from the color and simplicity in moments—will stay with me forever.  I have started to put color all over our house. White is just too clean for our family of dirty hobos. We are such slobs."

What's next for you?
"I am so excited to say I am now the national co-host for the podcast KB Talks for the National Kitchen & Bath Association where we talk what's new and next in design. I am also about to start a wellness podcast with Mauria Stonestreet which will be fun because we are discussing mental health adventures with each podcast concerning various aspects from sleep to your environment to food and so on with expedients around the globe. And now, I am the designer on Lifetime Channel's Military Makeover with Montel Williams. He is a former Navy veteran, but his depth of knowledge and compassion won me over. He is fabulous! Plus, we are helping military families who need to be honored and given love. The stories and situations we come across have filled my heart out the wazoo."

'Fess up—do you have a favorite makeover or remodel? What was it—and why?
"That's like asking if I have a favorite child!? Oh, wait, I only have one child! There are so many—like all of my Ronald McDonald House makeovers with Sporting KC and the Royals. Chris Duh and all of the amazing Hallmark artists donated their talents. And RockTops showroom really gave me my chance to showcase four kitchens with unique personalities. They were willing to try all of my bizarre ideas and pulled them off with flying colors. I am so proud of that showroom and we still have bathrooms to do there, which will be so fun!"


If another design-tastic reality show asked you to compete, would you be game? Why? Why not?
"I am a glutton for punishment and I would for sure say yes. I love design. Many times when we were in our lows with my son's Winston's medical stuff, I thought I could walk away from design and try to get a 'normal' job, but I couldn't. To me, design is being an artist with color, textures, sculptural objects, and silhouettes of furniture.  I still have so much to show of what I am capable of.
For now, I have fun just creating environments my clients love. Environments that feel like them but have an edge of my style! Remember no child grows up and says, 'My home was the perfect shade of gray.'"