Sponsored content:
Planning a kitchen project? Start here
Rich, dark navy infused with a touch of purple. Eye-catching mixed metals. Warm, glowing rose gold. No, these aren't the latest fashion or cosmetic trends. Instead, these are just some of the colors and materials that you can expect to see in kitchens near you, according to Karin Ross, owner of Karin Ross Designs.
Whether you're interested in making a few aesthetic updates to your kitchen or are in the market for a complete overhaul, it helps to pay attention to annual trend reports to guide your design. Approach a kitchen remodel as you would your wardrobe. You don't need to only splurge on trends. Instead, strike a balance between trendy and timeless. Ross recently shared how to do just that.
Let's start with a look at the coming year's top kitchen trends.
Navy—the darker, the better. Ross says gray kitchen islands are being replaced by rich, dark navy tones. "People love a graceful, navy pop for their kitchen," she says.
Mix your metals. Can't decide between sleek silver or stainless steel, chic gold or striking, oil-rubbed bronze? You don't have to! It's perfectly acceptable to mix metals in your kitchen, including faucets, cabinet pulls, and other fixtures. And if you prefer to view your kitchen through rose (gold)-colored glasses, Ross says the warm champagne hue of rose gold is becoming more prevalent throughout Midwest homes.
Bold backsplashes. Ross says she's "pleasantly surprised" by how clients are embracing bold backsplashes. Coordinate with a navy island or create exciting contrasts—a white kitchen with a green backsplash, for example. For those with a larger budget to work with, extending quartz from the countertops to the backsplash makes for "an elegant look," Ross says. "The backsplash makes the kitchen your space and shows off what you like."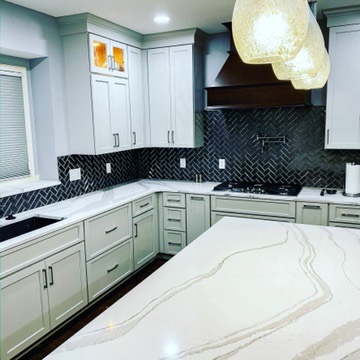 Two islands are better than one. Brace yourself—kitchen islands are getting a big makeover, according to Ross. Instead of one large, central island, there's more of a tendency to create two islands.
"They'll both be smaller, but one will have a sink and the other acts as a table or prepping area," Ross says. "This configuration is helpful for mealtimes with kids or for those who love to cook and want plenty of space. It's mimicking the look of cooking shows where everyone has their own stations."
Smart appliances with a retro feel. "Appliances have come a long way," Ross says. "Unfortunately, they can't cook for us yet!" Check multiple goals off of your kitchen wish list with brightly colored smart appliances that give you an efficient, tech-forward kitchen with the visual appeal of a retro aesthetic. You know what they say—what's old is new again!
Now that you have a solid grasp of upcoming kitchen trends, let's talk the remodeling process itself. Not surprisingly, your budget is one of the most important parts of your project planning, as it will dictate what you can (and can't) do.
Be sure to put some thought into your kitchen project plan, too. Do you want to make some aesthetic updates or are you looking to overhaul the space for improved functionality and design? This is when working with a designer like Ross becomes especially important.
"It's more cost-effective to get my opinion and evaluation of what there is to do," she says. "Every space is custom because of angles and other considerations you can't predict."
If you're on a budget yet still want to change the look of your kitchen, Ross suggests the following ideas:
Add open shelving
Change your kitchen island
Update your backsplash
Swap out cabinet fixtures and repaint or install new cabinets
Another way you can approach your kitchen as you would your wardrobe is to decide on a strategic investment. Opt for a more timeless feature, then embrace trends with easy-to-swap items like countertop décor, place settings and dishware. Ross says worthwhile kitchen investments include your countertops.
"Nothing works as well as quartz," she says. "It's proven to be non-porous and easy to maintain. Anything else you use will have scratches and can also harbor bacteria. Countertops are a worthwhile investment and quartz is here to stay for a long time."
You can also consider a quartz composite sink, which won't scratch or stain.
A kitchen island is also an effective investment and focal point. Opt for the two-island configuration that Ross mentioned earlier to add functionality to your space while also immediately updating the look of your kitchen.
If you're looking for a more dramatic update of your kitchen, a worthwhile part of your investment is a designer. It's easy to want to simply replicate the look of a kitchen you've seen in a television show or movie, but Ross says it's impossible to know the true configuration of those spaces and their features, including size and lighting.
"Use common sense, trust your gut, and work with a professional who knows what they're doing," Ross says. "You can quickly spend a lot of money in the kitchen, and it's important that you have the help you need to make your investment count."