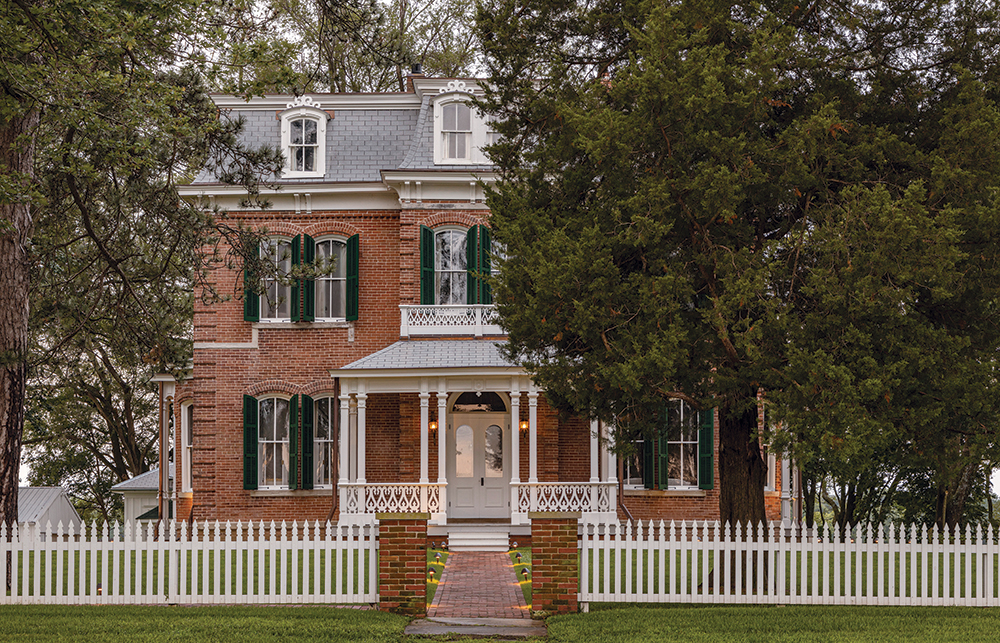 Situated within a quaint, rural setting in Malta Bend, Missouri, this "little" piece of history—with more than 15,000 square feet of living and event space—has a big story to tell.
Built between 1874-78, the seven-bedroom American manor house of Swiss immigrants Henry and Sarah Blosser was a true representation of the couple's love for eclectic design. Designed by Swiss architect John Daniel Walters, the Blossers' three-story mansion was swathed in lively Swiss style, American Victorian elements, and Second Empire furnishings. 
Inside and out, Henry's love of color invigorated the 6,500-square-foot home—which, perhaps, is better characterized as a Swiss chalet. Even the mansard roof was striped in layers of red, blue, and green, as was the trim. But after many years, its vibrant story faded. Abandoned and broken, it was scheduled to be torn down in 2014.
That same year, the Missouri Alliance for Historic Preservation held a press conference to garner attention in one final effort to save this "little" piece of history. And it worked. Enamored with the property, which was added to the National Register of Historic Places in the 1970s, and with the aid of historic tax credits, well-known Kansas Citians Art Elman, a retired radiation oncologist, and his wife, Carolyn, who recently retired as the executive director of the American Business Women's Association, went all in.
Day and night for the past four years, interior and architectural designer Kelee Katillac of Heartland Historic Homes/Flint Hall Interiors worked with the National Park Service to redesign and recreate a plan that would meet stringent historic preservation standards and guidelines as well as express the modern-day desires and lifestyle of the new owners.
"This house is really the story of America," Katillac says, "with immigrant people bringing over their family heritage and traditions, then pairing them with their new American lifestyle. What the Elmans requested in the design was that when you come in the front door, you truly experience that story."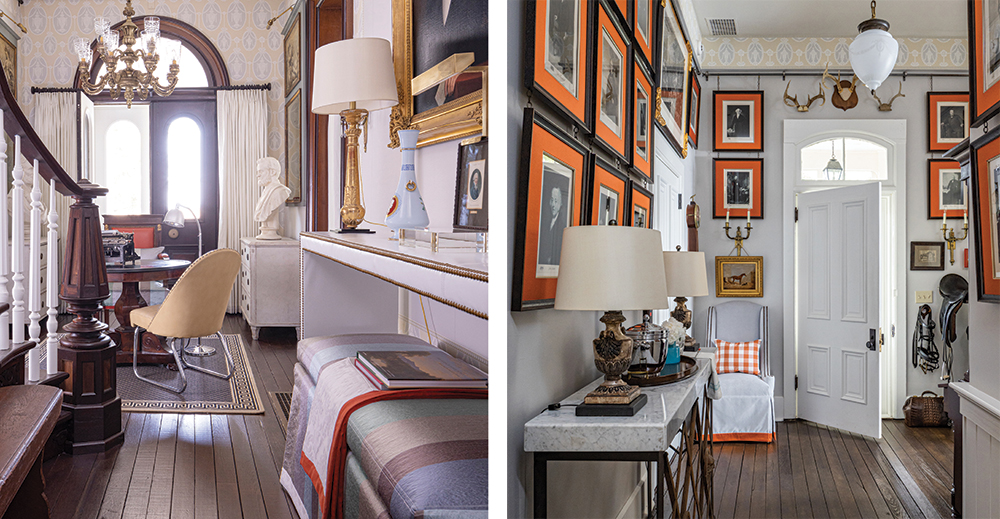 Art, who Katillac calls "the most interesting man in the world," and Carolyn are lifelong collectors of fine antiques—American and European—and have a knack for and history of restoring historic properties. Ironically, Art also shares Henry's love of the very same vibrant color palette.
But it starts subtly. In the entryway, through big double doors with a Palladian-arched transom, guests are captivated by the 1790 Hamilton Urns wallpaper, recolored in gray and ecru, and eclectic furnishings. The vibe in the Thomas Jefferson-inspired dining room, however, is a little more boisterous. The 1776 sunflower yellow wallpaper is "an allegory of the triumphant democracy over empire," Katillac explains. If you look closely, you'll see France handing a document labeled 1776 to Britain, a representation of the end of monarch rule. America is represented by a Native American woman.
"There are a lot of symbolic, tongue-and-cheek references coupled with interactive art in this room," Katillac says. "It's not a naïve or overly sentimental view of America. We are acknowledging the contradiction that is everyone."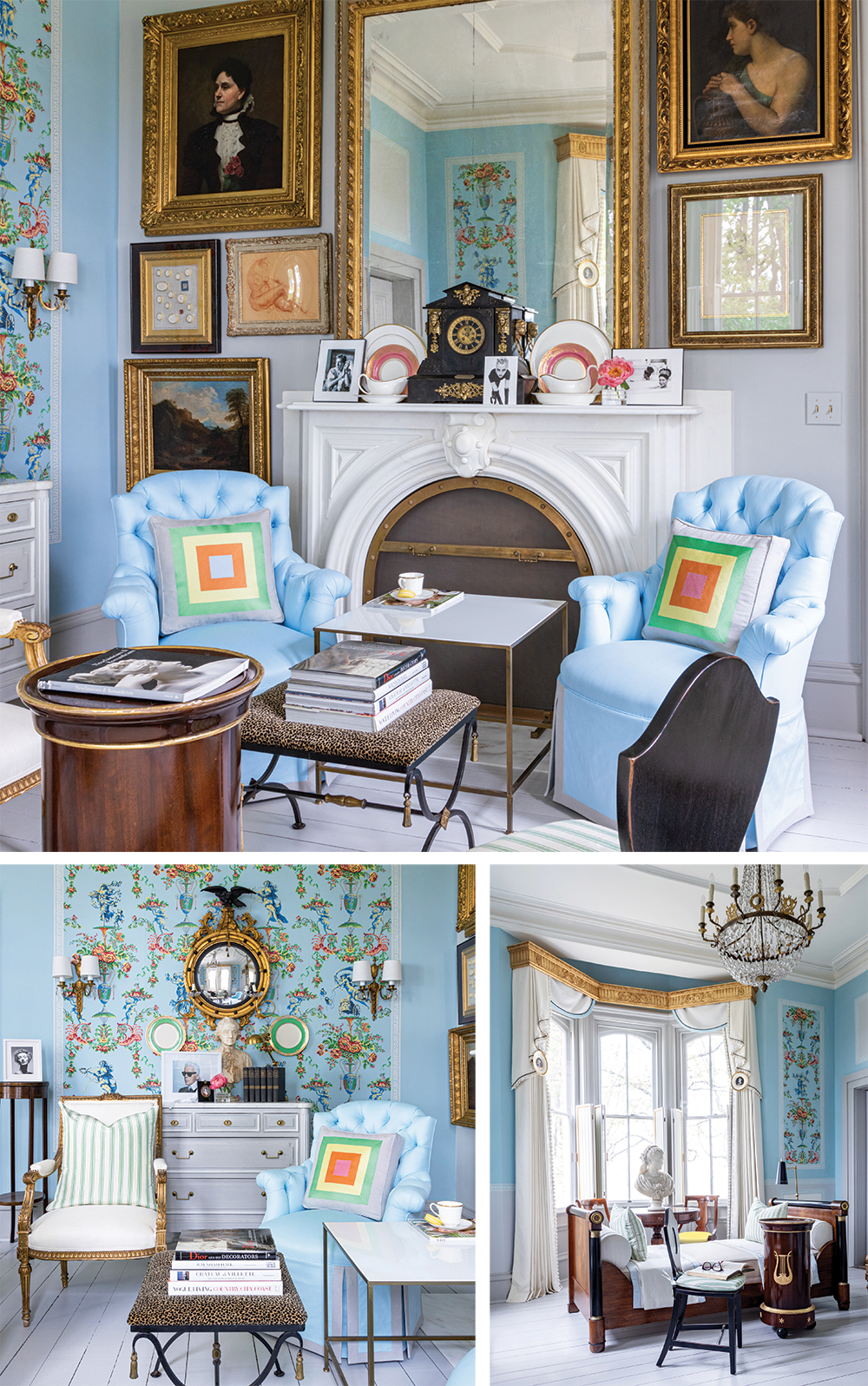 Speaking of contradictions, the gentleman's drawing room has space dedicated to both George Washington and Napoleon III. In what Art calls his haven, Katillac decorated the walls in a recolored Philadelphia Harlequin wallpaper by French émigré print master Anthony Chardon—from historic wallpaper company Adelphi Paper Hangings in New York—which traces back to the early 1800s. Below the wallpaper panels, she created a white linen wall upholstery, then finished it off with nailheads to simplify and modernize the approach to wallpaper.
Across the hall is the ladies' drawing room. Decorated in Carolyn's preferred palette, the softer, more neutral colors are portrayed in a French neoclassical style reminiscent of the First Empire. As usual, the wallpaper steals the show. An interesting fact about the stunning French-printed Locust Grove Arabesque paper is that it was discovered in Andrew Jackson's home, in a different colorway.
A bust of Empress Eugénie de Montijo, Napoleon III's wife, who was influential in women's rights, also is prominently displayed, sitting elegantly in front of the bay window. It was sculpted by Eduard Muller.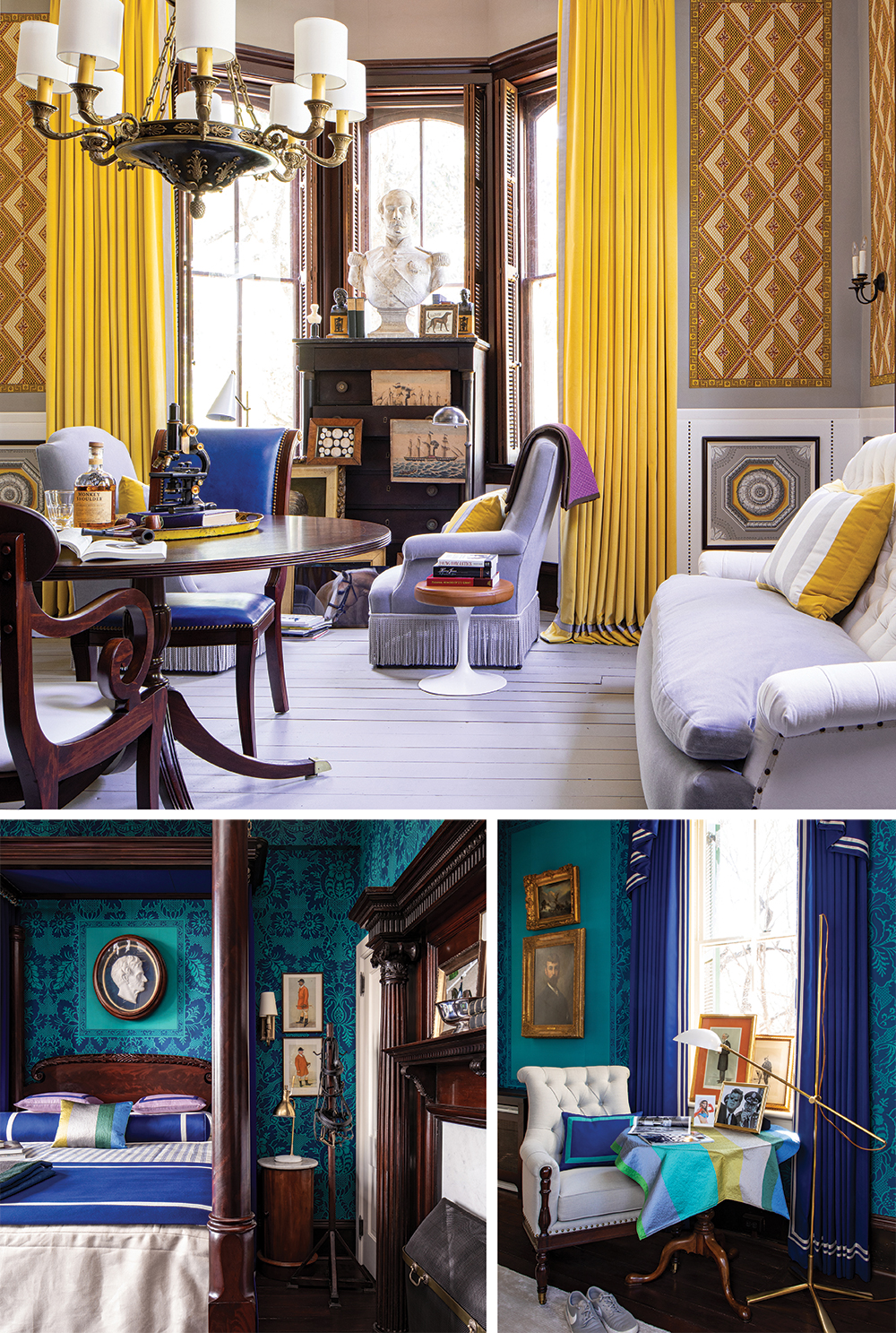 The only room in the house void of color is the kitchen. Traditionally a place of service and practicality, this manor-house kitchen, though still full of historic charm, received a few modern conveniences. For example, a drawer refrigerator and drawer microwave are hidden under the counter skirt, which is embroidered with the French words "chaud-froid," which fittingly translates to "hot-cold."
As each room was methodically brought back to life, Henry and Sarah's spirited, colorful, whimsical personalities continue to echo throughout this grand manor house.
"As I got to know the Elmans, I could see why Art related to what Henry had done. The Blosser home had so much presence and power to it. The Elman house exudes that same spirit and originality," Katillac says.
---
The It List
Architect and Interior Design: Heartland Historic Homes/Flint Hall Interiors
Architect: Patrick Dolan Architect
Construction: Hercon Construction
Preservation Consultant: Deb Sheals