With the holidays coming up fast, there's probably a good chance you're going to get a few presents that immediately need to be re-gifted. (Sorrynotsorry, Aunt Mavis.) But a few designers we talked to say it's probably time to take inventory of stuff you already have in abundance and pair it down—way, way down.
Here's their list of things to upcycle, recycle, toss or donate immediately—if not sooner. Or as they say, "Get it outta here already!"

Shoe-Bee-Do-Bee-Don't
"You would not think I have only two feet because who my shoe closet is saying, 'Who doesn't want to be Imelda Marcos?!' I am going to thin them out to core classics with a few fun ones, that's for sure! Also, I have now banned myself from purchasing any more vintage chairs and brass tchotchkes." — Jen Bertrand, owner Jen Bertrand Designs

Unnecessary Things Be Gone!
"If there's furniture that's been sitting in your basement or garage collecting dust (or if you haven't touched it in the last year), it's likely you won't ever do anything with it. Donate it or just get rid of it. Same goes for replaced artwork. You replaced it for a reason. Give it away or toss it.
Also, for the love of God, get rid of all the odds and ends I like to call 'knick-knacks' laying around the house. You know, those unnecessary things like little dog statues, tiny flower vases, empty mason jars, etc. that are serving no purpose other than contributing to clutter around your place.  Simplify. You can do it. You can live without these things, I promise." – Laura Menninger, owner/artist at Laura's Creative Space

No More Kitchen Chaos
"For starters, clear off the tops of your kitchen cabinets. Ferns and greenery do not grow on top on your cabinets. Chances are they have been up there for 10 years, they are dusty, tired and need to find a new home. Kitchens seem to be an attractive place for 'stuff.' We spend most of our time in the kitchen, so why not clean it up? Hide your appliances, get rid of all of the bottles of olive oil and pickled carrots. Clean up the counter tops and you will be amazed at how much better you will feel.
It comes down to a simple but sometimes difficult design philosophy: Don't bring things into your home that do not have a purpose or that don't bring you happiness. Clutter is clutter if it doesn't strike an emotional chord or have a job to do." — Patrick Madden, Madden McFarland Interiors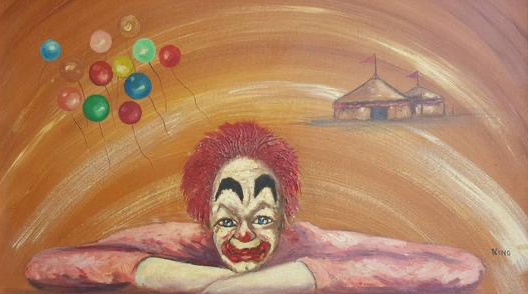 When Your Home Starts To Look Like an Antique Mall
"We all have objects of sentimental value and meaning that came from others and find a place in our heart and home. But, in the end, it is your space to be filled with your memories and thoughtfully chosen décor.
If you don't politely say no to the creepy clown painting your uncle twice removed gave to your favorite aunt, you will most likely go through these three steps: 1) Display it out of guilt. 2)  Hide it. 3) Eventually unload it to someone else. (Or the ultimate demise— end up on an episode of Hoarders!)" – Jenny Manka, owner Manka Interiors