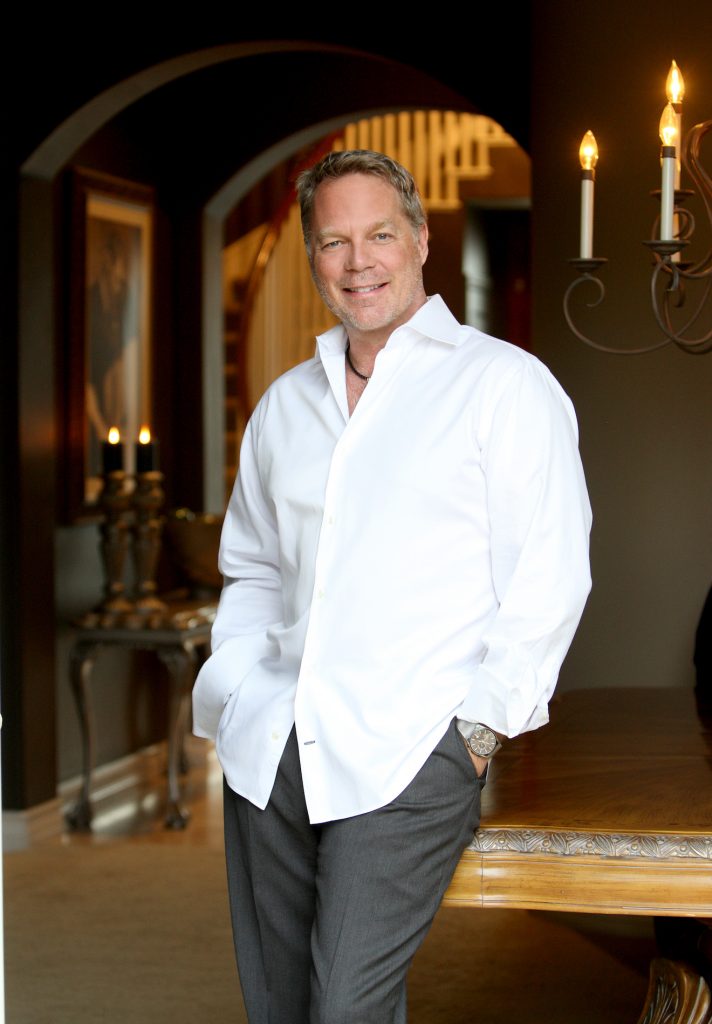 With the overwhelming, constant hustle and bustle of daily life weighing us down, it's no wonder that interior designer Rob Esterley's work is turning heads. Esterley—a native of Raytown—is the founder of Sacred Living, a lifestyle brand promoting holistic healing design in Laguna Beach. Think of it as a Zen-tastic space or escape pod in your home designed to help you de-stress, decompress, or just unwind and catch your breath for a minute. As Esterley says, he was destined to do this work from an early age.
"This has taken a lifetime. It started in the home I was raised in. I was raised in a very unfortunate environment," says Esterley, whose father suffered from PTSD from WW II. "I knew as a young boy I had to get out of there. I've always been in search of peace, healing, serenity and tranquility."
Given his propensity for drawing and painting at a very young age, Esterley was nurtured by teachers along his way to art school—which included a stint at the Kansas City Art Institute. Esterley continued to develop his craft—and his eye—which turned into a stint as a celeb floral designer with a shop in Beverly Hills. "I did celebrity homes, offices, restaurants," says Esterley. "It's like therapy when I do floral arranging. Simple things like that bring us healing—especially when you're connecting directly with nature and beauty."

Eventually, Esterley took his act to New York City and refined his talent. "That's where I discovered my love of interior design. The switch flipped and I fell in love with every aspect of an environment and how you can control the experience," says Esterley. His defining moment? "I did floral arrangements to complement a Monet painting. When I stood in front of the painting—a masterpiece—I just knew."
After another cross-continental move back to sunny California, Esterley started his interior design business and built it into a successful firm. "It was a very heady time for me, but I knew I was missing something. What was I missing? A spiritual component," says Esterley.  "I vowed to bring my journey into my work. What can I do to help provide some healing? I would bring something in return—something instinctive.
Call it serendipity or karma, but Esterley "began having clients who had almost unbearable life situations." It was then he decided to start outfitting homes to help with the journey of healing. Esterley realized he was on to something when he created tranquility rooms in several designer showcase homes. "Each time I did one I'd observe the public's response," he says. "They would pay special attention to the color, textures, fabrics. They'd sit down and stay in the room. They were always intrigued with the lighting."
It's taken some time for Esterley to hone his craft. He researched tranquil living spaces for his clients and what they needed/wanted/deserved. Through trial and error, Esterley embraced his passion. "They don't teach what I do in design school," he says, laughing. "I am committed to this journey for the remainder of my life. It's become a passion."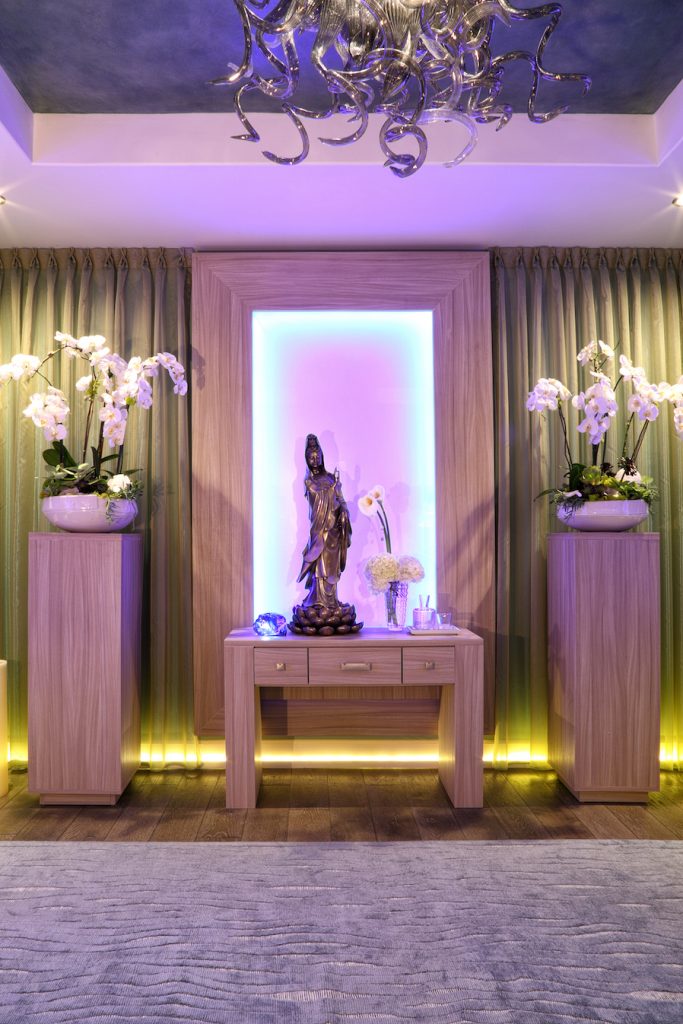 One quick look at some of Esterley's makeovers and it's easy to see why clients embrace his warm and inviting, yet placid spaces. Esterly says he can take one look at a room and quickly deduce how to "move space"—as he calls it. "Is there tension over here? Do I need to move things over here?" His custom-chroma therapy light boxes—some installed floor to ceiling—give a sense of serenity. "It's almost as if you were floating," he says. The imaginative rooms he creates can be used for everything from yoga spaces to mediation rooms and beyond. The sky is the limit—and often is. He predicts that with the way society is addictively attached to their smart devices eventually folks will clamor for a safe, quiet, unplugged space to simply decompress. "We live in a society that goes so fast that this type of space will help to slow you down and connect to what's important—your family, your community, and humanity," says Esterley. "We're all racing and it's getting worse and worse with technology— everyone is succumbing to the pace."
How forward-thinking is Esterley's Sacred Living designs? He's currently being considered for a TV show that showcases his harmonious home mentality. "I want to create a place in your home that can be used for healing," he says. "This room is now for meditation, therapy, prayer—whatever you need. And I'd like to see them used in veteran's hospitals—which is full circle back to my father's story."

For now Esterley continues to evolve his designs for a higher cause. "There's a purpose for my life that was far greater than I had imagined," he says. For now only California has been privy to his creativity, but he's hoping to tap into the mindset of Kansas City's metro. (Read that: he's looking for clients to bring him back occasionally to his hometown.) "I want to bridge my work back here and I'm looking for projects," he says. "Life is sacred, so why not honor that and bring that concept in to focus? I don't tell you what's sacred, I want you to discover that for yourself. I help inspire you to that understanding. It brings healing and transformation in to your life."