Townhouse Living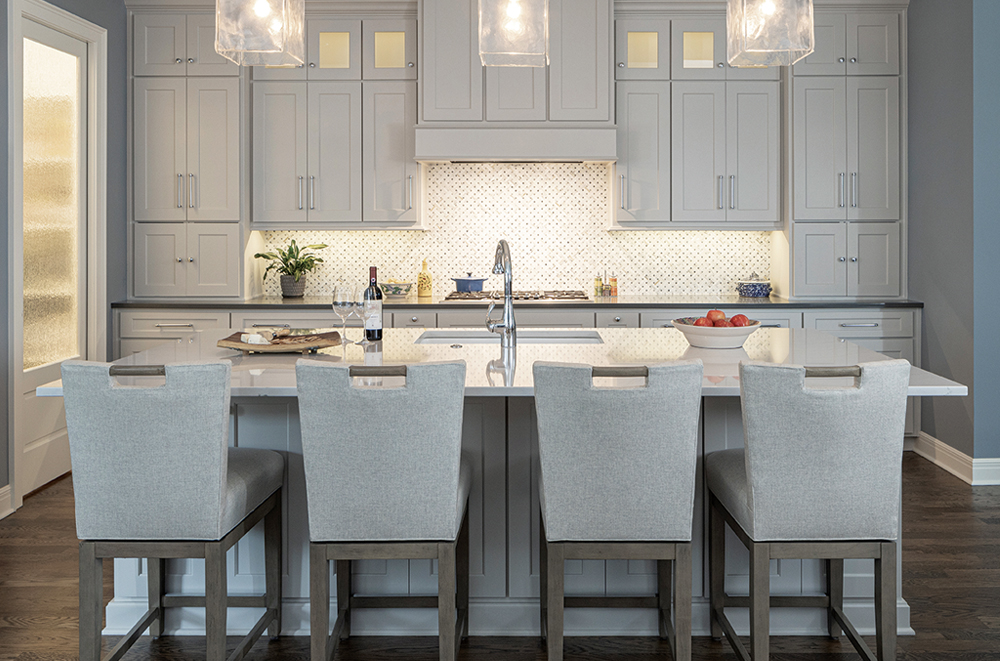 Tom Swenson's "I want a kitchen island" prompted a major shake-up. To get that island and the open space it required, Swenson and his wife, Deb, sold their Prairie Village home and moved to the new Meadowbrook Park community nearby. They enlisted the help of Arlene Ladegaard of Design Connection, Inc. to make their open-plan kitchen work beautifully.
The island, topped with a gray-veined Cambria Ella quartz, now allows for creating pizzas or rolling Swedish meatballs, a family favorite. It's also where the couple enjoys weeknight dinners and entertaining guests.
"I wanted all pull-out drawers in the lower cabinets," Deb says. Pull-outs on either side of the Thermador cooktop hold cooking utensils and seasonings. Small appliances await the call to duty in their "garages," pantry items can be found behind frosted glass doors, all out of sight.
Deb sidestepped white cabinets in favor of Ermine, a Sherwin-Williams color that changes with the light. The walls in an up-tempo blue, Let It Rain, also by Sherwin-Williams, help create a look that is "transitional rather than traditional," she says.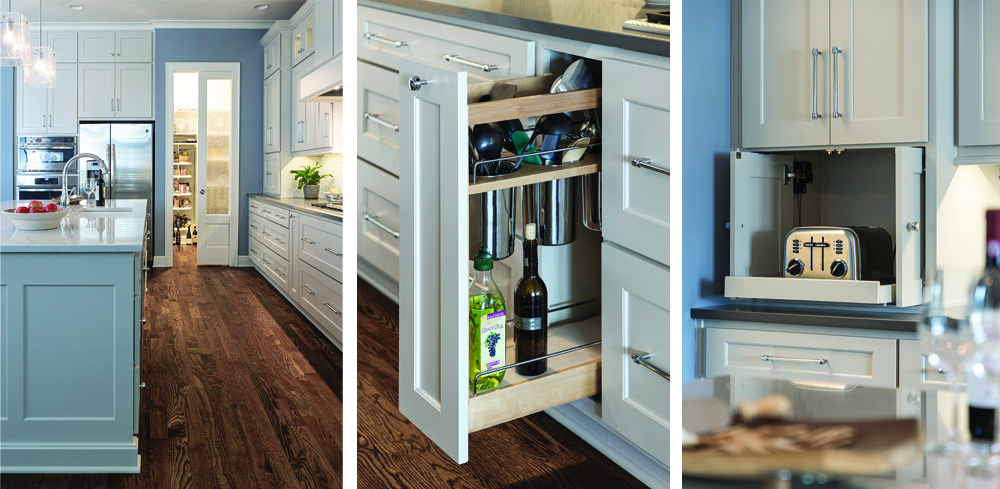 Trad Home
The 1935 Tudor tucked into the slope of a hill needed a refresh when Mark and Lorie Concannon arrived in 2017. "You get this feeling when you know it's the right one," says Lorie, not only about the house, but the kitchen inspiration photo she found on Pinterest. After talking with several designers, the Concannons connected with Lisa Otterness of Classic Kitchens Design Studio in Leawood.
"We wanted to stay as close to English Tudor as possible," says Lorie, and Otterness helped them make it live for today. Lorie was able to find the exact barley-twist hardware she wanted, and Otterness sourced the perfect Wood-Mode cabinetry in a creamy finish. The pale, custom backsplash continues the Tudor wainscoting except for the beveled tile behind the sleek Bertazzoni six-burner stove. The quartz countertop lets the blue-and-white china tureen, antique-silver teapot lamp, and small paintings take center stage. The island adds a little bling with Silestone Mediterranean. "Living surfaces like marble or copper that can stain, scratch, or develop a patina can drive some homeowners nuts," says Otterness. Lorie didn't want the maintenance, which is also why she chose the barley-twist metal pendants—with no glass to clean—from the Ballard Designs catalog.
With a ceiling painted Market Square Shell and the great room's Palladian blue Pearl, both Benjamin Moore colors, the custom hutch designed by Otterness stands out. Its Gothic-arched glass front holds family heirlooms, while the buffet top showcases desserts at family gatherings. And everyone comes back for seconds when Lorie dishes out her famous biscuit-topped, deep-dish chicken pot pie.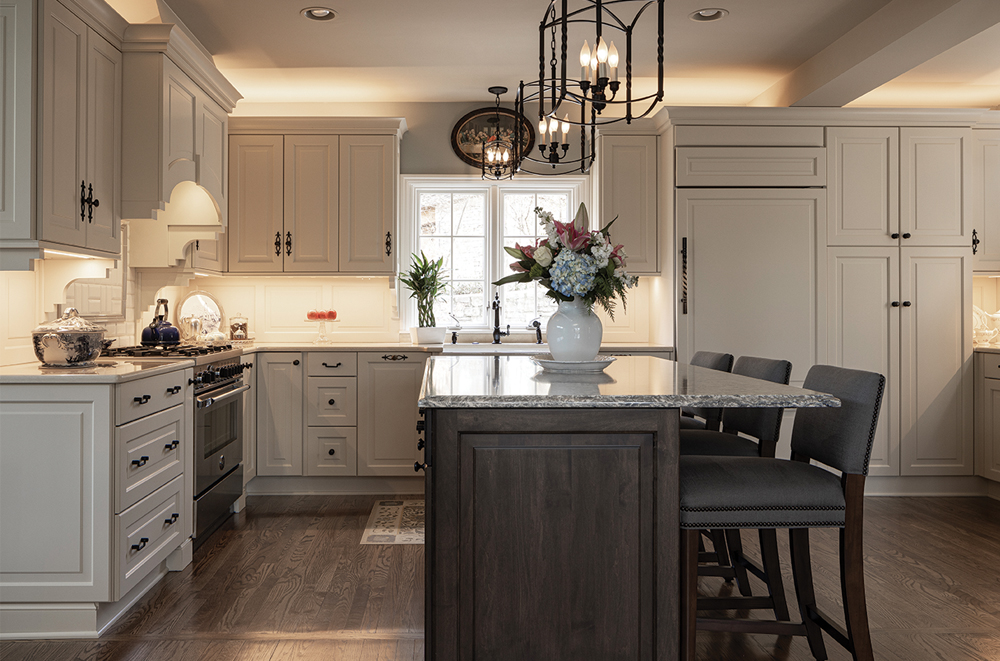 A Chic Downtown Condo
Dominic and Deni Cerasi met when they both worked for a company in Bonner Springs. Now retired, they recently blended their families of children and grandchildren with roots in two places. "We have one foot in Kansas City and the other on the East Coast," says Dominic.
They also fell in love with a kitchen they saw at a model home outside of Philadelphia, where they have a second home. At first glance, the kitchen in this new Kansas City condo didn't exactly measure up—or spark joy.  That's when the Cerasis called in Geri Higgins at Portfolio Kitchen & Home. "She inspired us to build the kitchen of our dreams," he says.
They wanted a gourmet kitchen with a Wolf range. Because of venting restrictions in the condo, it needed to be a flat-top induction, which necessitated new cookware. But they love it. Dominic is an avowed "fish guy" and loves to cook salmon, mussels, and blue crabs.
Custom cabinetry shines next to countertops of Polarstone Calacatta Vagli, a white quartz with veining that resembles marble. Bar stools from Mitchell Gold + Bob Williams pull up to the island, while a glass-topped table with leather-and-chrome chairs anchors the end. "We didn't want a formal dining room," Cerasi explains.
Deni's workstation sits below glass-front stainless-steel cabinets and the espresso maker/coffee bar is never far away.
When they're in town, they're flipping blueberry pancakes for the grandkids in the morning, watching the sunset towards the river in the evening. After living in the suburbs, city life agrees with them. "We can hop on the streetcar and go wherever we want to go," he says, with plenty of goodies to bring back to their kitchen.