We're asking local interior designers about their most memorable makeover. Next up? Designer Jennifer Bertrand chose a dated bathroom in desperate need of an overhaul.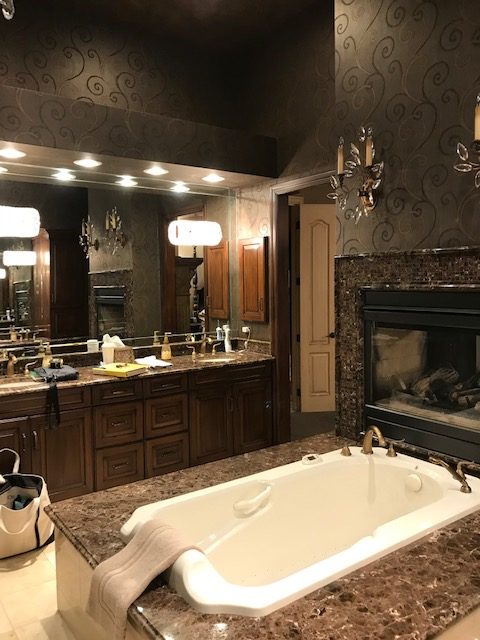 "This bathroom went from great for its era to another new beginning for this space," says Bertrand. "It was all about lightening, brightening, and creating a calming space."
Bertrand's goal was to "breathe fresh air into the space. It's like letting your home take a deep breath out, and this space was no exception," she says. "I try very hard to be a chameleon of design and evolve to my clients' likes/dislikes. That allows their homes to feel like we captured them—without them even knowing that is what they wanted."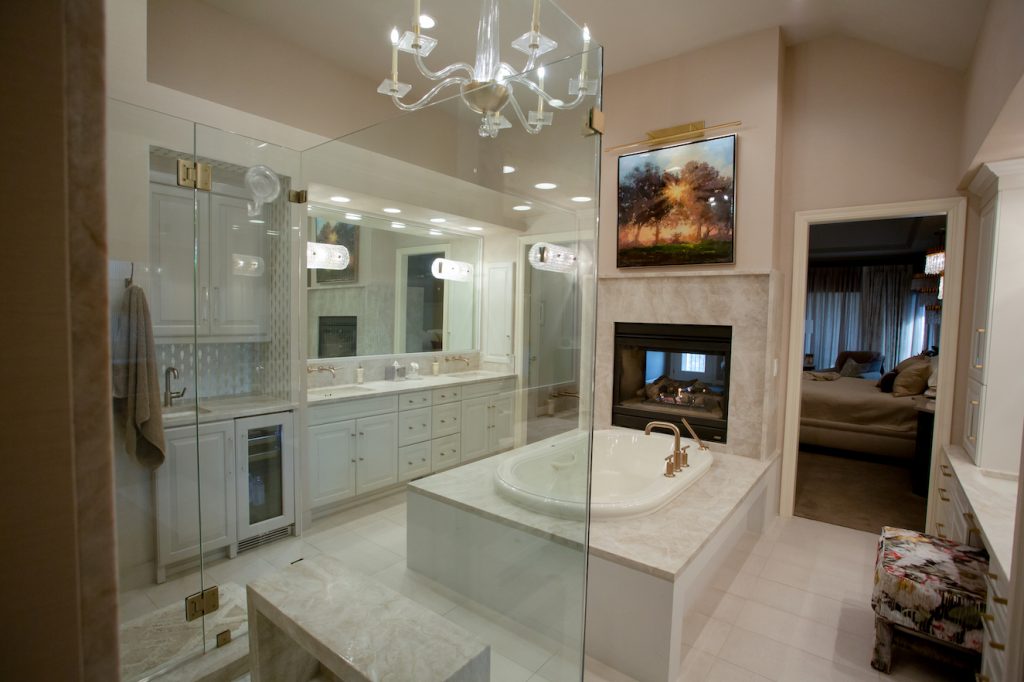 In this case, the client was amenable to adding stone walls. "The fact that we were able to play with so much stone made it fun. It was all about casual elegance," says Bertrand. "We were able to talk through morning routines, solve some issues, and create a shower that really was a beautiful focal point. This is how it looks every day, nothing staged for cameras, just the realness of the design captured."

The bathroom's previous incarnation was a time capsule. "It was a space that had once worked but now felt heavy," says Bertrand, who tweaked her design to add several unique elements. "We incorporated a perfume niche with her favorite perfumes and personal moments from her mother," she says.

Bertrand found early on that the stone-on-stone design could pose problems, so she pulled in Carthage Stoneworks for the assist. "Carthage made it look easy, and there was nothing easy about all of the stone in this space," she says. "They were so aware of every single detail. It is a love story to stone!" Bertrand points out all the detail, including the mitered tub base of quartz and quartzite, the mitered shower bench and stone shower walls with stone inset and shelves.
Bertrand says the bathroom became a collaborative team effort. "[Designer] Sara Antin popped in for fun throughout, sharing her design eye, friendship with the client, and always elegant advice," she says. "Big Electric provided exceptional lighting, and the artwork was found through the stunning Eva Reynolds Fine Art Gallery. Tile was through International Materials of Design and Kohler fixtures from Ferguson."