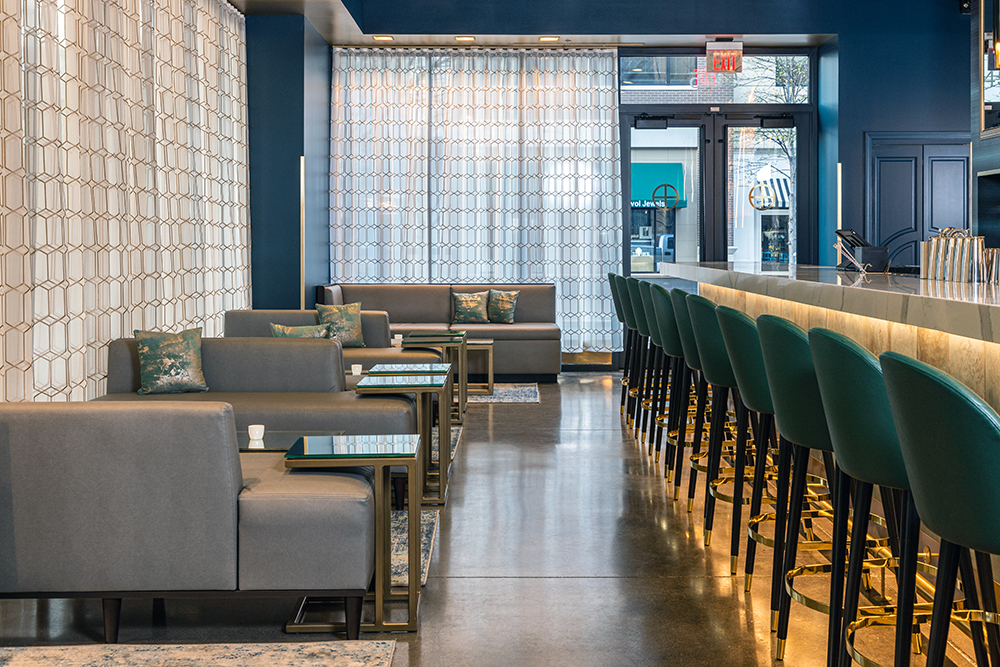 What is Verdigris? Besides being a bright bluish-green patina formed on copper or brass by atmospheric oxidation (think Statue of Liberty), it is also the name of the newest cocktail lounge at Park Place in Johnson County.
Located in Leawood and brought to you by the brains behind the Monarch Bar in Kansas City, it's easy to see this type of metallic magic inspired nearly every surface—the walls, ceilings, furniture, art, and even the drinking glasses.
The result: sleek and sophisticated. You definitely yearn to sit back, slowly sip on something, and stay for a while.
"We wanted it to feel like the Great Gatsby, both retro but ahead of its time," says Christian Moscoso, one of the partners. 
At the same time, the green and blue color palette and natural materials feel Midwestern, and that familiarity creates comfort and coziness.
Moscoso points out the scuffed brass edges on the cocktail tables. Without a doubt, no detail was overlooked. Even the throw pillows and rugs are patterned with green and blue reminiscent of metal oxidation.

Get the Look
Art. The mixed-media abstracts by local artist Jennifer Janesko feature blues, greens, and copper hues. Their patterns provide perfect texture in the space.
Wall color. The navy-blue color is PMS 303. It makes a great foil to the artwork and metal accents.
Mirrored furniture. The cocktail tables were custom-made, but similar pieces can be found in vintage stores. Their reflective surfaces make the space gleam from the metal accents and ambient lighting.