Sponsored content:
Did you know there's a new spot downtown that offers up a fitness center, a dining and drinking oasis and tasty, to-go food 24 hours a day? 'Tis true. The Downtown Marriott recently remodeled their entire hotel so you can—well, hang out. While the newly refurbished hotel is getting rave reviews from its guests, the hotel was also redesigned as a place for locals to simply chill. "Before our lobby didn't offer much seating, entertainment or food & beverage variety," says Dustin Holcumbrink, the hotel's director of sales & marketing. "Now there are plenty of seats for lounging, dining, or seats with outlets if you're working. It's designed to be multi-faceted—to be social."

Enter the hotel's front doors and it's easy to see how much time and effort designers put into their spacious, lounge-centric atmosphere. "The colors are welcoming and warm. The one-story fountain makes it relaxing," says Holcumbrink. "Let loose a little, grab a drink at Bar Central. It's the perfect happy medium of being a lounge and work space. There are even nooks for semi-private meetings."
When we visited, the NCAA tourneys were in full swing and the lobby was teeming with players, fans, business travelers, Planet Comicon attendees, and a slew of nurses in town for a convention. Holcumbrink says that's just another typical day at a large downtown convention hotel. "We're perfectly suited to cater to everyone's needs—and that includes locals."
The lobby's posh watering hole, Bar Central, has become ground zero for kibitzing. The bar staff continues to up the ante with drink specials and events. "We do have a daily happy-hours, special events, and we also like to bring in different distilleries and local breweries for tastings," says Holcumbrink. "Sometimes our chefs battle it out in different contests, like best tacos or pizzas." Guests recently sampled a bevy of pizzas and "the winner of the pizza that was voted the best ended up on our Bar Central menu."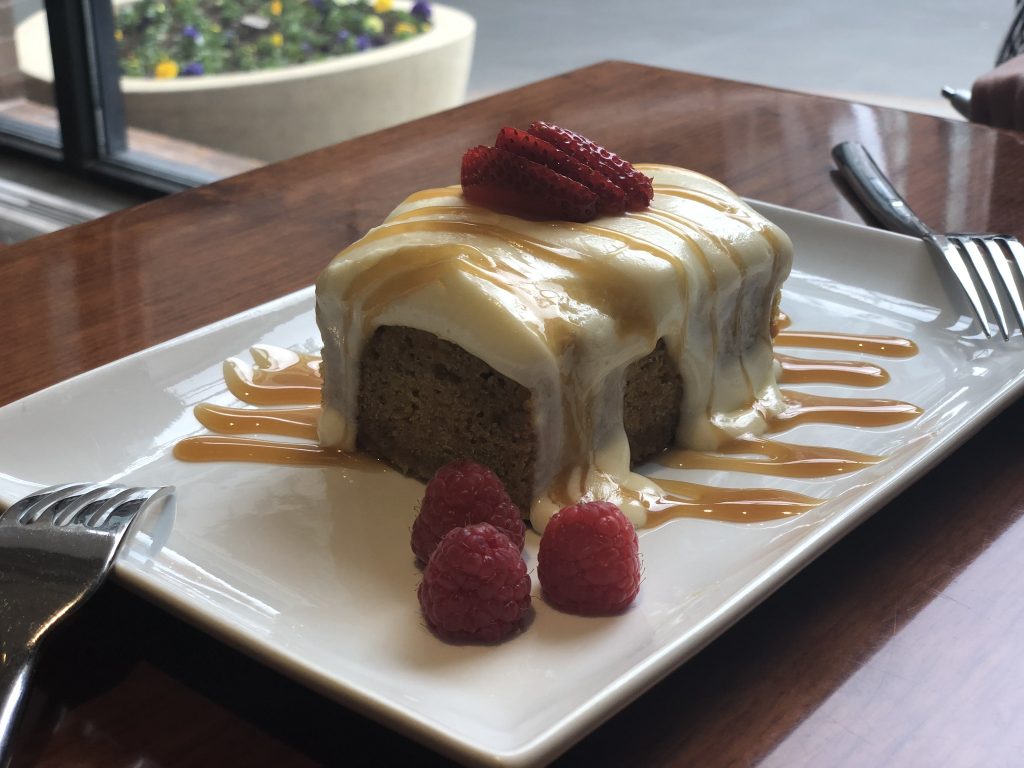 Because the hotel is open 24/7, 365 days a year, Holcumbrink was quick to point out all the options so that no one goes hungry—ever. Need to nosh? Metro KC at the far end of the first floor is all about upscale casual dining, as well as a breakfast/lunch buffet. (Four words: Order. The. Carrot. Cake.) Bar Central, meanwhile, offers an "upscale bar menu of appetizers and finger foods." And Coffee Central—featuring Roasterie Coffee—has "made-from-scratch pastries, muffins, bagels. All easy grab-and-go things," he says.

Even more impressive? "Guests can get 'Fresh Bites' 24 hours a day. It's easily packaged, to-go in portable recyclable containers. All hot and fresh delivered to your room, or you can pick it up," says Holcumbrink. Work downtown? There's even an app to use to pick it up on the run. "If you're in a hurry, it's perfect. You can order snacks or even more substantial fare like salmon or a rice bowl. My go-to is the turkey bacon sandwich with house-made chips—or get fries, tots or side salad."
Heck, they even have a competitive, in-house barbecue team. "Since many of us are native Kansas Citians, we have a reverence for our KC barbecue. Our BBQ team competes in many local and regional competitions (including American Royal) and our menu contains some elements of our barbecue team's offerings," says executive chef Ronnie Kotz. "Our barbecue sampler contains competition ribs, brisket, and pulled pork. We pile that with our award-winning barbecue beans, cheesy corn, coleslaw, pickles, and our fresh, baked daily, cornbread."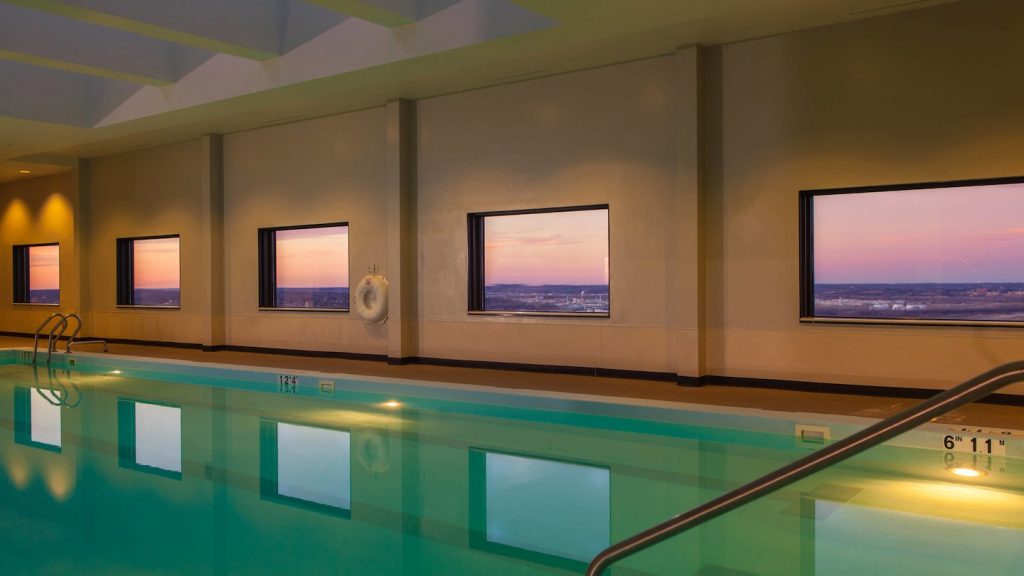 Because the hotel is so significant—970 rooms and 37 suites—the designers wanted the common spaces to have personality and flair—uh, and super-fast, free Wi-Fi. No wonder downtowners are using the space as a go-to getaway. Holcumbrink points out that the top-floor gym has also become a mecca for downtown loft dwellers to get their sweat on. An indoor pool is included in the 22,000 square feet of gym space. "As far as gyms go, there aren't a lot of options downtown. Up on the 22nd floor, our gym offers a monthly membership with no initiation fee or monthly commitment," says Holcumbrink. "It's available complimentary for all hotel guests, but anyone can purchase a membership monthly. Our motto? 'Work out on top' —because of the amazing skyline views. Members get complimentary two-hour parking too."

By May, the $65 million renovation will be in its final stages and the hotel will be finishing up the last smattering of guest room makeovers. Stop in to discover all the things the Kansas City Marriott Downtown brings to the table—especially if you need an oasis from the hustle and bustle of downtown. "You can start your day or end your night here. We're here for everyone. Our amenities have amenities," says Holcumbrink. "We want people to feel at home. Business travelers, locals—we want them to have an escape. An escape room, if you will. It's a home away from home."