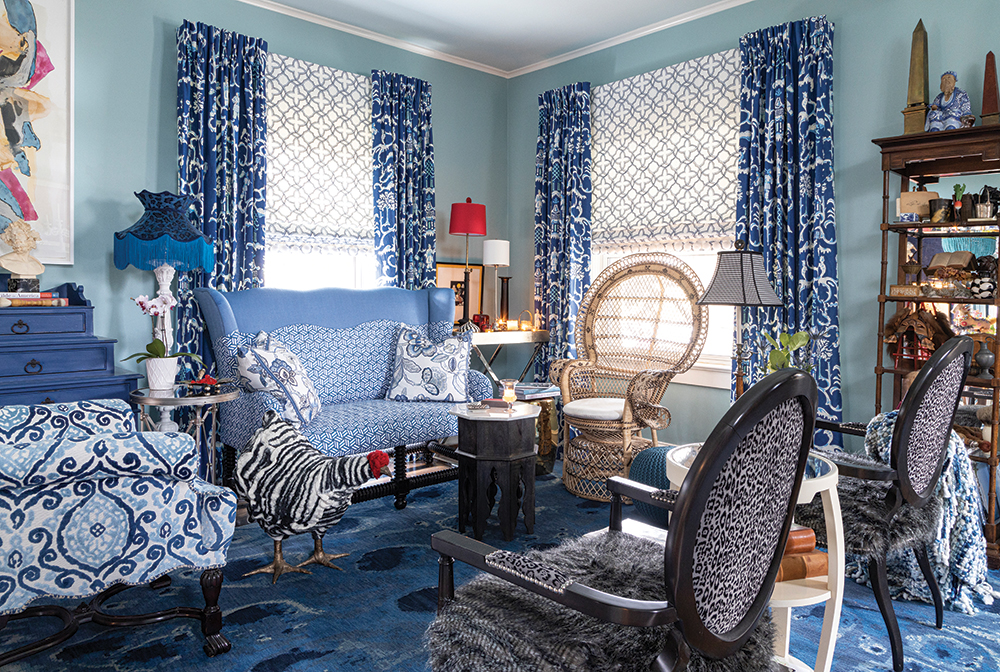 Lamar, the schnauzer, nibbles his chew toy in the living room under the watchful eye of Effie, a felted chicken footstool from The City Girl Farm in Kansas City. Nearby sits a 1920s armchair found on a City Market curb, wrangled into a car, and now on its fourth upholstery, a reverse raised velvet. Ebony legs with Jacobean turnings peek out from under a new settee, upholstered in Schumacher fabrics. Above the original fireplace hangs a red abstract painting, done in layers of deepening hue, by artist Scott Butterfield. Two black occasional chairs with faux fur seats from the owners' previous home cozy up in a new spot.
"We call it The Collection," says interior designer John Rufenacht. Rufenacht shares the home with his spouse, Richard Lara, who oversees the Henry W. Bloch Scholars Program through Metropolitan Community College.  "It has no period, no effort to mimic a time or place. It's just ours."
Their home is an early 1900s stone shirtwaist near Brookside. It was once the home of sisters Virginia and Sarah Weatherly, who were renowned for their garden. Rufenacht and Lara have lived here twice. They left for a smaller condo when they were working on their weekend home, Evening Place, which is located outside Clinton, Missouri. The couple returned to the Brookside house last year and have made it their own again.
"We believe in a house that is yours," says Rufenacht. "Your story, your history, and your future." Their future is awash in soothing, watery blues. A dark robin's egg on the living and dining room walls, and every shade from navy to periwinkle on upholstery, drapery, and carpet. "I'm interested in how colors feel together," he says. "A range, not one exact hue that has to match something else."
Although Rufenacht usually goes to textiles as a starting-off place, this time it was a lyrical bird-patterned tile from a trip the couple took to Portugal. The blues in the tile echo the new color palette, the airiness in the design picked up in the overscaled chinoiserie patterns throughout the house.
In the dining room, a sculptor's table that can ratchet up or down takes on a new role as a potting table, with orchids, mosses, and ferns taking advantage of the western light. Red-and-white rattan bistro chairs surround the long table. A Philip Jeffries blue grasscloth covers the walls, a turquoise beaded chandelier provides the light. Mementos from travels, including the Portuguese tile that started it all, hold pride of place in a cupboard from India. "We wanted the room to have fun and be a little exotic," says Rufenacht.
In Lara's office/library with its dark walls, you feel like you're stepping into a 17th-century Dutch floral painting thanks to the large-format peel-and-stick wallpaper.
The kitchen—"our little jewel," says Rufenacht—features a mash-up of 17th-century prints in Modern Toile wallpaper from Schumacher. Black cabinets play off walls covered in blue-and-white patterned tiles from England and butcher block countertops.
Upstairs in the guest room, a custom iron four-poster bed has stayed around since the first time Rufenacht and Lara lived here. It stayed for the next owners and now again for the couple. They loved the design, and it was simply too heavy to move. Back again, too, are the original toile bed coverings in black, gray, and blue.
The master bedroom features Rufenacht's signature red, which he considers a true neutral. "Can you think of any color that doesn't go with red?" he asks. Toile draperies, with a soft, watercolor look—came about after he used it in a Pebble Beach design project. The fabric was being discontinued, so Rufenacht bought the last two bolts. Sterlinghouse, a local window-treatment fabricator, crafted the curtains here and throughout the house. The framed ribbons hanging on the walls are a testament to Effie Almond, Rufenacht's great-aunt, who showed Persian and tabby cats all over the world. "She was a true character, the most intriguing person in my family," he says. "I have wonderful memories of her." Rufenacht papered the ceiling, the fifth wall, in a red tile pattern.
It all adds up to a lively, colorful home. It's Rufenacht's credo. "Home must delight you," he says. "It must offer peace, order, fulfillment, and enticement. I want to rush home and be surrounded by comfort and awe and the feeling that, yes, I live here."
The It List
Contractor: Trademark Walls
Interior Design: Rufenacht Interiors
Upholstery: Décor Upholstery | 816 363-3140