Sponsored Content:
Have you had an experience where you've de-cluttered and/or cleaned a space and instantly felt lighter, calmer, and invigorated? 
It's not just in your mind. Gwen Humerickhouse, a designer with California Closets, says the act of organizing can have tangible benefits in addition to creating a more functional space. 
"You don't realize how much weight your stuff carries," she says. "The closet is a great example. When you're installing a new closet system, which could be as simple as shelving or drawers, it's so much easier to identify a dedicated space for everything. It's harder to stay organized than it is to get organized, which is why it's important to create a system."
Humerickhouse says the start of the year is a prime time to focus on home organization, building on the momentum of a new year, clean slate, fresh chapter, etc. Yet thinking about getting organized and actually getting organized are two different mindsets. Deciding where to start is often daunting, sometimes debilitatingly so. 
The key is to focus on one area at a time. To help spark creative inspiration, consider the following areas of your home and how introducing an organizational system could help you use the space efficiently—and, just as importantly, how you feel when you do.
Bedroom
It's easy to make your bedroom a catchall for laundry and general clutter. Just shut the door and forget it, right? Humerickhouse says she's worked with a number of clients who put their bedroom last on their priority list, when in reality, it can be a satisfying and effective place to start a home organization project. 
"The trick in the bedroom is to install furniture and functional accessories that help keep the room tidy," Humerickhouse says. "The bedroom should be your oasis—an escape from a hectic day, a place where you can truly rest and relax."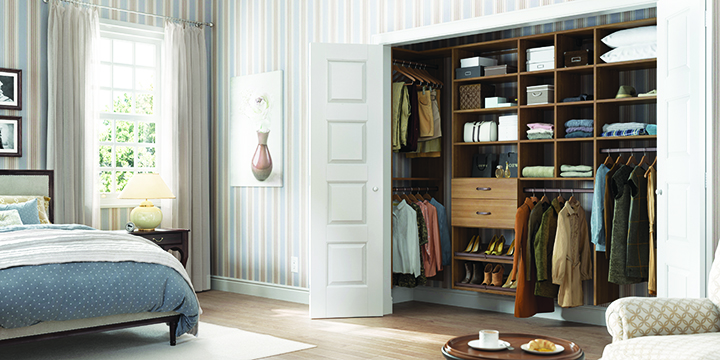 Closet
Often, organizing your bedroom will directly tie into your plans for your closet. Even if you have a spacious closet, it may not be configured in a way that works for you and your daily habits. 
Here's a starting place: envision what you want your bedroom and closet to look like. How do these spaces function? Do you want a more minimal, decluttered bedroom, for example? Humerickhouse says more clients are opting to move their dressers into the closet and also add focal points like a closet island so that all clothing, shoes, and accessories are neatly corralled in this space. 
What could you add in your bedroom without dressers? A cozy chair and side table to create an inviting reading nook, perhaps? A vintage-inspired vanity or dressing table? The possibilities are exciting. And the best news? With California Closets' modular approach, you don't need to already have a huge walk-in closet to make this sort of configuration work. 
"We can work with so many types of closets and spaces," she says. "We'll also take into consideration your budget. You don't need to go crazy with details like crown molding or lighting to create a life-changing result." 
Laundry Room
Who really wants to spend time in the laundry room? Yet the more functional it is, the less laundry becomes a dreaded chore and instead simply something you tackle as needed. 
When you're planning a whole-home reorganization, Humerickhouse shares a valuable tip: pay attention to not only how individual rooms function, but also how they work together. For example, what could you add to your laundry room: Shelving? Counter space? Clothing rods that help you collect and clean clothes in one spot, rather than having to continually transport loads from a bedroom or closet and back again? 
"Each room in your house affects the other, which is a big advantage to increasing the functionality of these spaces," she says. 
Consider other options like a mud room (or mud area) that you may currently be lacking in your home but that can also help you keep jackets, backpacks, shoes, sports equipment, and keys tidy, organized, and within reach. Again, you don't have to create a complex, elaborate set-up. The solution might be as simple as some shelving, hooks, and lower drawers or bins that you could then add to as needed.
Last year California Closets launched an antimicrobial surface that's ideal for kitchen and laundry room countertops and other high-traffic areas. As you select your finishes, keep this material in mind (available in a variety of color options) to not only make your space more functional, but also healthier.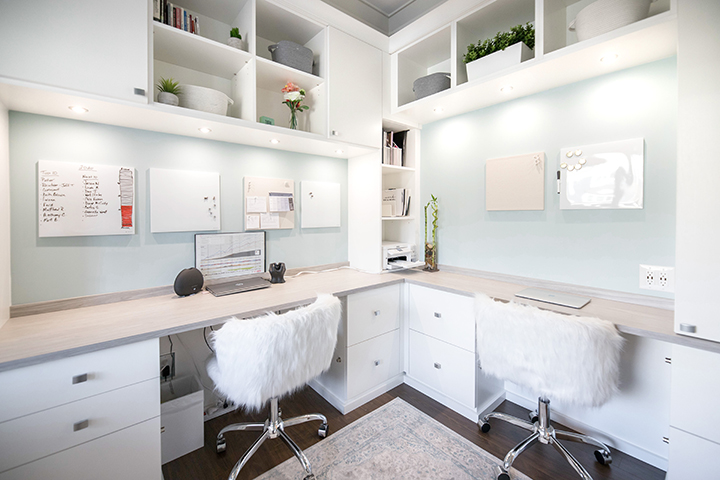 Home Office/Study Area
Maybe you're headed back to the office; maybe you work from home full time. The pandemic has certainly shown us the value and necessity of an at-home workspace. And just because your work habits may be changing doesn't mean your home office doesn't need an upgrade. 
The actual execution, of course, comes down to the type of space you have and your budget. Full room offices may be able to accommodate more options, but this is another area where Humerickhouse says a simple yet creative approach can be just as effective as a more involved design. 
"It might be as simple as finding a corner and adding a desk and shelving," she says. "This is also a great approach for kid-friendly homework or study areas. Embrace the concept of multifunctionality—rooms don't only have to serve one purpose. A playroom might have shelves or dual desks so that it can do double-duty."
Once you have some ideas about your home reorganization goals, consider enlisting some help to bring your vision to life. Humerickhouse and the California Closets team offer free consultations that, in essence, become project plans. 
"It's complimentary for us to come out to your home and measure any space you're considering," she says. "We'll ask you about problem areas, challenges—we want to see it all. Then we can come up with a plan."
One of the many benefits of California Closets furniture and products is that they're custom-built for each client but also modular. Let's say you start with a basic closet system, for example, then you want to add on to it in a year or so. No problem, Humerickhouse says—with California Closets, you're not locked into a particular configuration. 
Visit www.CaliforniaClosets.com to schedule your consultation, or stop by one of two Kansas City-area showrooms (Overland Park and Briarcliff) to see and experience full-room designs and options.