Sponsored content:
If you've developed an obsession for organizational shows lately, you're not alone. As the pandemic kept us all at home, it became very apparent that we all needed help in the home organization arena. But where to start? Best to call the experts at California Closets. 
California Closets has decades of experience transforming Kansas City's homes into highly functional and attractive spaces. While many may think of them for enviable walk-in closets, designer Sami Anderson says they also offer storage and organizational systems for other areas. Recently, she says that garages, pantries, and Murphy-bed systems have been popular.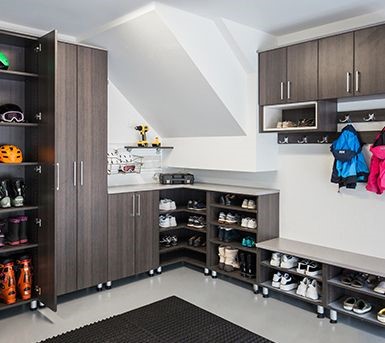 Garages
For some, just looking at a disorganized and overfilled garage can be daunting. That's where California Closets' design consultants come in. 
"Usually, we can see part of the problem by just being there. We actually ask people not to clean up before we get there," Anderson says. "We want to know what the problems are and what we are dealing with."
Anderson says many homeowners look for a workspace for hobbies, such as woodworking or gardening. Others consider the garage as a substitute for the mudroom they can't fit inside. 
"The garage is the new entryway to the home, and a lot of people use it as their mudroom. We can create a space to hang a backpack, store your shoes, and get everything out of the way," Anderson says. "For kids that play sports, this is a lifesaver. They can take their shoes off there and stop the dirt flow into the house before it starts."
Anderson says that the California Closets team can get creative with a multifunctional space like a garage, using hanging track systems for sports equipment, tools, gardening implements, and more. Creating enclosed space also offers a chance to visually streamline the garage and give homeowners a place to take things down, work, and clean up easily. She says that some even add a desk to sit down comfortably to work, draw up plans for future projects or even deal with household maintenance. 
With the winter upon us, a system to organize yard tools or a dedicated space to overwinter outdoor furniture or seasonal vehicles can mean huge peace of mind.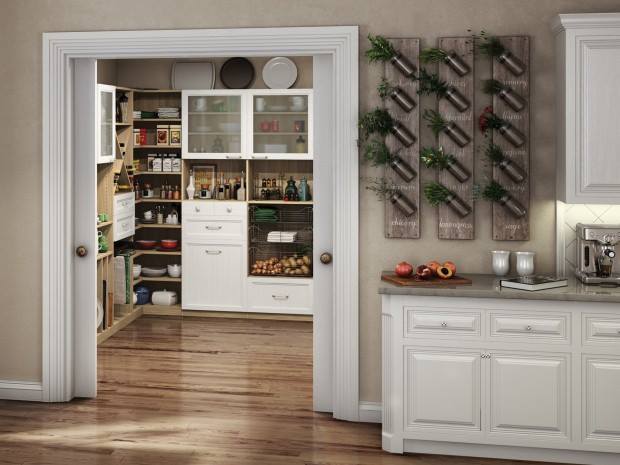 Pantries
Imagine this—you're hosting the holiday meal. You've planned and slaved over the stove, and you can see the finish line approaching. But where's the sage? Rummaging through a packed pantry when you're in the middle of cooking or trying to find yet another flat surface to place a cooling pie can be a challenge. 
A well-utilized pantry space can help ease the stress. Unfortunately, pantries in Kansas City tend to be fairly small, says Anderson. That means that organization is even more critical. 
"When you're trying to pile everything on a shelf, you run out of room pretty quickly because things are disorganized," Anderson says. "But if everything has a specific spot, you know where it is when you need it."
But how do you find more space in an established kitchen? Look up, says Anderson. Building to the ceiling can reveal significant opportunities for long-term storage for serving pieces or infrequently used appliances, freeing up space for the things you need every day. 
In addition to finding unused vertical space, California Closets offers products that help organize specific products like spices, cans, or cookie sheets. Given enough space, they can create countertop space using furniture-grade melamine in a rainbow of colors. Want to incorporate a different countertop material? They will work with you to create the pantry you will use and love. 
As the holidays approach and families gather in the kitchen, a well-organized pantry will become the unsung hero of your gatherings.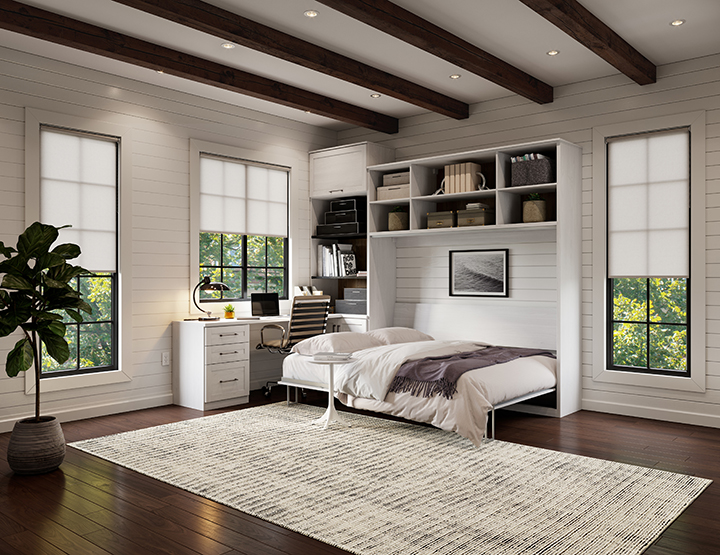 Murphy Beds
Are the kids coming home from college for the holidays? Fantastic! Did you already turn their room into an office/yoga/painting studio? No problem—if you have a Murphy bed, that is. These space savers offer not just a bed when you need it but great storage options as well. 
"Everything we do is intended to look clean and built-in. With Murphy beds, we create storage around it so that when you close it up, it looks like it's part of the storage system," says Anderson. "People who have kids that have since moved out love this option." 
California Closets offers a variety of styles and finishes for any home organizational project, and it all starts with a free consultation. 
"We'll talk to you about your needs and desires for your space. We'll take measurements and work a design that collaborates with your vision," Anderson says. 
After the initial consultation, clients are invited to the showroom to get a feel for precisely the designs and finishes they will enjoy in their completed project. As the holidays approach, regaining the use of your existing space is even more enjoyable with California Closets. 
To schedule your free consultation, visit CaliforniaClosets.com or visit their showrooms in Overland Park or Briarcliff Village.