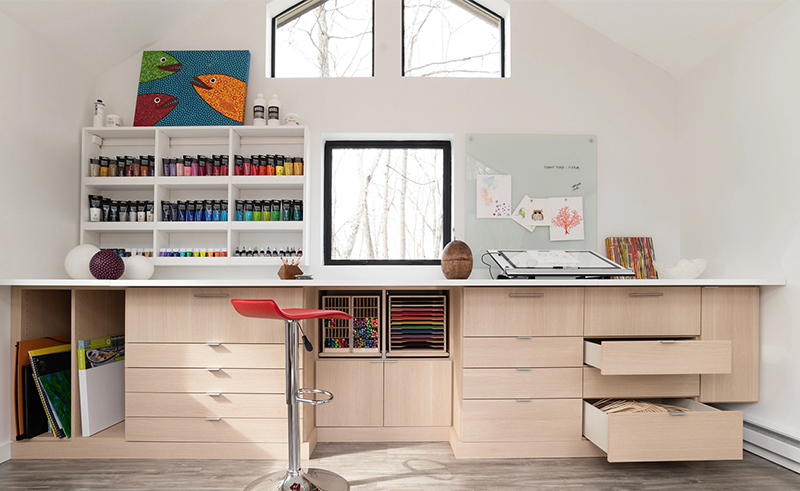 Sponsored Content
Whether you use a home office, a dedicated corner of the family room, or a worktable in your basement for your creative hobbies, having a specially designed and organized space can inspire your creativity.
"When you really start digging into what someone likes to do—whether it's scrapbooking, sewing, or even an outdoor hobby like fly fishing—everyone wants a dedicated space for their craft," says Mike Payne, a design consultant with California Closets. "Our clients get so excited when they start seeing all the possibilities of how they can store and organize their space—they all want specialized cubbies, pullout shelves, the list goes on and on, and it gets really fun. When everything has a home and it's not just laying out in your way, productivity and efficiency just goes up tenfold."
With an organized craft or hobby space, you'll find yourself spending less time clearing clutter out of the way—plus, you'll know where all your tools are when you start your next project.
Not sure where to start with your own craft space? Payne shares four ways to organize so all that's left to focus on is getting in touch with your creativity.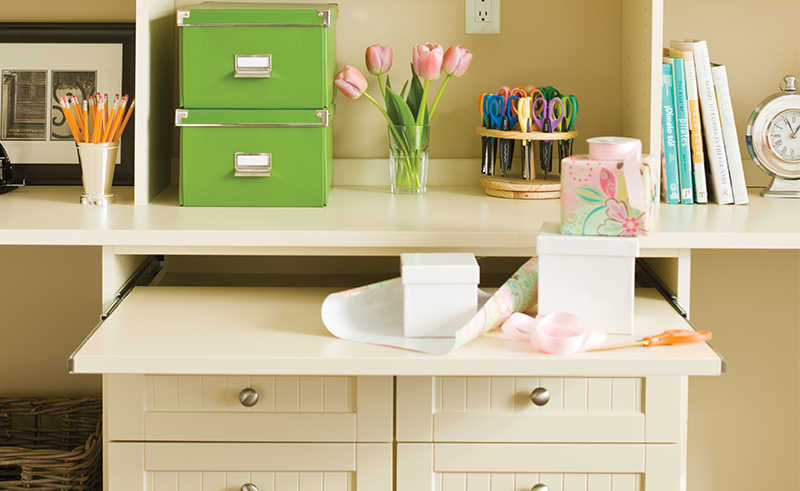 1) Drawer Space and Pull-Out Accessories within a craft or hobby room are huge. Drawers, pull-out shelving, and cubbies make it easy to organize your tools and supplies so you have quick access to items when you need them but can keep them tucked away when you don't.
"We have lots of different inserts we can put in a drawer to divide supplies—let's say ribbons, or if you're doing scrapbooking, maybe it's small sticker details and embellishments," says Payne. "I've even done what's considered a trash or recycling bin that pulls out on a nice soft-close guide drawer where you can stick things like wrapping paper or other tools to hide them when you don't need them and pull them out when you do need them."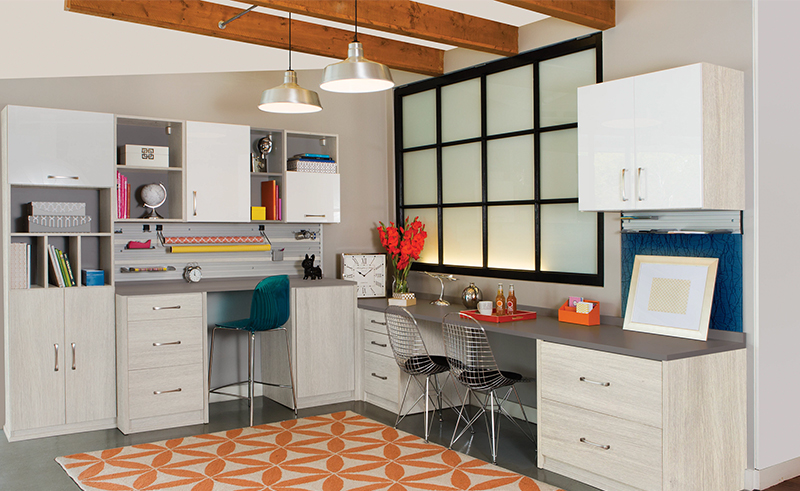 2) A Slat Wall allows you to store things on hooks and wall-attachable storage cups that you need quick and easy access to.
"Either slat walls or what we consider a fusion track take up zero space and then there are a multitude of hooks you can use to store things—scissors, cutting mats, wrapping paper," says Payne. "You can even work fabric bolts on there so you can pull fabric or paper out from the wall to your cutting table."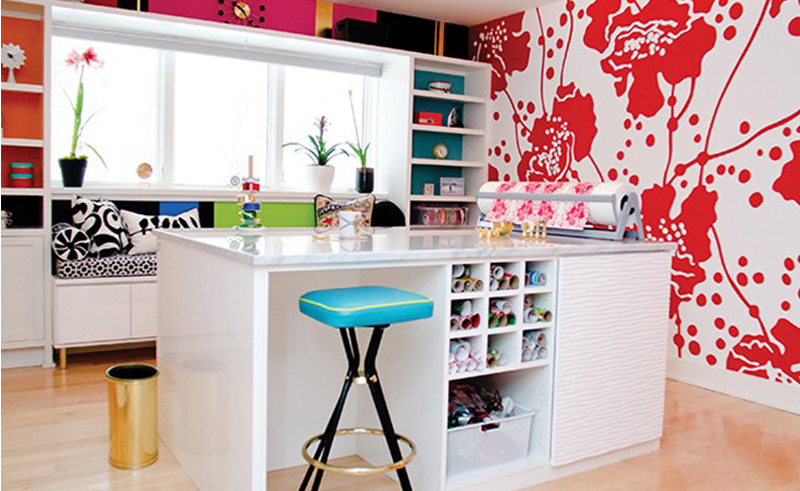 3) Create an Aesthetic that ties the space together so that the moment someone walks in, it feels like a creative space.
"If you just design with classic white, that's nice, but I think if you really dress it up with some fun inserts—like doors and drawers—it keeps the space fresh, airy, and fun," says Payne. "Not keeping it basic is big deal. Play with different finishes and elevations and change the depths in certain areas. It's a great way to get those creative juices flowing."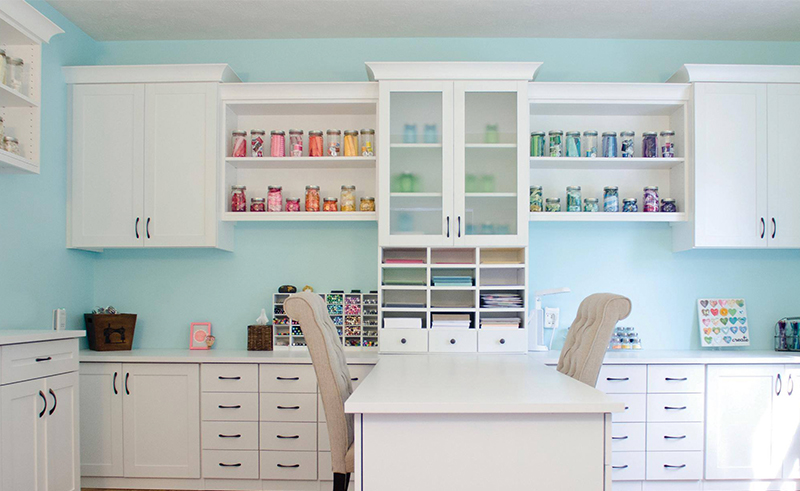 4) Add an island that serves as a designated workspace to spread out and create.
"If a space allows it, one of the main core elements is to have a work island that's countertop height or even a bit taller," says Payne. "It's not only a place to spread out, but it's more storage—whether that be drawers or shelving. An island is the icing on the cake whenever you can fit one of those in there."
California Closets is Here to Help
When you work with California Closets to organize your craft or hobby space, the furnishings and finishes are designed to fit your needs.
After a free consultation, a designer will come and take full measurements of your space, and then California Closets will provide you with 3D modeling to show off just what your new organized craft space will look like.
"With California Closets, designing becomes something fun and you have the ease of sitting back and letting our install crew do the installation. Then you're left with this beautiful space you've dreamt about," Payne says.
After experiencing the transformation of one space in your home with California Closets, don't be too surprised if you start to wonder how you can transform other parts of your home too.
Once you have your brand new craft space, don't forget that California Closets also offers complete organizational designs, furnishings, and finishes for offices, closets, garages, mudrooms, and more.
To schedule your free consultation, visit CaliforniaClosets.com or visit their showrooms in Overland Park or Briarcliff Village.