Since you're sequestered in your home for the next few weeks, we pinged a few local designers for their ideas on sprucing up your home. And if you're not in the mood to do anything indoors, well, get your butt outside and start on that patio. Fresh air will soothe the savage soul.
"Decorating in the next 30 days during the quarantine is so essential to help us emotionally get through this time," says designer Karin Ross of Karin Ross Designs. She says to "use the time you have now to really dig into the aspects of what you strongly dislike in your home." The key for Ross is for homeowners to creating functional spaces that "will be essential for feeling inspired, safe, and comfortable."
The easiest thing to do and on a budget? Ross says to repaint your master bedroom or your living room. "The colors for spring 2020 will remind you of the ocean or of the sky—with variations in color," she says. "Think blues, from pastel to navy." Some nice, fresh colors for your master bedroom that she suggests:
Behr's Dragonfly PPU12-03—a vibrant blue/green
Behr's Light Drizzle N480-1—a spin on the "gray" tones
Behr's Back to Nature S340-4—Behr's 2020 color of the year
"Get some bright and bold pillows—something like bright purple or bright yellow—something that will make you feel good," Ross also recommends. "After all, we hope that this coronavirus moment is short-lived—so it's about whatever it takes to boost your happiness in these difficult times. For once, mood will overrule trends."
Designer Angela Smeed says this is an ideal time to find a place for things scattered/strewn/tossed around your house. First up, she says to "organize and declutter, utilizing magazine holders to corral work manuals and other loose paper items, as well as utensil caddies to separate office supplies." Remember—"there is beauty in simplicity, and clutter can make you feel anxious," says Smeed.

Working from home? It's time to "repurpose console tables or a small rectangular kitchen table behind a sofa for an additional workspace or homework station," she says. Other nifty suggestions include:
Create a chic backdrop for video conferencing—and establish that as a "quiet zone."
Use personal items on your walls that can double as art or decorative items.
Use battery-operated puck lighting under bookshelves, as well as desk lamps to help keep you awake and alert. Shop angelasmeeddesign.com for more chic lighting options.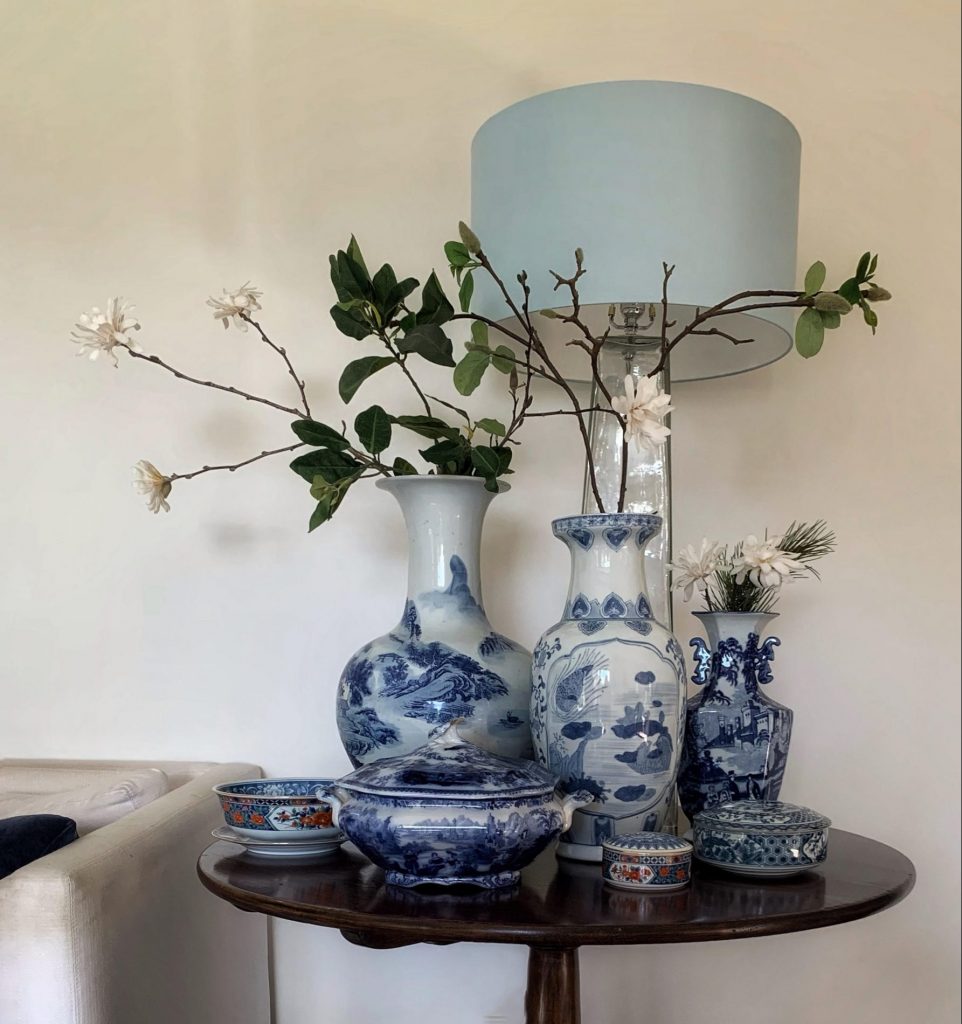 Hankering to make some quick home fixes? Designer Sara Noble of Sara Noble Designs doesn't claim to be a DIYer, but she does look "for ways to change my scenery and bring happiness into my home." First up, she says consider painting a lamp shade. "A small paint roller and any regular wall paint work to transform a lampshade. I had a white shade that didn't pop against my white wall, so by painting the shade blue, I gave the vignette a boost," says Noble. "I also gathered blue vases, dishes, and bowls to create a coordinated grouping. Some of them are family pieces, so having them out makes me smile."
Noble also mentions bringing the outdoors in. "With the benefit of spring right now, I cut some flowering branches from my yard to bring life and greenery inside," she says.
Another easy fix? Order some great hardware and change out the knobs on an entry cabinet or family room built-in. "Addison Weeks is one my favorites for over-the-top, fabulous hardware," says Noble. www.addisonweeks.com
Noble is even Zooming with clients to help them tackle virtual room projects. "Send us your pictures and measurements and we'll schedule a Zoom call to get your plan underway," says Noble. "You may not be ready to implement it right now, but let's plan for better times and distract ourselves with something pretty."