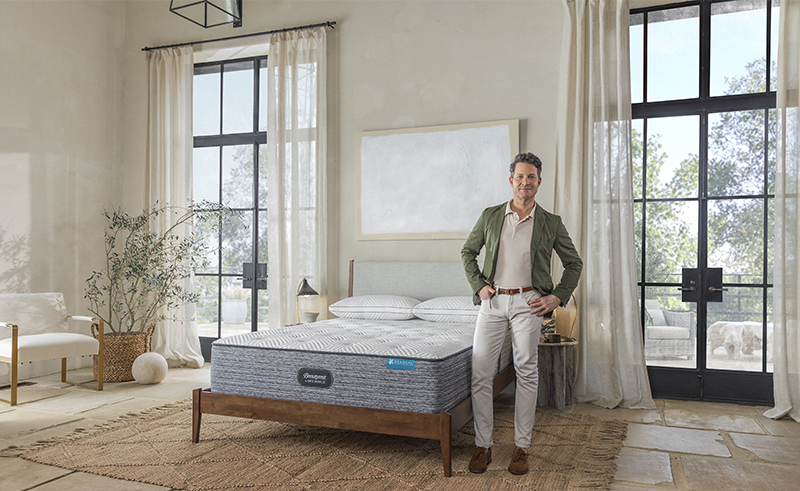 Recently, we had an opportunity to sit down for a one-on-one Zoom interview with Nate Berkus, he of the HGTV series Nate and Jeremiah By Design, numerous Architectural Digest features, the AD100 list of top designers worldwide, Elle Décor's A-List, and of course, Oprah's favorite designer. Berkus recently launched a new limited-edition sleep collection in partnership with Beautyrest, which he was happy to discuss. And we took the opportunity to quiz him about his top tips for a serene and tranquil bedroom, as well as his favorite spots for antiquing when he was last in Kansas City.
What convinced you to collaborate with Beautyrest?
I've spent a greater part of my 25-year career in pursuit of quality, so I think Beautyrest is a natural choice for me to partner with in a category I've never designed before. I also have sort of an obsession with getting a good night's sleep. And I felt that adding what I know about design and aesthetics and marrying that with the expertise and technology that Beautyrest represents was a really solid partnership. The collection encompasses mattresses, from plush to extra firm—because I know that picking a mattress is a deeply personal decision—down pillows, and mattress protectors. The mattress line features innovations in support, comfort, and cooling technologies and incorporates a classic herringbone pattern. We made a lot of modifications with the mattress protectors to make sure they fit correctly, that the barrier against moisture is present, and keeps out stains, allergens, dust mites, molds—all the things that as a hyper Virgo make me insane.
What do you see as the leading trend in bedroom design right now?
Well, it hasn't changed in 40 years. People still buy bedroom sets of furniture and it makes me insane. The first thing I do is break apart peoples sets of bedroom furniture and pepper in vintage and antique finds. I'm not a snob and I'll shop anywhere, but it matters deeply to me that things in the home are well-designed and made well, no matter how humble their origin might be. You need to mix in old things or used things and things with patina and character and age so that the room and the space feels assembled over time. I'm sort of famously anti-trend; trends drive me crazy. I think they're designed to make us feel bad about what we didn't buy last season, and I hate that. Our homes should be the most direct representation of how we see ourselves and how we want to move through the world.
Looking at magazines and online, you'll see some beds are heavily styled, with pillows galore and throws and layers of blankets and fabrics. That's not the case with the bedrooms you design. Your beds are styled very simply. Why is that?
I grew up with a mother who's an interior designer. I think a little bit of that is a reaction to my childhood home, which was like French Country and fabric and pattern and color upon color, and I remember in my bedroom as a kid I had to take off 15 pillows before I could go to sleep. It's a little bit further from my aesthetic, but I think a bed principally should have the investments of a well-made quality mattress is investment number one, and the best bedding you can afford is investment number two, and for me at least, less is a bit more when it comes to making the bed. I love a heavy comforter, I love quality sheets, I love a couple of decorative pillows in beautiful textiles, and it's a yardage of the most exquisite fabric you can find, but beyond that I'm not a real sort of "princess and the pea" kind of guy.
Your own bedrooms have been featured many times in shelter magazines and on TV shows. What you're creating are very tranquil, soothing bedrooms. What are your top tips to create that serene feeling?
For me serenity comes from nature, so I incorporate a lot of natural materials in the design room. When people think of natural materials they often think of wood, rattan, and leather. Those definitely have a place, but stone is also a natural material, as is iron, as is cork, as is seagrass as a wallcovering. So that, mixed with something alive, such as a beautiful olive tree in a huge pot in a corner cascading over a seating area. It's a mix of materials with a strong focus on bringing as many natural materials—cottons and linens—blended with those things into the space as possible. 
When you were last in Kansas City, you had a chance to hit some retailers and antique shops. Do you remember some of your favorite places to shop when you were in town?
[After describing the location of 45th St. and State Line Antique District] 
There were some great vintage stores on that street. One in particular, it was sort of midcentury modern-ish. I thought, wow, what a great resource. I remember stopping the car, stopping the film production, and I was like, give me ten minutes and I'll be right back.
Did you buy anything?
I think I bought a 19th-century gilded mirror, and I bought some unglazed pottery that I thought was beautiful.
Thanks so much for taking the time to talk with us!