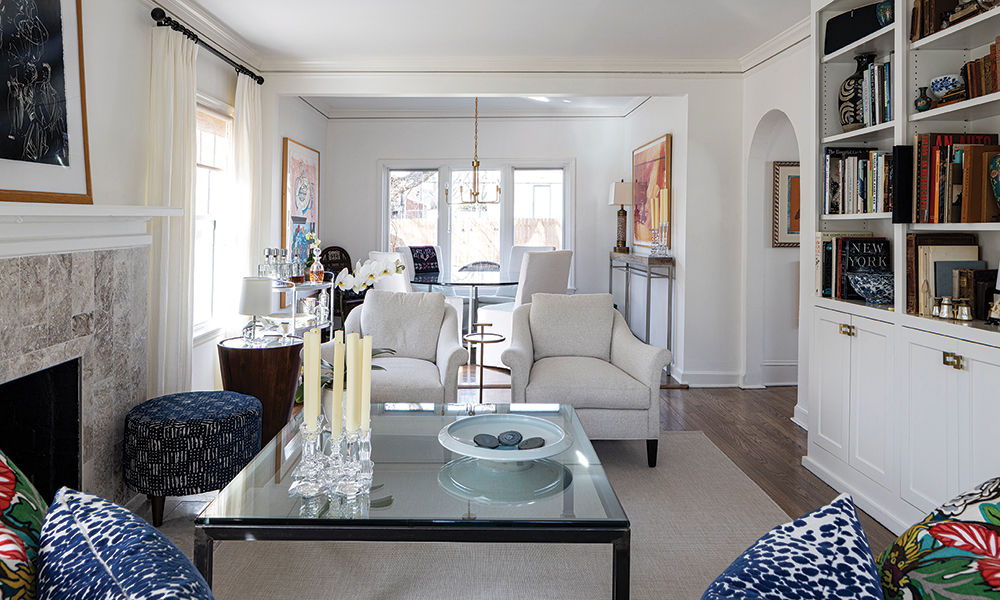 During a year of unexpected loss, Briana Beuke came back to Kansas City, once again needing to make a place into a home.
This Waldo two-story home, built in 1921, offered a blank slate with the right feel. "As soon as I walked in, the house felt like a hug," she recalls. Beuke, an interior designer and real estate agent, is no stranger to sizing up houses and redoing them. "This one had tons of light. It just felt right."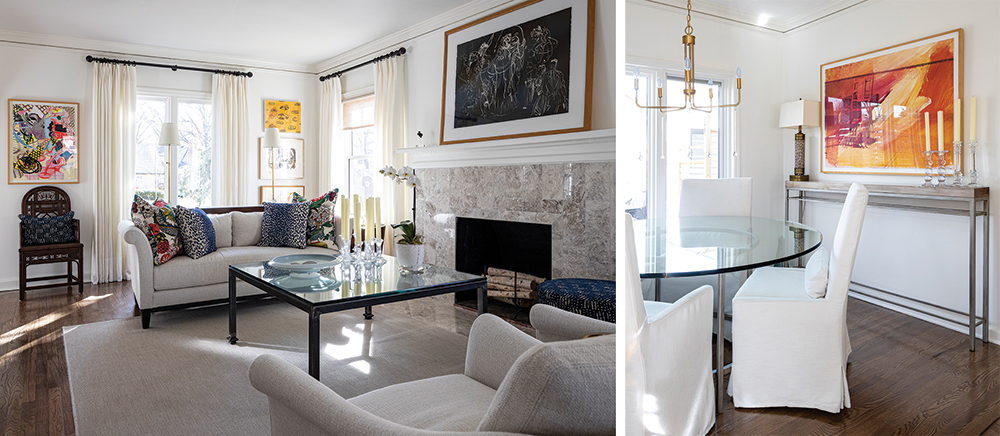 A year and a half later, "Every square inch has been redone," she says. "The key is to use great finishes." By now, Beuke knows her own aesthetic: black and white, clean lines, pops of color, and plenty of wall space for art.
A favorite, warm white—Benjamin Moore's Simply White—amplifies the home's natural light and provides a backdrop for art, including that of David Salle, Beuke's brother-in-law. Performance fabrics on the furniture and dark oak flooring make this a dog-friendly zone for Dave, the miniature Australian shepherd. Beuke divulges another of her secret design go-tos: "I find my rugs on Etsy." 
In the living room, Beuke refaced the fireplace with a taupe-y marble, then had the sides custom painted to blend. She loves to sit in the armchair closest to the fire, with Dave in her lap, drinking her morning coffee and trying to solve the New York Times crossword puzzle. Across the room, the vivid Chiang Mai Dragon fabric on the pillows echoes the colors in the David Salle painting.
In the small dining room overlooking the backyard, a David Salle print faces off with an Andy Warhol, part of Warhol's "Death and Disaster" series from the early 1960s.
Beuke combined three tiny rooms into her galley kitchen with custom cabinetry by Jacob Pemble of Blue Foxx construction. Wavy-textured tile and open shelving on one wall give way to a lively black-and-white Schumacher wallpaper "Wild Things." Honed black-granite countertops pull it all together.

The powder room features two toiles, a reverse on the walls and a straightforward design on the window shade.
Upstairs in the master bedroom that runs the depth of the house, Beuke created a quiet retreat. A pale cane-back bed features linens in cream and mineral blue. The Japanese print on the far wall came from her father-in-law's time there during World War II.
The black-and-white master bathroom indulges in black soapstone countertops and custom cabinetry.
The guest bedroom is a departure. "I like strong colors for small rooms," says Beuke, all the better to emphasize "The Man Who Knows" framed circus poster from the 1920s and a kilim rug purchased in Spain.
Beuke has made this house her own, something that comes naturally to her, but not to everyone. "Walk through a house with someone who has a good eye," she advises, "and imagine how it could be a reflection of you." 
---
The It List
Contractor
Blue Foxx Construction
816-365-1332
Interior Design
Design Pairing
816-550-8414
Upholstery
Décor Upholstery
816-363-3140