Step inside Design Connection Inc. in Overland Park and the first thing you'll notice is the hubbub of activity—and that's by design. (Pun intended.) Owner Arlene Ladegaard and her capable, creative squad are busy—extremely busy.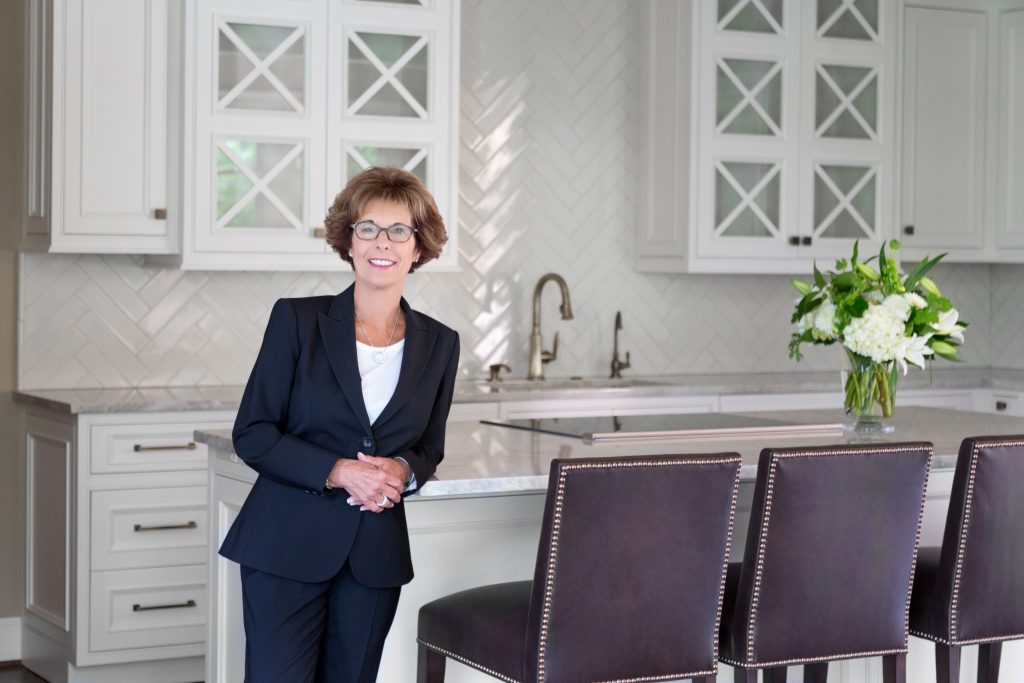 It's a good problem to have and Ladegaard knows it. The petite, whirling dervish of a designer is a force to be reckoned with. (Uh, she knows that too.) Ladegaard learned her tricks of the design trade in Los Angeles. But her love of space and style started well before that. "Since I was 13 years old, I always knew I wanted to be a designer," Ladegaard says, laughing. "My mother told me I could decorate my room—so I put big flowers all over the walls—bright oranges, bright yellows, bright greens. I loved it. And I knew interior design is what I wanted to do."
California is where Ladegaard calls home and she received her interior designer certification. "Trust me, you have to pass a lot of tests to get that designation and keep up with continuing education to maintain your certification," she says. That's also where she learned the art and nuance of interior design. Forty years later, she's still dazzling clients with her ability to reinvent a room, a house, or an entire home.

In 1990, Ladegaard took her act on the road—well, rather across the pond—when she followed her husband to Switzerland for a job opportunity. She was wowed by how Europeans designed their houses. "Whatever Europeans buy—they buy for life. Timeless. Classic. And exquisitely made. In Europe, it was about quality, not quantity. You bought the best of what you could afford."
She brought her "international flair" back to the States, which has since become her signature style. "It's better to have less and ensure it's the highest quality than to have a lot of disposable things," she says. "I choose things that are classic and stylish. Because of that your home will stand the test of time."

Ladegaard affirms that "whatever designs we choose will have many years of longevity. I've seen so many trends come and go, and I know what works. Period." Her pet peeve? When house after house after house looks exactly the same. "I want to design someone's house to make it something they love. If you love it, you'll live in it—really live in it, simple as that." One look around the room and you can sense her love of calming tones with a splash of color. "Neutral is a great base, then you can add color to it. That's my philosophy."

Thanks to her time in Europe, her expertise remains spatial design. "I scale to the home and the size of my clients," she says. "Everything fits and fits perfectly. Because of the longevity of my career, I'm really, really good at furnishing a home," she says. "And not overly furnished either. I like to keep it tailored."
When we asked what drives her crazy, she answered "Clutter!" before we even finished our question. Her goal? Simplify, simplify, simplify her clients' lives. "I think clutter can make your life feel disorganized," she laments. "If it doesn't serve you, get it out. People hang onto things, which can keep their life out of balance. Let it go."
And even though her team gravitates towards "beiges, taupes, and grays," Ladegaard's favorite color is shockingly bright orange. "I love the brilliancy of it. I wear a lot of orange," she says.

For 22 years, Design Connection Inc. has been revered for its comprehensive service. When Ladegaard says everything is taken care of by her team, she means it. "We have a dedicated project manager, an architect, and support team," she says. "From the initial meeting with the client all the way through to the finished product, we'll make sure it's handled in-house. Kitchens? Bathrooms? First and second floor renovations? Clients never have to go outside our design firm to do anything."
Given her keen eye and stylish sensibilities, what's the one tip she'll freely dole out? "Update your lighting," she suggests. "Change your lamps and chandeliers. It can absolutely revolutionize the look of a room. The right lighting empowers a room."
Customer service, meanwhile, is paramount at Design Connection Inc. "Because we're a team, you can be rest assured someone will return your call or answer your email," she says. "We do a great job of communication with our clients. That's huge!"
Looking for the perfect person to help you design or redesign your home? Ladegaard and her team are more than up to the challenge. She promises it will be a home you can live in for a lifetime. "A home should reflect your story, simple as that."
You can reach Ladegaard at (913) 851-8776 or stop by Design Connection, Inc. located at 10520 Barkley, Suite 140 in Overland Park, KS.
Visit their website: www.designconnectioninc.com or e-mail Arlene Ladegaard directly at Arlene@designconnectioninc.com.