When this Prairie Village ranch was built in the 1970s, the color palette skewed Mediterranean—avocado green, harvest gold, burnt orange, dark brown. When Brian and Jackie Hartis moved there in 2012, they knew that one day they'd renovate. Brian's construction company is known for custom remodeling, Jackie practices environmental law. The couple has two young daughters and busy lives.
Today, the home zings with saturated hues—emerald green, deep sea blue, hot pink, and orangey red—for "tradition with a twist," says homeowner Jackie Hartis.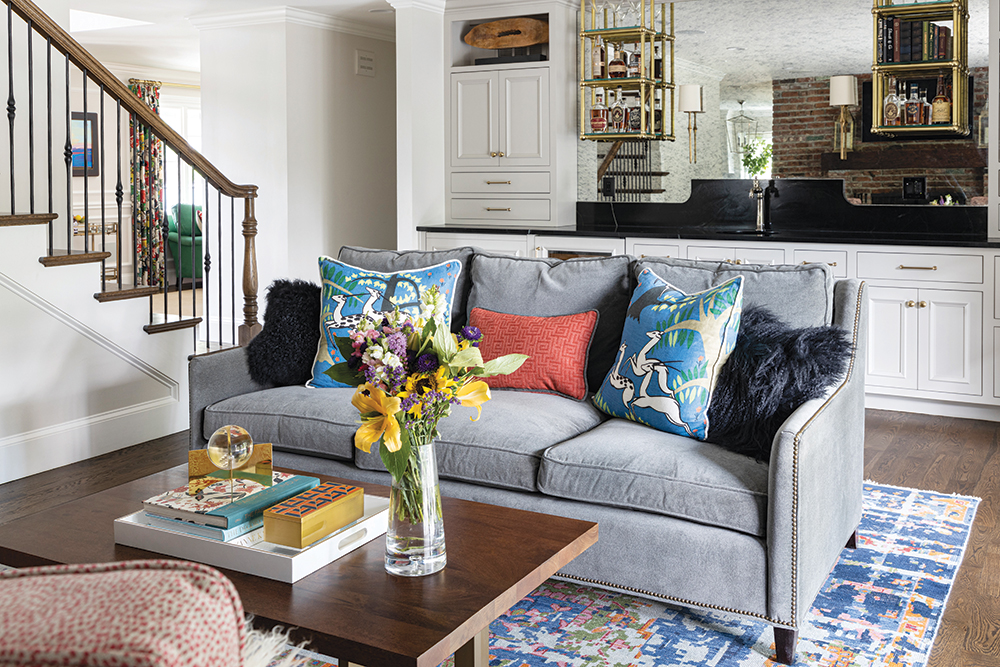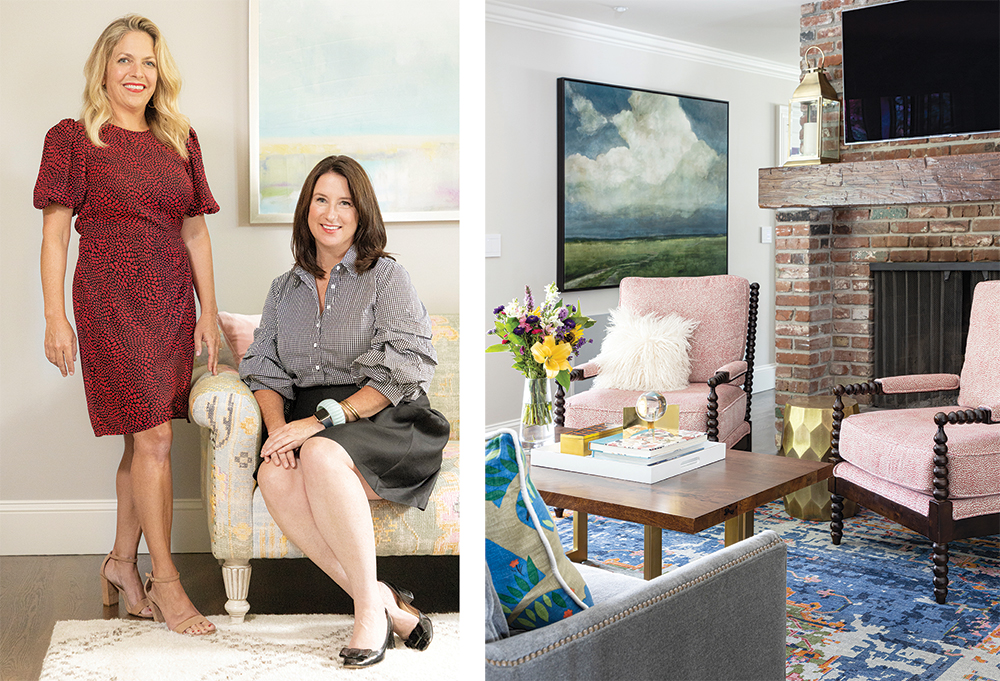 "We took our time figuring out the design," says Jackie. Brian adds, "I took parts and pieces of cool things I had done in other houses I had worked on." The family moved out for a year so that the extensive revamp—gutting the first floor, bumping out space for the new kitchen, adding a second floor and a space over the new three-car garage—could happen.
To pull the design together, the couple tapped Jessica Gordon of Noble Designs. She and Brian had worked together on another project, and Jessica had the same love of color and pattern as Jackie. The challenge was to work from photos of furniture and art the couple had in storage. "Right away, we took a young, fun, vibrant approach," says Gordon. 
"We like bright, happy color that lights up a room," says Jackie.
In the living room, an emerald green sofa and dragon-patterned draperies in Chiang Mai by Schumacher pick up the colors across from upbeat wingback chairs in an overscale diamond pattern. On a far wall, a palette knife acrylic painting by Kansas City artist Allen Chow is one of the first artworks the couple has begun collecting.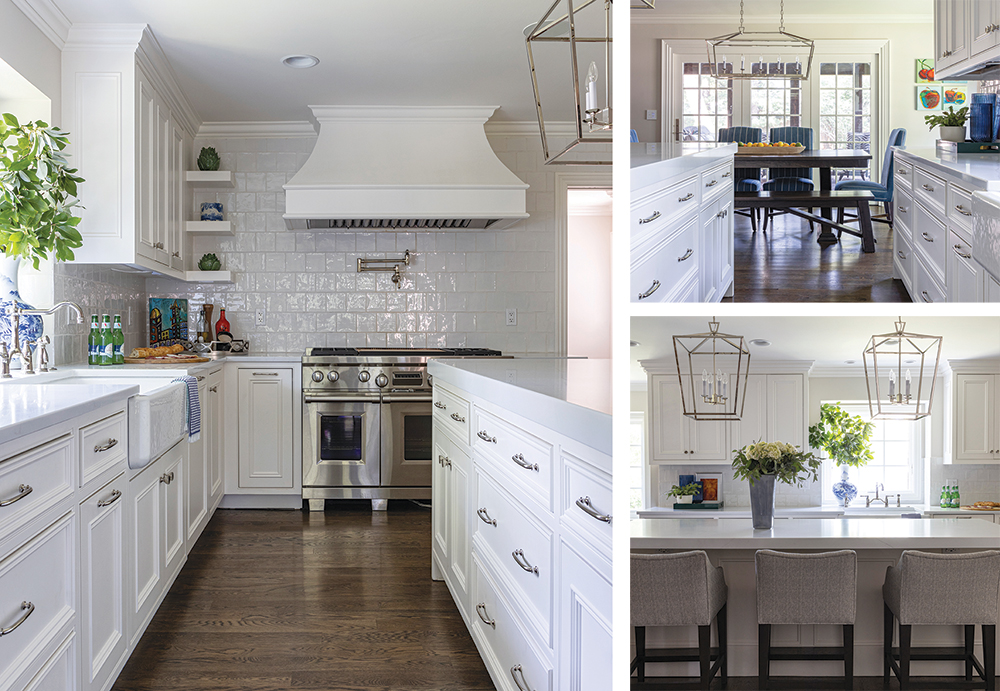 Chow also did the four small paintings floating on the wall in the eat-in kitchen area. "Art is a very personal statement," says Gordon, "and you want it to get the attention it deserves." Hanging art at eye-level, making sure the piece fits the scale of the room, and giving it the light it needs are all ways to make the most of the art you collect, she says. 
Even the master bath can be a place for art—in this case, a compromise between Jackie and Brian. He wanted a TV; she wanted art. They settled on a Samsung Art TV that looks like a painting—or a photo, if you wish—when the television is not on.
The kitchen, the family's favorite room, has turned into a Swiss raclette workshop, where the machine melts thin layers of raclette cheese to go on just about anything. A glossy, pearlescent tile by Winchester Tile from England catches the light and puts on a show of its own.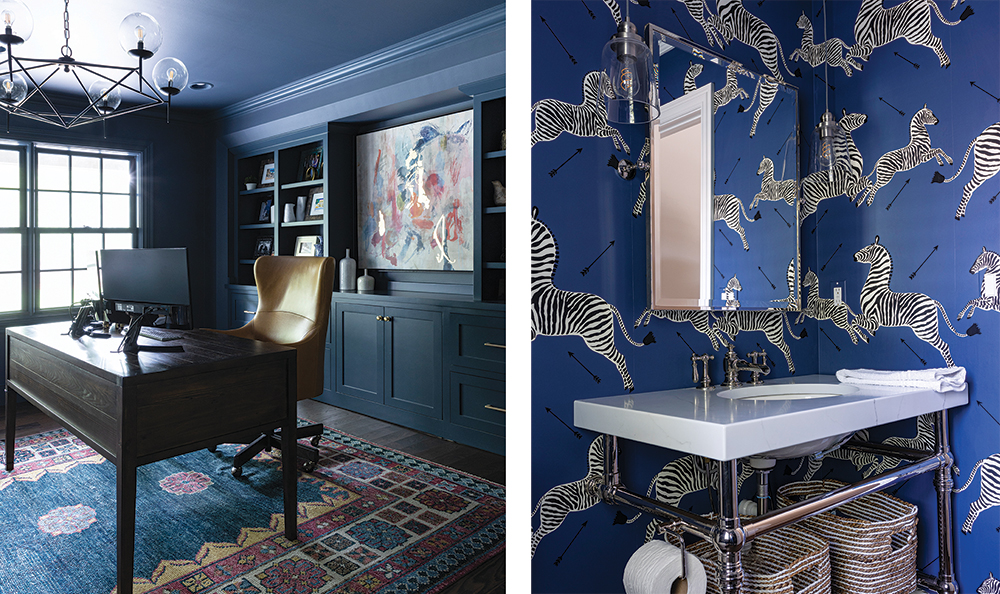 Bold color and pattern continue through the rest of the house. Jackie's office is swathed in Benjamin Moore's Hale Navy with a Jaipur rug underfoot and a wall of built-in shelving that holds books and family mementos.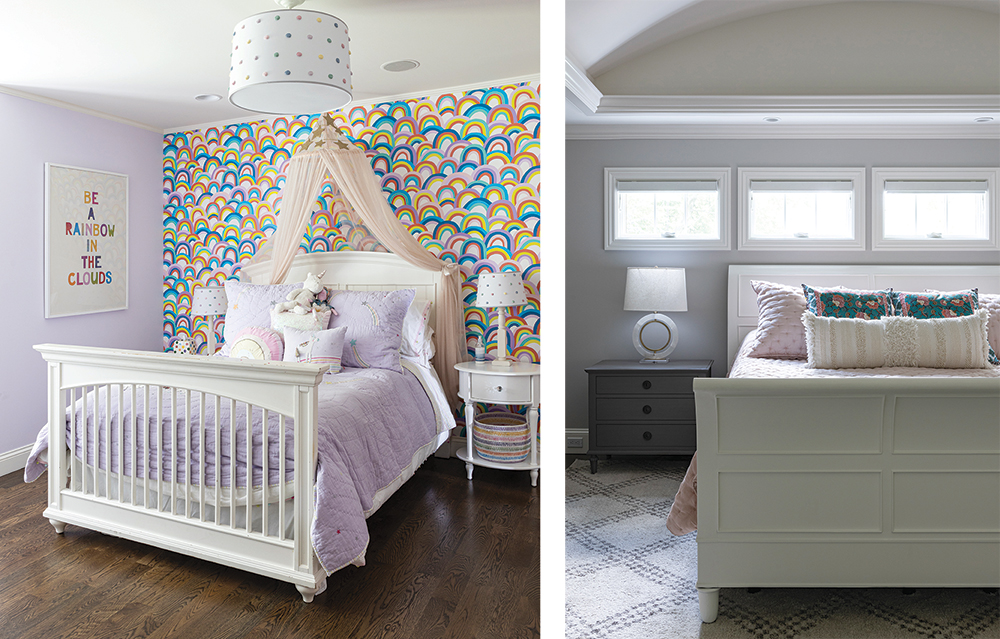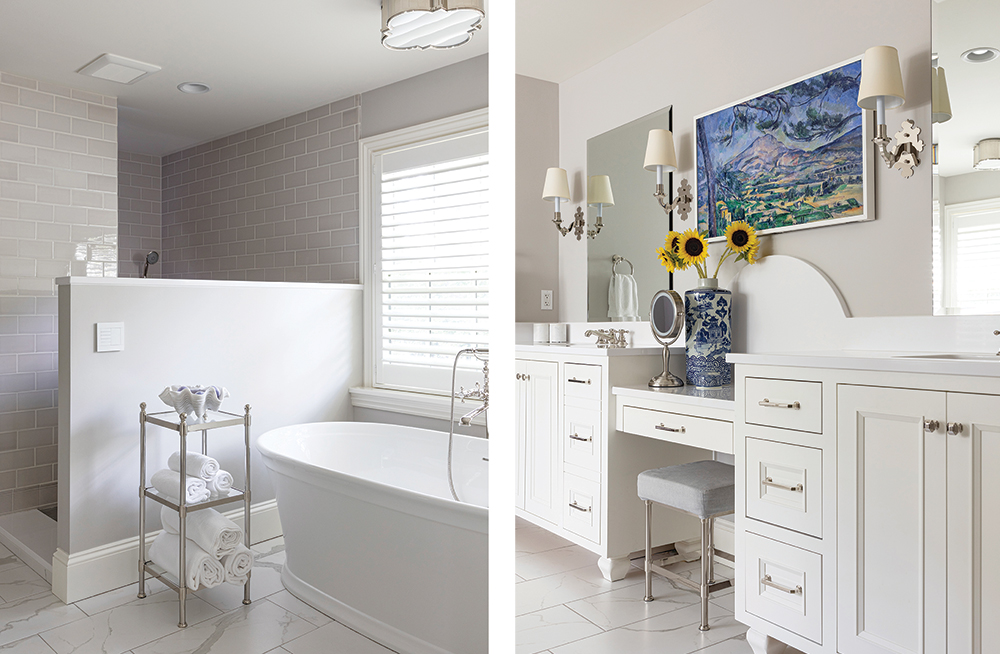 Upstairs, a daughter's bedroom wall features custom rainbow wallpaper from Kansas City's Ampersand Design Studio, a collaboration between Jackie and Ampersand's Morgan Georgie.
On the couple's wish list: To commission a painting by Kansas City artist Mike Savage. 
That's how a family's house continues to evolve. 
---
The It List
Cabinetry
Profile Cabinet
Contractor
Hartis Construction LLC
Interior Design
Noble Designs
Lighting Design
Mavi