The grass really was greener on the other side.
After happily living in a 1996 Frank Lloyd Wright-style home on the south side of Cedar Creek, Miles and Paula Schnaer were ready to simplify. They found property they liked and decided to build a new home on the north side, right on the golf course. With two grown daughters and a 14-year-old grandson, they imagined a family-friendly space to entertain.
The couple, who own Toyota and Volkwagen dealerships in Lawrence as well as Schnaer Family Wines in St. Paul, Oregon, called in designer Amy Thurston to help stage their Prairie-style home to sell.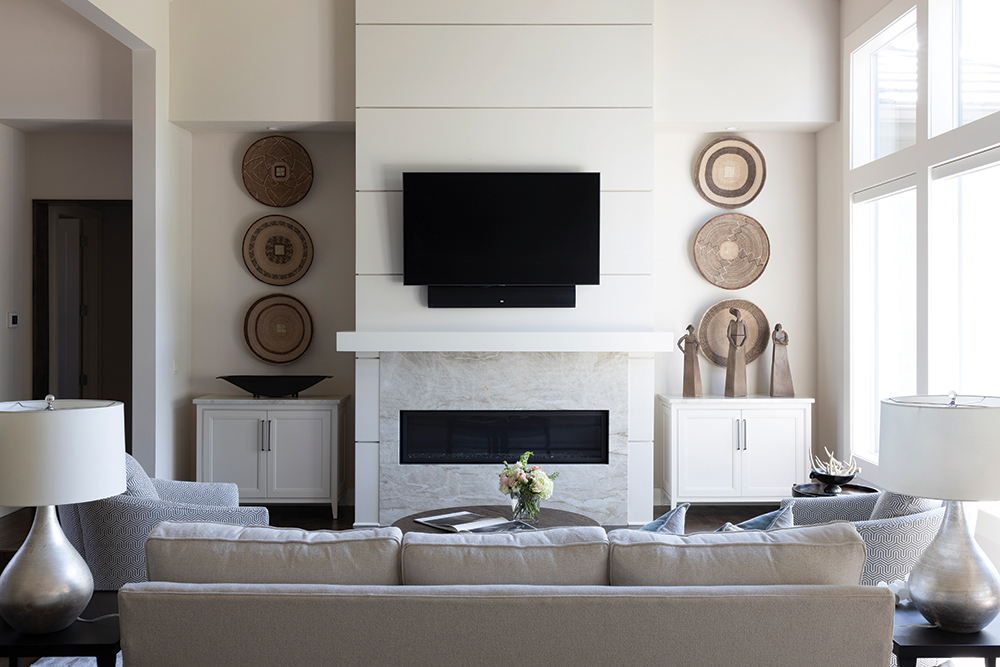 "Amy understood my vibe right away," says Paula Schnaer. When the old house sold, Thurston helped design the new house, with ideas and input from Sean Oberg and Angela Arnone-Orel of Starr Homes.
"It was wonderful," says Schnaer. "Miles and I went to Florida for four months and when we came back in May—after lots of FaceTiming and back-and-forth with Amy—our new house looked perfect."
When you live on the fifth hole of Shadow Glen, that's just how you like it. "I go out on the lanai with coffee in the morning and watch the sun come up—it's my favorite time of day," she says. "By late afternoon, it's time for a glass of wine from our wine cellar."
To create the calm and laid-back retreat the couple wanted, Thurston introduced neutrals, unlike their previous home which was full of color. "We kept everything neutral and put pattern in fixed areas," Thurston says. "We limited materials so the look is more soothing. We started with Taj Mahal quartzite counters for the open-plan kitchen and that drove the color palette." The low maintenance, caramel and cream quartzite also functions as a backsplash.
Thurston used black to accent and punctuate, so the house didn't float in a sea of cream.
In the living room, Schnaer's collection of African baskets flanks the fireplace dressed with horizontal planks. Textured armchairs swivel and the cocktail table hides extra pull-out seating.
On the staircase wall, a grouping of paintings by Kansas City artist Jennifer Janesko draws the eye.
In the master bedroom, a soft palette emphasizes texture and tone; Thurston used velvet, linen, shagreen, and silk.
The master bath, walk-in-closet, and laundry room combination make Schnaer's heart beat a little faster. "I'm a neatnik, and the open concept is still growing on me. But I love that within five feet, I can take off, wash, dry, and hang up our clothes."
The powder bath shows off a vessel sink surrounded by Azul quartzite from Brazil.
On the lower level, a wine cellar with a window wrapped in walnut allows wine tastings within its cool confines or out at the bar. Instead of showing rows of bottles against traditional stone or wood, Thurston chose antiqued mirrors, which add a rich gleam.
Nearby, with a view of the fifth hole, a game table under a pendant like a jester's hat is all about fun.
"Every time I walk in the house, I just sigh. It's so soothing," says Schnaer.
That's how it was designed to be.
---
The It List
Construction
Starr Homes
Flowers
Randy Neal Floral Design
Interior Design
Amy Thurston Interiors + Creative
Lighting
Wilson Lighting