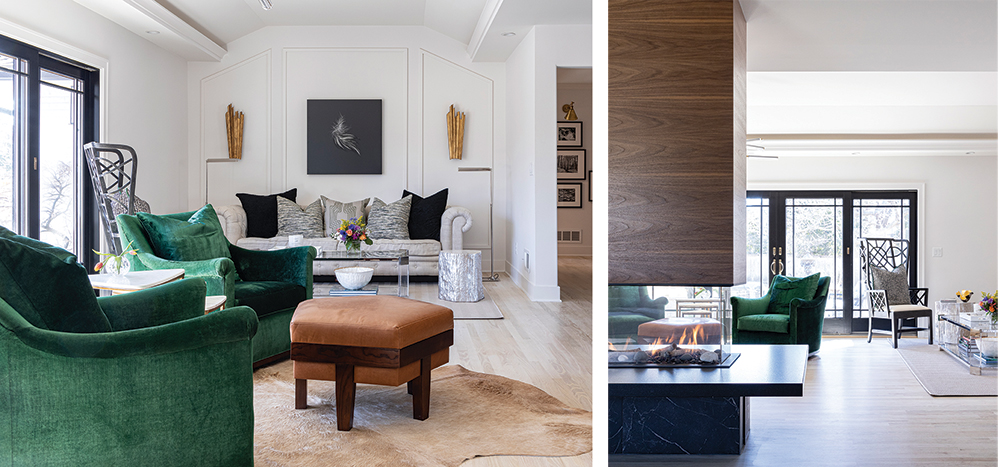 "The minute we walked in, we knew this was it."
House love at first sight can't be explained. You either feel it or you don't.
The physician and her retired husband definitely felt it for this Prairie Village ranch, even though it was in need of a major redo. Maybe it was the majestic red maple crowning the backyard. Maybe it was the chance to reinvent a lifestyle. 
Whatever it was, they left their Tuscan-style house on three acres in southern Johnson County and called in both designer Stephanie Stroud and the builder of their previous home, Brian Koehler. All together, they made the transition to a smaller, more light-filled home that suits the way they want to live.
"As soon as I met Stephanie, I knew she was our designer," the wife says. "We are so similar in taste; we could have been sisters." Stroud helped them raise the roof, seamlessly blending in a 600-foot addition and repurposing some of their furniture and belongings from the previous house—all while in storage. "It was all about reimagining how to live," says Stroud. "We went for a style that is classic yet current."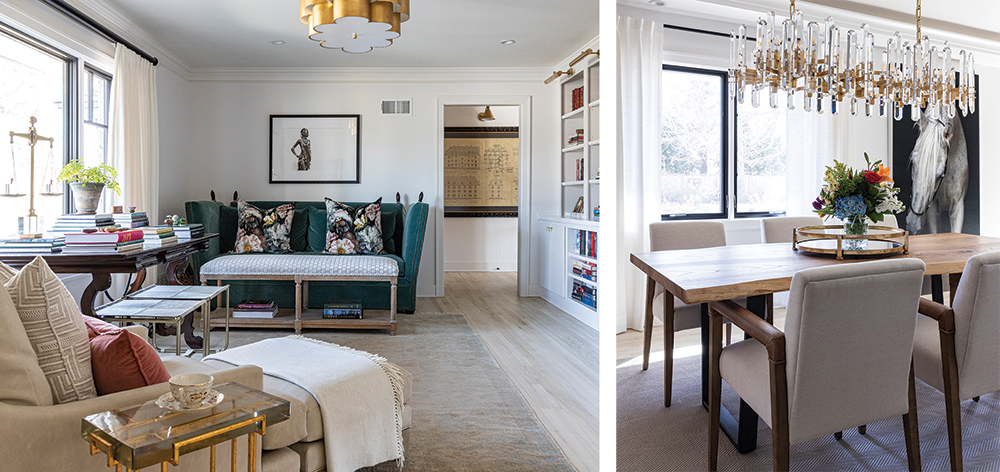 From heavy, dark, wood-toned Tuscan, the homeowners transitioned to clean lines, pops of jewel tones, rustic wood elements, and contemporary lighting.
"I did a huge purge before we moved," the wife says. "I saved the things that mean something to us."
"It's important to me as a designer," echoes Stroud, "that my clients' homes reflect them."
And so they got to work. Acme Floor Co. bleached the dark, red-oak floors to a pleasingly pale hue and then topped them off with a matte finish, making a dog-friendly environment for Stiegel, the blonde lab, and Duke, the rescue dog. Walls went white, Snowbound from Sherwin-Williams. And contemporary lighting from Visual Comfort sparkled overhead.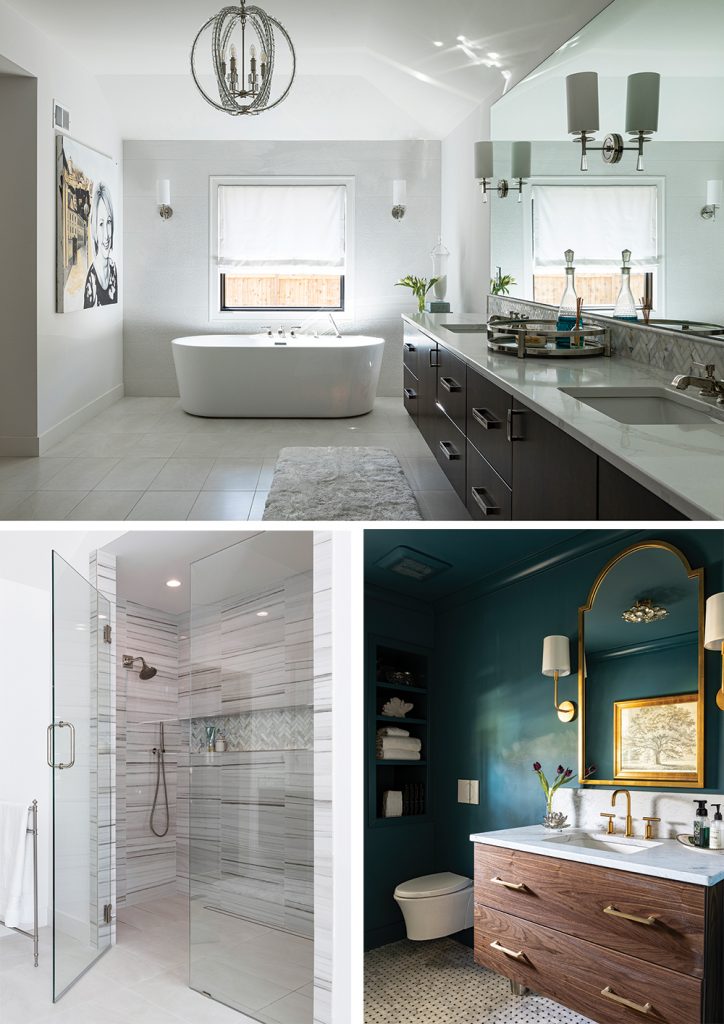 Today, the house feels expansive, and you see immediately the stately tree that won the couple over. In the library to the left of the foyer, a comfy club chair and ottoman offer a spot for the wife to curl up with a good book. Shelves hold books and keepsakes. A Knole sofa from the previous home sports teal blue velvet upholstery.
The Siberian elm for the dining room's sinuous table from KC Hardwoods was harvested locally. Nearby is a striking black-and-white photograph of a horse that was one of the couple's first purchases for their new home. "We both loved it," says the physician.
In the living room, two emerald-green swivel chairs can face toward the see-through fireplace that the husband helped design or swivel to the stately tree in the backyard. "My husband loves to drink his coffee here in the morning," the wife says. A sculptural black wingback chair and silver-leafed occasional tables set the stage for a black-paint-on-aluminum etching of a swan feather by Mitchell Lonas.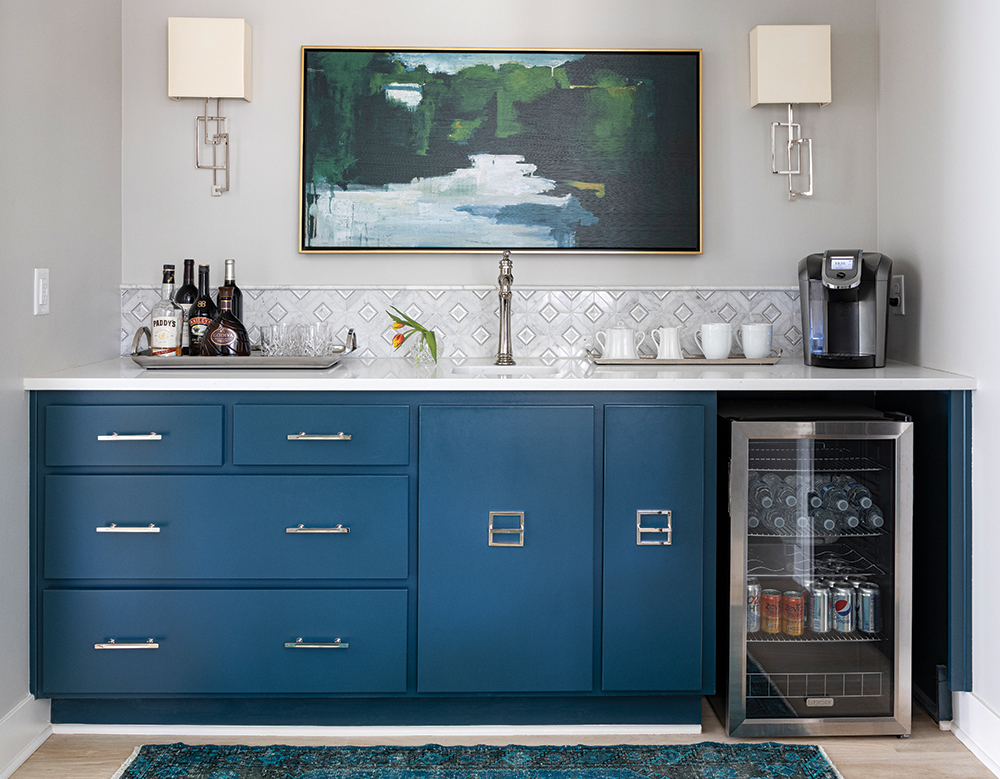 The new addition is the master bedroom retreat, complete with a deep blue bar area for morning java or a nightcap. The master bath features a soaker tub, made even more glamorous against a wall of iridescent tile and a portrait of the wife done by her nephew, Kansas City artist Spenser Albertsen.
Now, when the physician comes home from a hectic day, she thinks, "I cannot believe I live here."
A lifestyle, reimagined. 
---
The It List
Builder
Koehler Building Company
Interior Design
Stephanie Stroud Interiors
Framing
Prairiebrooke Art Gallery