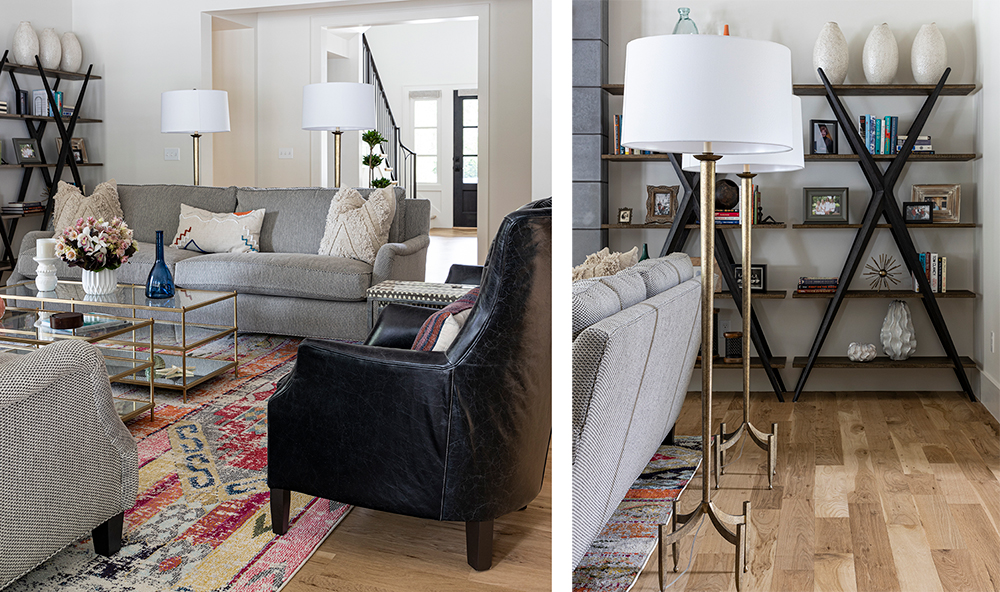 The Thiede home is one of four houses featured in Renovation Sensation, a benefit for the Shawnee Mission East Share program, Wednesday, September 25 from 10 a.m. – 7 p.m.
Dean Thiede was looking for a new home for himself and his four daughters when he came across a home that was mid-construction in Prairie Village. While the number of decisions that would need to be made might have seemed daunting, he put together a strong team to help him create a comfortable new place for his family.
"I really wanted a fresh start for my kids," says Thiede, whose youngest daughter is in high school. "I wanted a place where they would want to bring their friends, and I wanted the girls to have a chance to design their rooms the way they wanted."
Thiede enlisted local designer Valerie Brandmeyer to help him take the house—which was just in the framing stage when they started—and make it a comfortable and livable home. "We started with the idea of making a more traditional, framed house and giving it a modern, easy-living feel for Dean and his daughters," Brandmeyer says.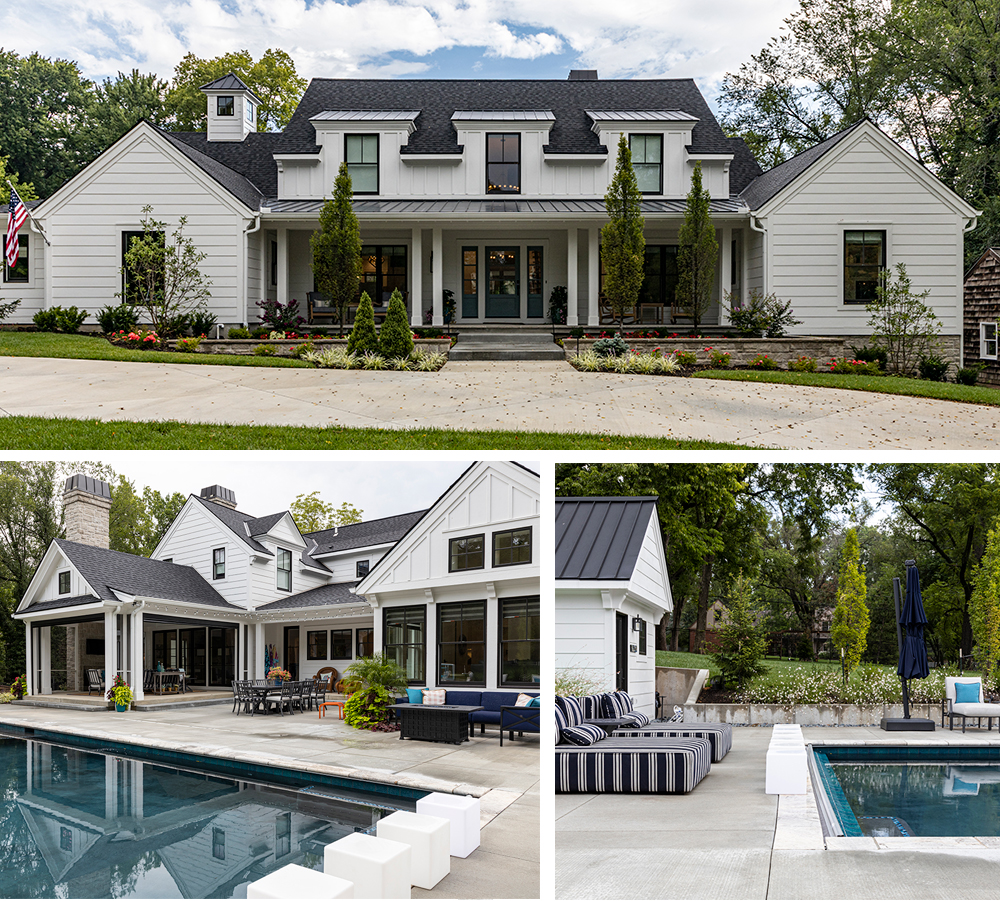 When she came on board, the framing was in place and the window-trim colors and the plumbing fixtures were already selected. The first major decisions were determining some of the outside elements. "We started with the layout of the siding and then chose a paint color. I think we tried about ten different whites. I wanted it to be perfect and I think we nailed it!" she says of the Snowbound by Sherwin Williams.
Once the outside was settled, Brandmeyer helped the Thiedes decide what they were going to keep and determine the style they wanted. "This was more than just help with decorating," she says. "This was helping Dean create his dream home."
Once she knew that the family wanted the house to have a modern feel, but also to be timeless and fun, Brandmeyer worked with Thiede on the foundations. "They wanted a natural look on the floors, which took a little while to nail down," Brandmeyer says. "They chose a natural finish, which can pose some issues with temperature and moisture changes, but I really think the floors turned out gorgeous and inviting."
She was also careful to get the lighting right. "We spent a lot of time giving the home the energy and lighting it deserved," Brandmeyer says. "I'm pretty sure we changed lightbulbs in the house three times to get the exact hue on everything in the space."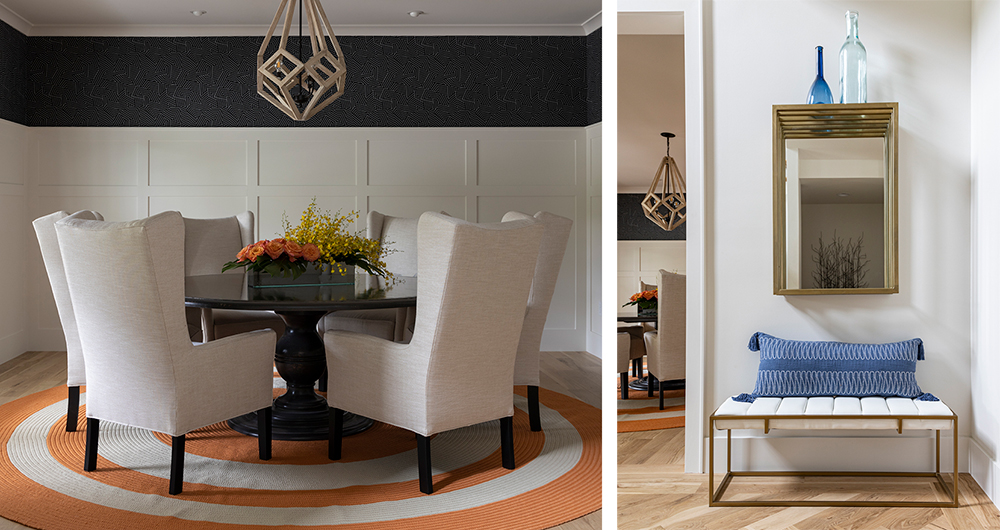 The bright two-story entry immediately creates a welcoming and open feel. The nearby dining room features traditional wainscoting—which looks anything but stuffy—deep wing chairs, and an orange-and-white circular rug that makes it clear that the house is about comfort and liveliness.
Just beyond, the family room is flooded with natural light. With its deep sofas, fireplace and TV, it's an easy, comfortable spot to gather with friends or stay home and relax.
"This was more than just help with decorating. This was helping Dean create his dream home."

— Valerie Brandmeyer
The kitchen is a cook's dream with ample work space, state-of-the-art appliances, and great light. While a fan of gas cooktops, Thiede has made the switch to induction. "The Le Creuset induction is really beautiful and I liked the clean look of it," he says. "I also like that you can put it on the turbo setting and boil water super-fast."
Thiede is not alone in his culinary pursuits. "A couple of my daughters have gotten interested in cooking," he says. "They'll even make a run to Whole Foods and take over dinner."

The kitchen and family room overlook the pool and patio, where the family is finding that they are spending a lot of their time. "The outdoor space was a top priority for them," Brandmeyer says. "We planned the pool first, then designed the furniture scheme to enhance that."
"The kids have friends over and hang out," Thiede says. "It's really become our outdoor family room."
The first-floor master enjoys the same flood of light as the rest of the house. Neutral tones with accents of crisp black and white reflect the updated traditional aesthetic of the living spaces, while enhancing this private suite.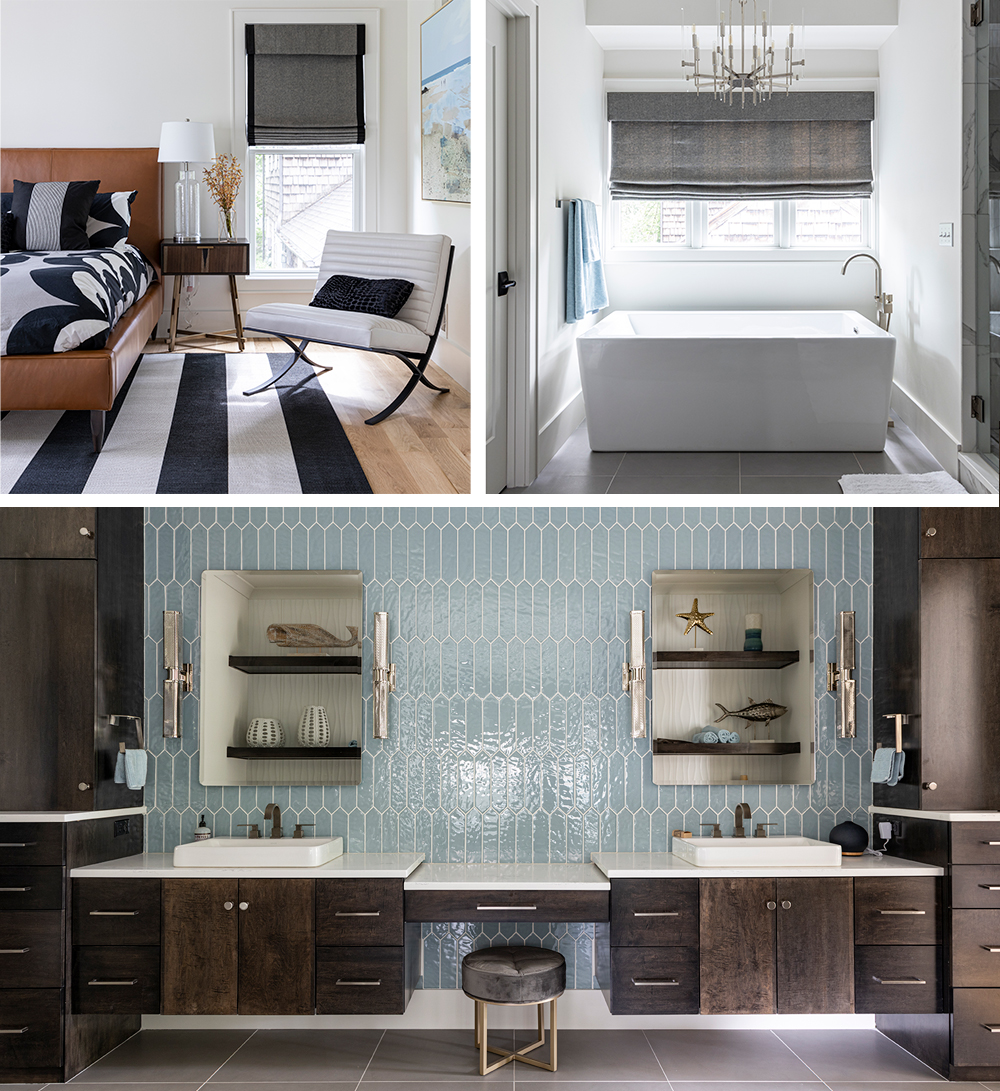 Brandmeyer understood that the family wanted a home that would stay solid through changing trends. This influenced her suggestions for tile and lighting. In the girls' bedrooms, however, she let them express who they are now. "They picked their own wallpapers and bedding and their personalities really came through," she says. "But those things can be easily replaced if their tastes change."
Brandmeyer and Thiede have created a home that is both beautiful and livable. "This project wasn't at all stressful or difficult," Brandmeyer says. "Even with two dogs and four daughters and a tight deadline, we just worked hard and made it happen. It was fun, and it's going to be really fun for them to live in!"
---
The It List
Architect
Wendlandt & Stallbaumer Architects
Flowers
Studio Dan Meiners
Interior Design
Valerie Brandmeyer Design: 913-244-8332