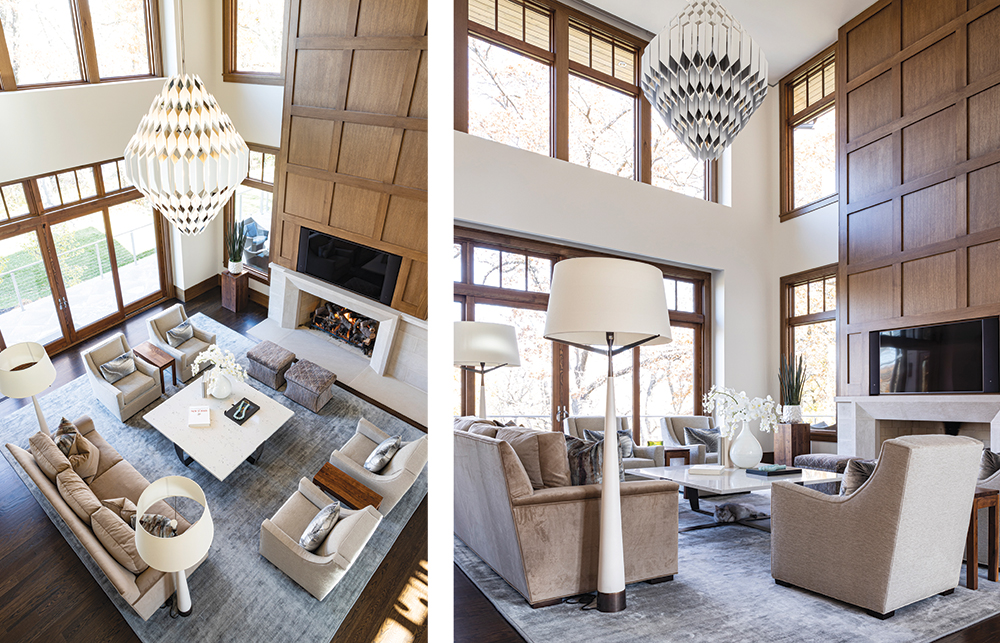 As soon as you walk in this Mission Hills home, the graceful silhouette of a baby grand piano draws your eye onwards. Behind it hangs a contemporary painting by Mako Fujimura done in the ancient Japanese style of nihonga, a process of layering precious minerals such as azurite and malachite on rice paper. "I commissioned this work," says the owner, a local businessman, "because it's about celebrating beauty."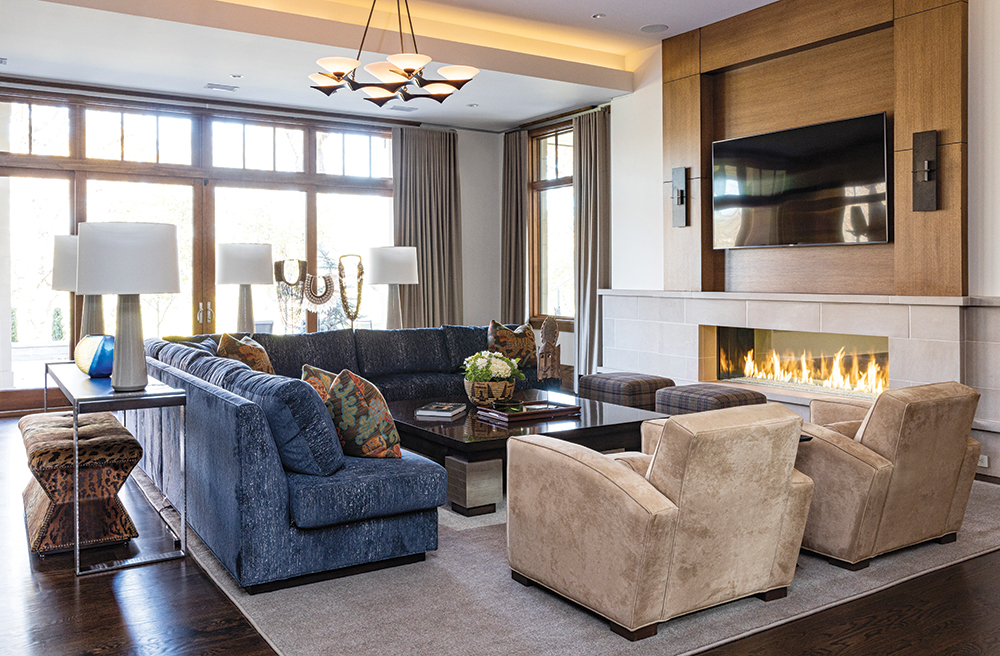 This treetop aerie is also about celebrating a dream team of talent: Rick Jones of NSPJ Architects, Rick and Brett Standard of RM Standard Construction, and interior designer Mark Sudermann. "I was like a kid in a candy store working with them," the homeowner says.
"Please tell me what the land calls for," the homeowner first asked of architect Jones. The site atop a leafy hillside with a stream running below promised panoramic views. The resulting three-story home's prairie modern style, both inside and out, evokes earth, air, and sky.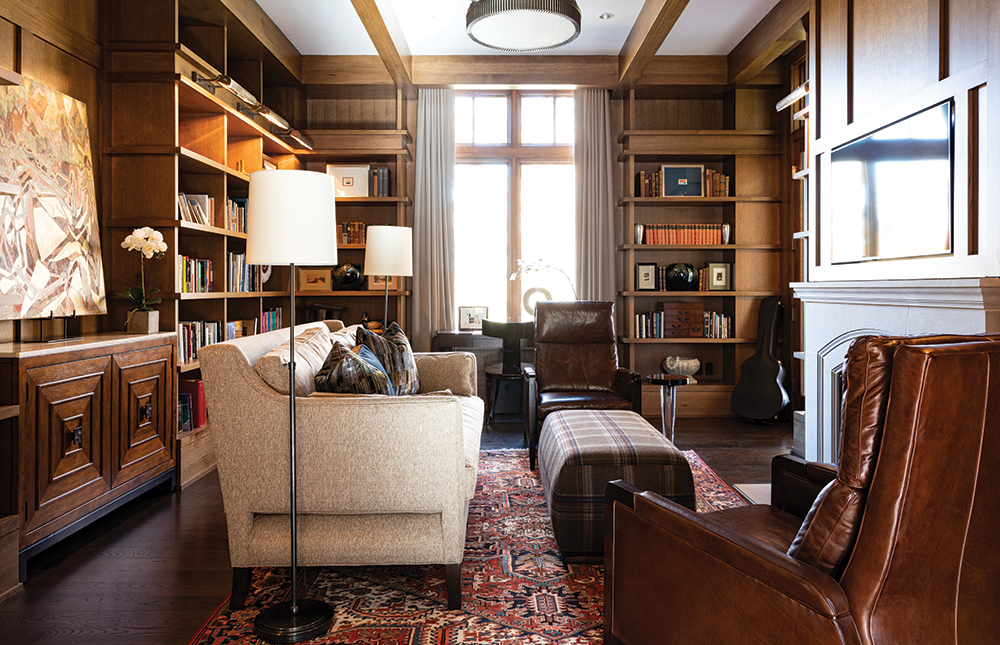 And the homeowner had his own wish list. "I wanted a quiet beauty. And light is very important," he says.
Rift-sawn oak, limestone, glass, and contemporary lighting are featured throughout the house for a seamless, integral look. "It has been a wonderful collaboration," says designer Sudermann, who was brought into the project early on.
"I like to get to know the client first, then push the envelope, push their vision, otherwise why hire an interior designer?" Sudermann says. "The client wanted open and airy, warm, modern, clean and uncluttered. We added so many quiet details. For example, there's a metal channel where the wall meets the ceiling instead of crown molding. I designed the limestone wall in the dining room so there are little projections of stone for votive candles. The wall seems to glow at night. The draperies are a warm, soft wool. We brought in sky blues in some upholstery and cushions. I want you to be able to throw pillows in the air and wherever they land, they work."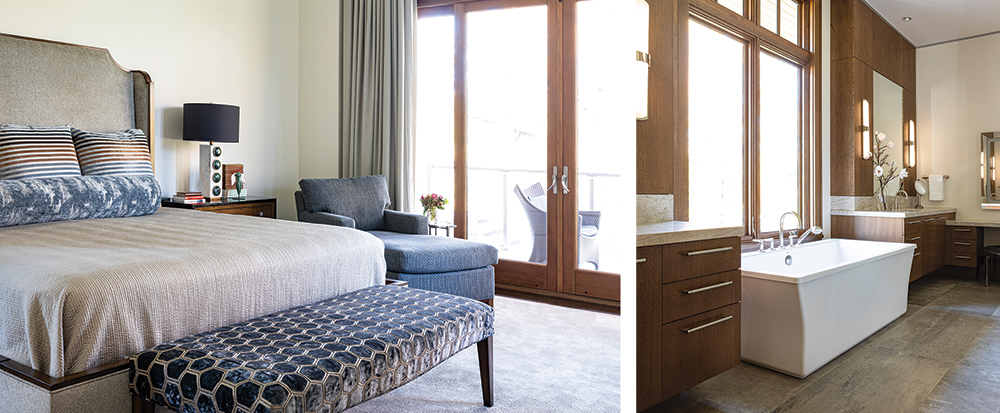 The principal suite on the ground floor also has its own quiet details. You enter this wing via a cozy bookcase-lined study through to the bedroom, which has its own private deck. "In a house with soaring spaces, you need somewhere to feel like a retreat," says Sudermann.
The guest room on an upper floor redefines the idea of "window seat." It offers an alcove sitting area to take advantage of the view, which can be curtained off in the evening for privacy. "A guest could also wake up in the morning and see the view first thing," says Sudermann.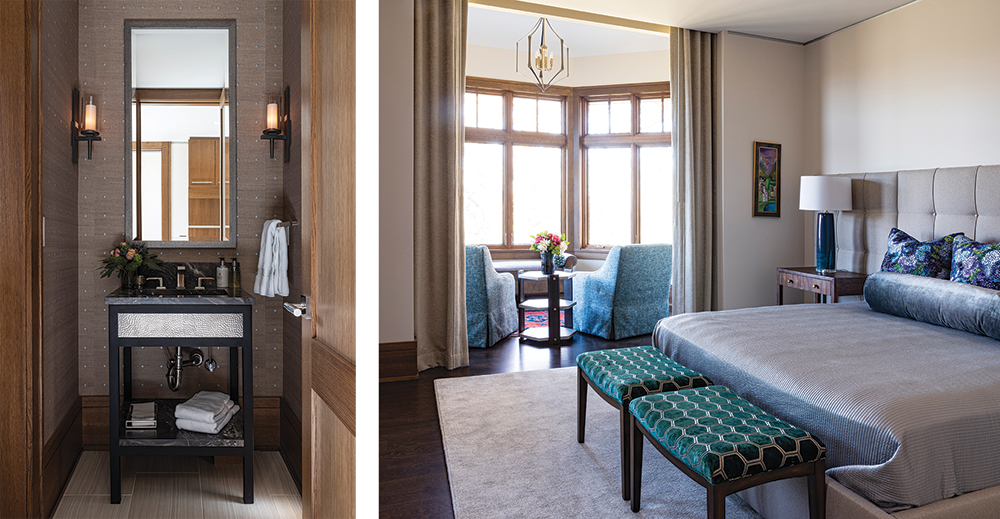 While tall windows bathe the rooms with light during the day, coordinated contemporary lighting adds nighttime sparkle. "When I presented my lighting plan, everyone was very happy," says Sudermann. Polished, sophisticated, and sometimes whimsical, the lighting fixtures also mimic elements of candlelight, starshine, and the glow of reflected planets in the night sky.
The contemporary stairway in wood and metal soars the full three stories, letting the light flow through each level. A pendant light fixture that looks like a string of bubbles illuminates the space. "To get the lighting just right, I had to stand on scaffolding for three hours to figure out how and where to install it," recalls Sudermann.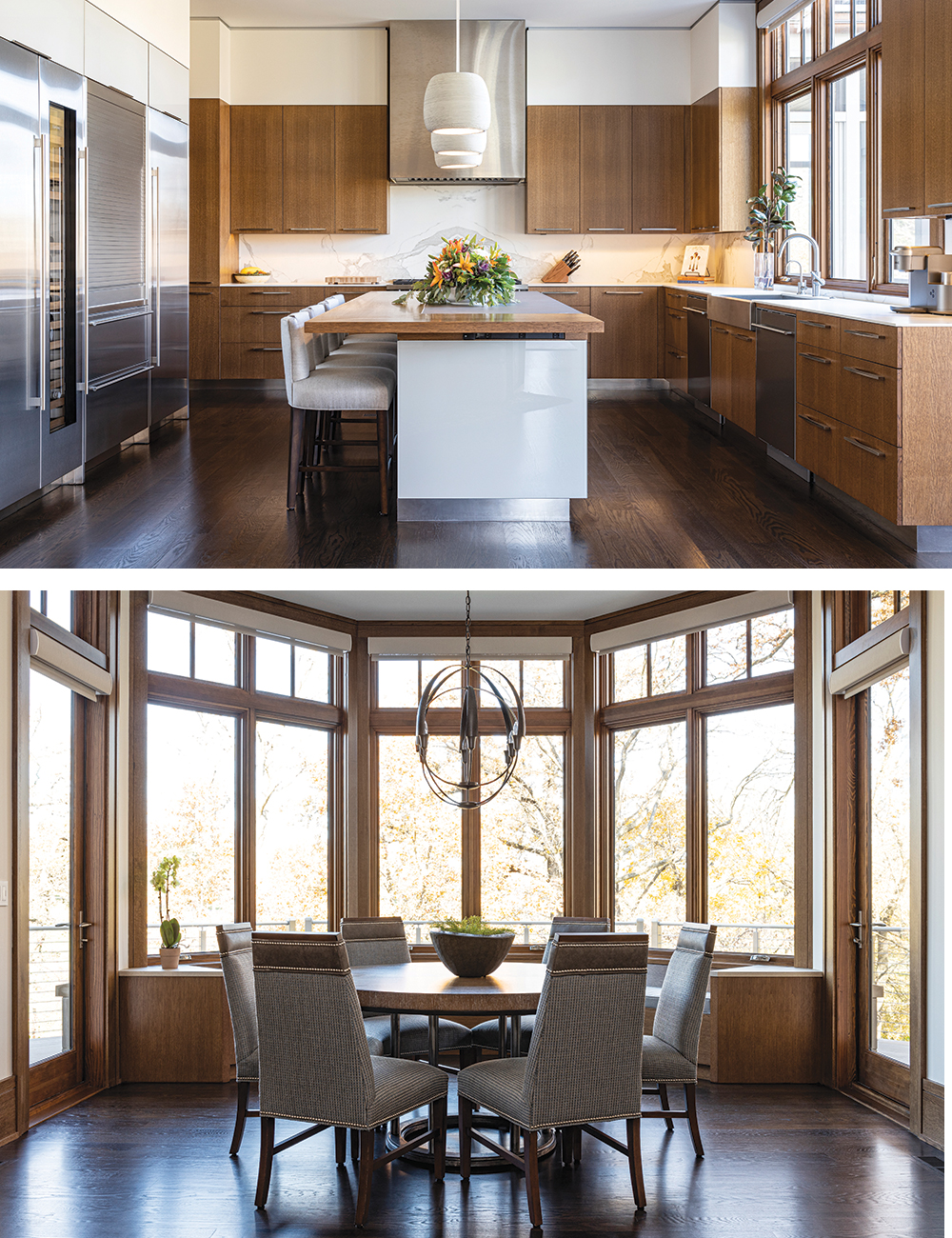 In the kitchen, rift-oak cabinets, stone counters, and a stainless-steel wall of appliances combine for a clutter-free, streamlined space.
Some of the homeowner's favorite moments happen on the private deck outside the master bedroom. "I have my coffee in the morning and do a little reading and when I get home at night, I enjoy a glass of wine there," he says.
But the real pleasure comes when he walks in the door at night. "As soon as I come in, this house soothes my soul," he says.
---
The It List
Architect
NSPJ Architects
Construction
RM Standard Construction
Interior Design
M. Sudermann Interior Design
Flowers
The Little Flower Shop