Sponsored content: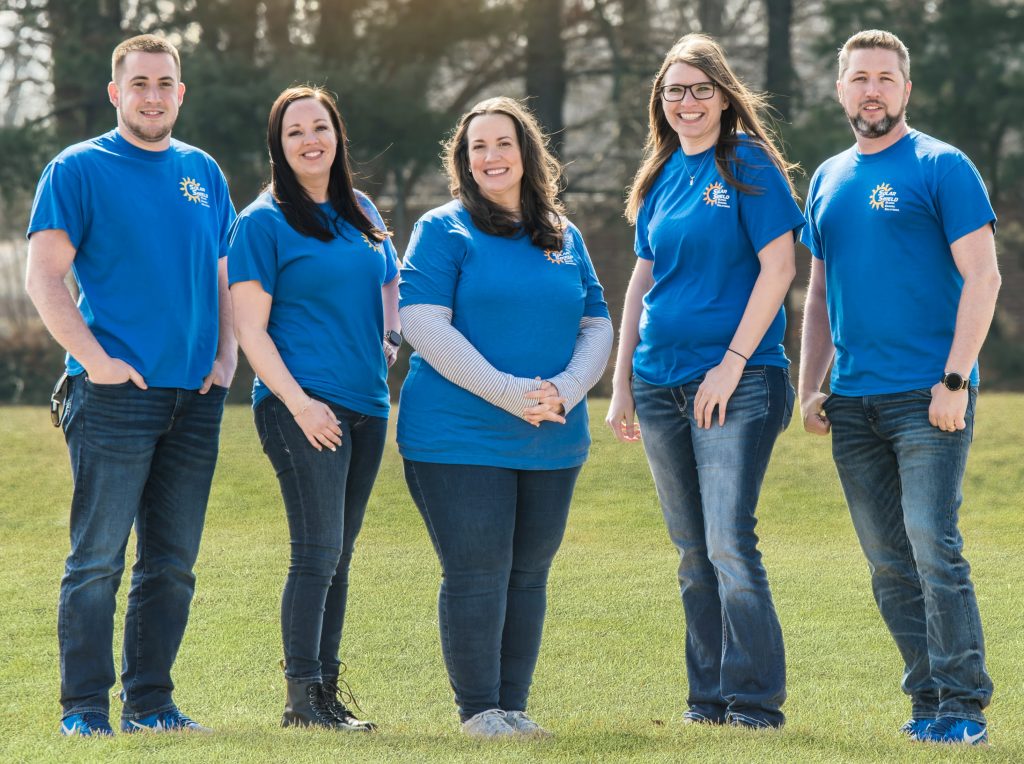 For the record, Tim Sanders says there's absolutely no window shade predicament he isn't willing to tackle. "If there's a problem, we've got a solution," he says. "In fact, it's in the name of our business—Solar Shield Blind Shade Solutions."
For over 15 years, Sanders says his full-service window shade company has thrived taking on projects that make other designers shutter, er, shudder. "We do any sort of custom blind, shade, or shutter," he says. "One memorable client had an octagon window with arches. We were able to create a plantation shutter on the window that perfectly matched its curves. It's problem solving—over and over."

Sanders and his team got their start in Peoria, Illinois, but a few years ago decided they wanted to venture into another market. Kansas City wasn't initially on the radar of Sanders and his wife, Denise, but, after ample research, the city quickly moved up their shortlist. In June of 2018, the company set up shop here without much of a safety net. "We landed here with zero foundation. No friends, no family, no network," he says. "We took our business processes and best practices that were in place and that helped us become very successful."

Streamlined Customer Service
Sanders says when it comes to choosing a specific window treatment, rarely do clients know exactly what they want. "Most times they point out areas that need help and then we get down to the nitty gritty," he says. "We assess the situation and help them figure out what would work. We're functional first and design second."
Solar Shield Blind Shade Solutions is not brand specific. Instead, they work with a variety of manufacturers. "We always suggest the brand after we figure out our clients' needs," he says. "Our customers mention how helpful we are with creating solutions and we're very proud of that little fact."
And because Sanders is often on-site, he's the first to ensure one-on-one customer service and satisfaction. "Our whole process is streamlined—right down to ordering. We have online scheduling. Quotes are done on tablets. Pricing is done on the spot," he says. "We help customers fit their budget and meet their goals. Because we're a small company, we handle our customers individually. It gives us an edge, but we are the future of how people want to do business."

Busier Than Ever
A year ago, Sanders and his team watched as the world shut down over Covid concerns. "We cautiously started working with customers wearing masks, gloves—making sure they felt comfortable," he says. "As the dust settled last summer, a lot of people were working from home offices they never made functional." The company was barraged with clients desperate for assistance. "We had tons of customers who had privacy issues, sun issues, sound absorption issues."
A year later and business is still booming—mostly with customers who started doing much-needed renovations on their homes. "We're jumping in on a lot of remodel projects—mainly because lots of people continue to work from home," he says.
Sanders says many office workers found themselves stymied at their houses. "A lot of people were not at home during work hours—so they never knew how the sun affected their house," he says. "Some needed to transform a spare bedroom into an office. Others needed light control or even noise absorption." The main request Sanders gets time and time again? "Reduction of kid noise," he says with a chuckle.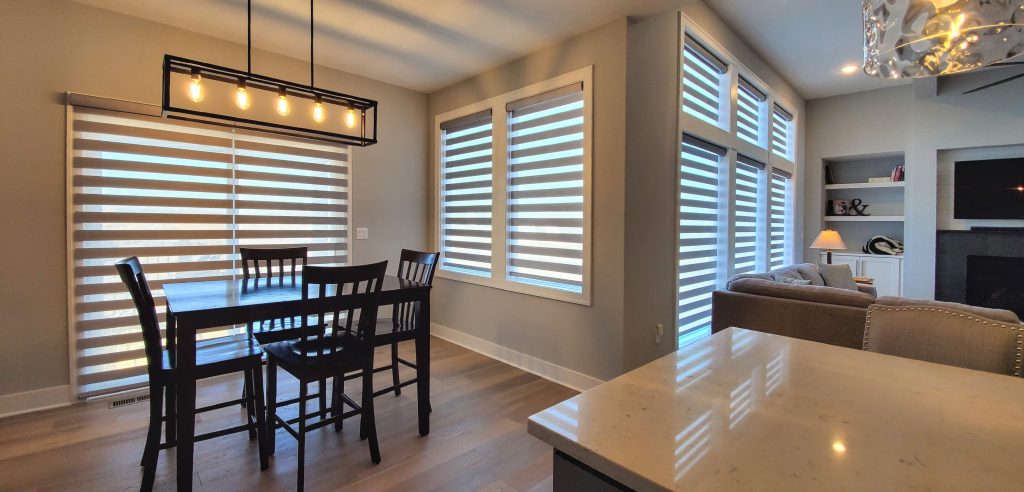 Automatic For The People
Between Illinois and Missouri, the company has eight employees—each well-versed to help create the perfect plan for your windows. It comes in handy because Sanders says his team prides itself on its personalized, enthusiastic customer service. "People always ask me, 'How long have you been doing this?' We always like to engage with our customers. We're connected with them and they are comfortable with us."
Busy design techs point out how popular some of the new motorized and automated shades have become. "Thanks to Alexa, Google, and Siri, now your shades can raise and lower by themselves from sunrise to sunset," says Sanders. "Clients want a shade schedule at certain times of the day to protect from excess heat. These integrated, motorized systems are getting more popular—and now there's a myriad of products from which customers can choose."

With summer looming, the Solar Shield Blind Shade Solutions squad has also been busy installing outdoor patio shades. "There's been a big uptick in patio shades," he says. "They take a hot, windy porch and converts it to an area with shade protection, bug protection, and wind protection. Now those outdoor living spaces can be lived in."
Want to know more? Chat with a consultant? Sanders says they're eager to help. Call them at 816-479-0160 or click here to schedule an appointment. Follow them on Facebook here.