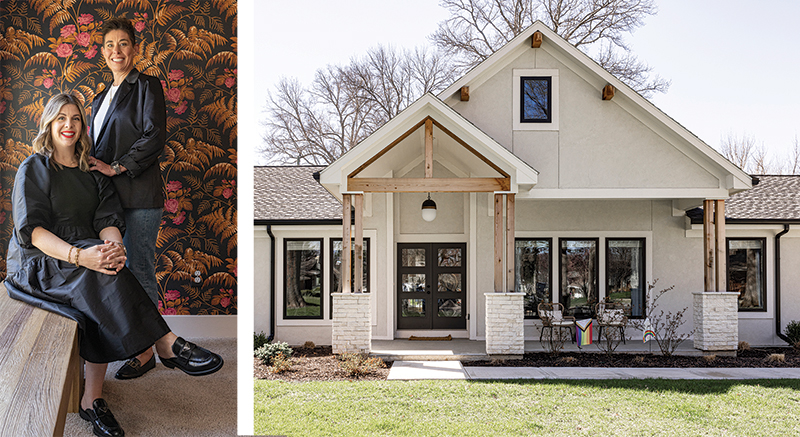 As Annie and Carrie Chadwick were planning their wedding, they wanted to create a home together for the next chapter of their lives. Even the onslaught of the pandemic did not deter them.
"We loved our previous house, which Nest designed," Carrie says. "But we have two growing boys and two dogs, and we were feeling the crunch of a smaller home. Room to grow was a top priority."
While the ranch style of their Old Leawood home was working for them, as they contemplated what they wanted next, they knew it was something different than the new builds that they had seen nearby. Then, their friend, neighbor, and real estate broker, Melissa Hills, secured a showing for what looked like a perfect house right when it hit the market.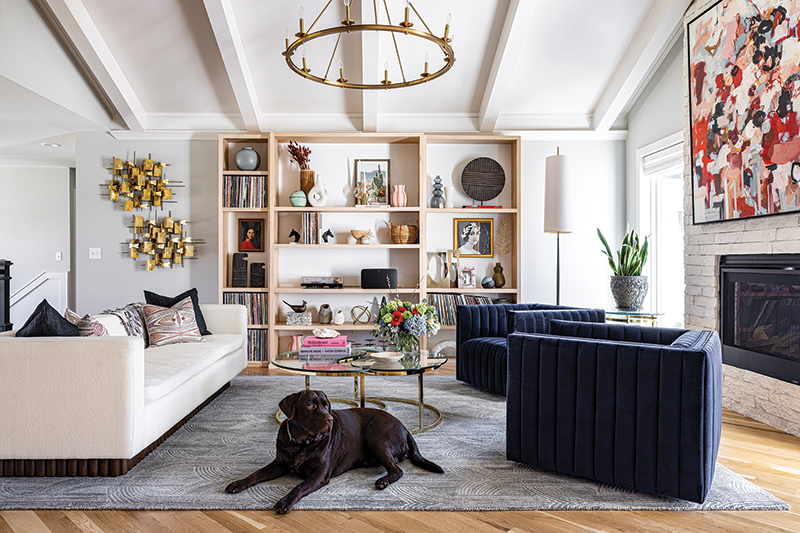 "The house is so unbelievably unique," Annie says.
"It has a modern, timeless, classic vibe that made us feel this house was built for us," Carrie adds.
That is when the fun began. The previous owners had maintained the integrity of the midcentury modern, so the couple just needed to make it their own. "We have a great history with Kat and Katy from Nest," Annie says. "They know that when we come home from a long day at work, we want to feel cocooned in a stylish coziness that doesn't take itself too seriously."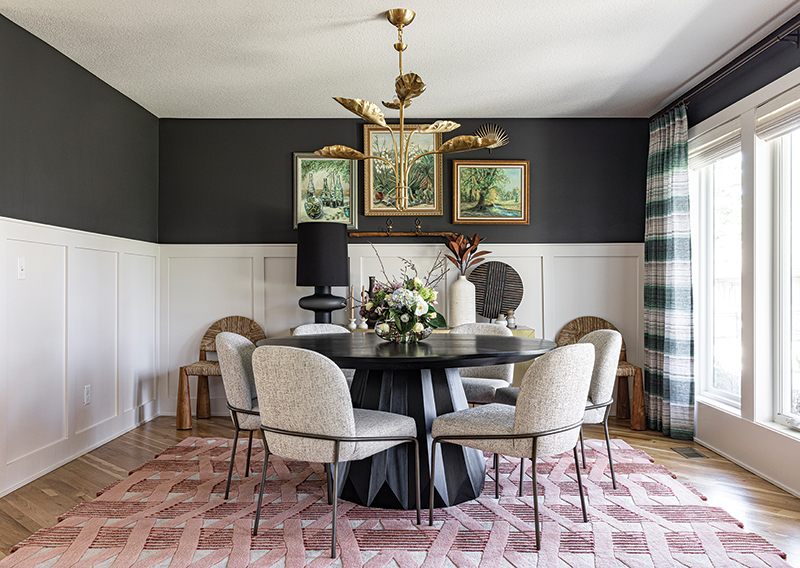 Annie had worked with Kat Benson and Katy Cassaw of Nest Interiors for years. It was easy for the team of four to determine priorities and develop a plan. "We knew Annie had a kind of California bohemian aesthetic," Kat says. "But we didn't know Carrie as well. So, we got to learn about what she likes, which is more of a clean, modern style. Fortunately, they both love a vintage vibe, so we tried to play that up."
Ultimately, what the designers wanted to do was create an interior that was a little different, unique, and foremost, a reflection of its owners. While that meant new purchases, they didn't want to discard the great furniture that the couple already owned. They decided to use some of those pieces in the finished basement. This provided a clean slate for the main level and the bedrooms.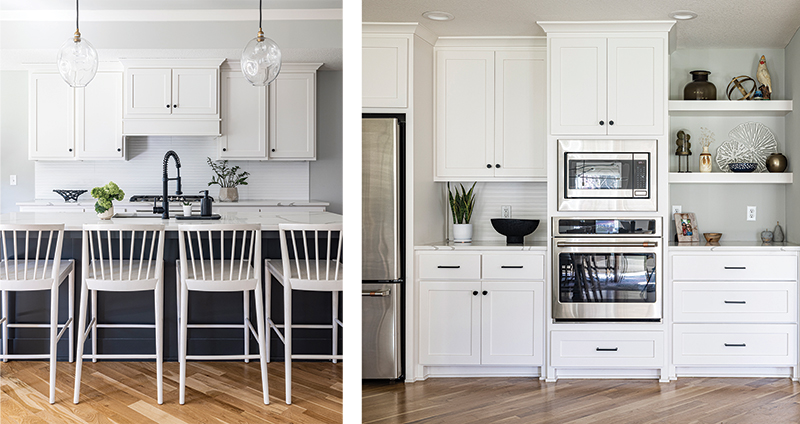 Benson and Cassaw knew that a family with young children and dogs needed furniture and rugs that were durable, while still being beautiful. Also, they knew the Chadwicks are not afraid of bold colors and prints. They love wallpaper. And they trusted their designers.
"We trust their creativity and vision explicitly," Annie says. "Generally, we give an overall feeling for what we are looking for and let them run with it. We're always completely bulldozed by the genius of their concepts."
The respect is mutual.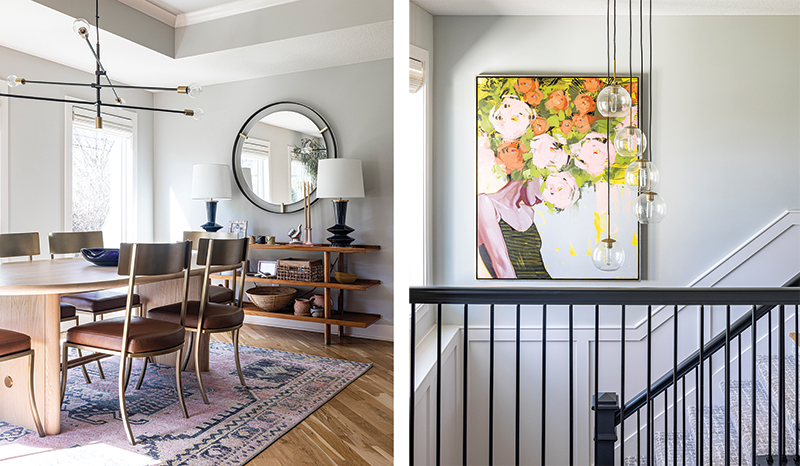 "We didn't have to sacrifice the vibe we wanted," Cassaw says. "They like high design, and they're not afraid to take chances with materials just because they have kids and dogs, which is fun. It lets us push the envelope a little bit."
Still, a lot of the materials are very durable and easy to clean. The white living room sofa is covered in a performance fabric, though it loses none of its style.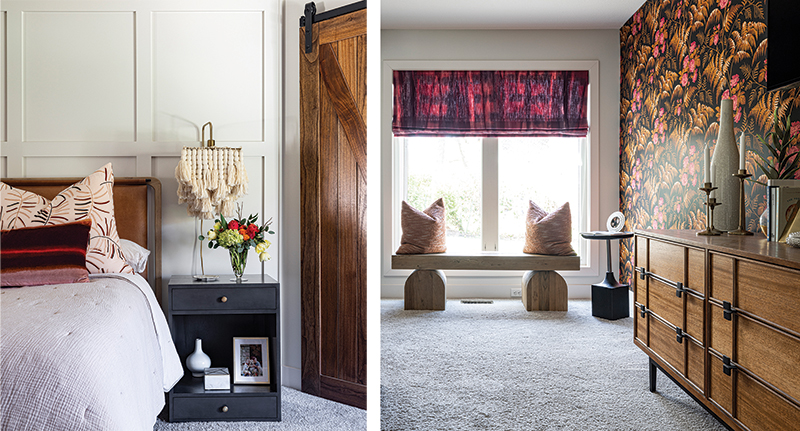 While Benson and Cassaw helped with furniture and accessory selection, Annie and Carrie looked for art. "Art is important to us," Carrie says. "All of the pieces in this house have moved and inspired us. We've purposely chosen female artists to support women in the arts."
"That is something they really love to do together," Cassaw says.
The couple also has a passion for vinyl—records, that is.
"We had our contractor construct the built-ins in the living room specifically to accommodate the record player and albums," Cassaw says.
Despite everyone being on the same page, it was still a pandemic. Back orders and delays were common.  "It was definitely a long process," Benson says. "It took almost two years to complete. We did multiple mini-installs, but they were just great about it."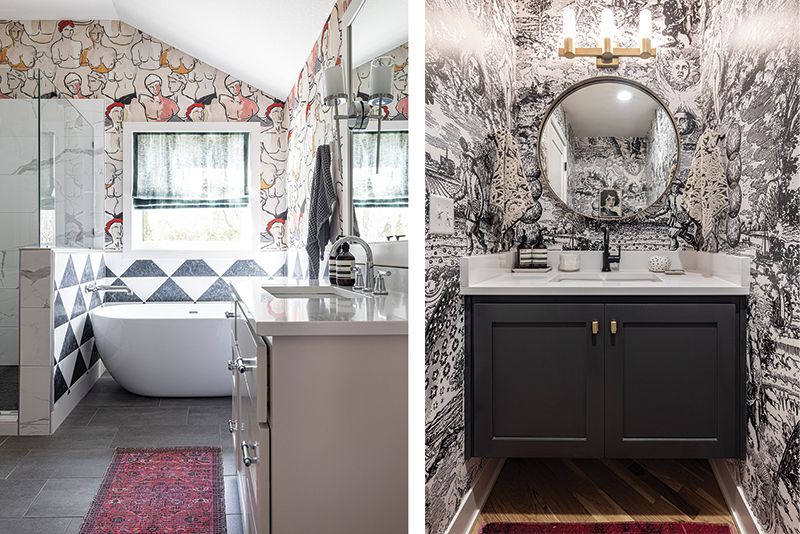 "Some things are really worth the wait if they are special enough," Cassaw says.
"Yes," Benson agrees. "The powder-room wallpaper was back ordered forever. We considered switching to something else, but ultimately, we waited. That was the last piece of the puzzle, and it was worth it. It's great."
The Chadwicks concur.
"Holy smokes, that space is one of our favorites in the house," Carrie says.
But not the only one.
"Relaxing fireside in the great room while listening to albums and drinking martinis is probably one of the best moments we share in this house," Annie says.
---
The IT List
Floral Design
Randy Neal Floral Design
Interior Design
Nest Interiors
Art
Blue Gallery