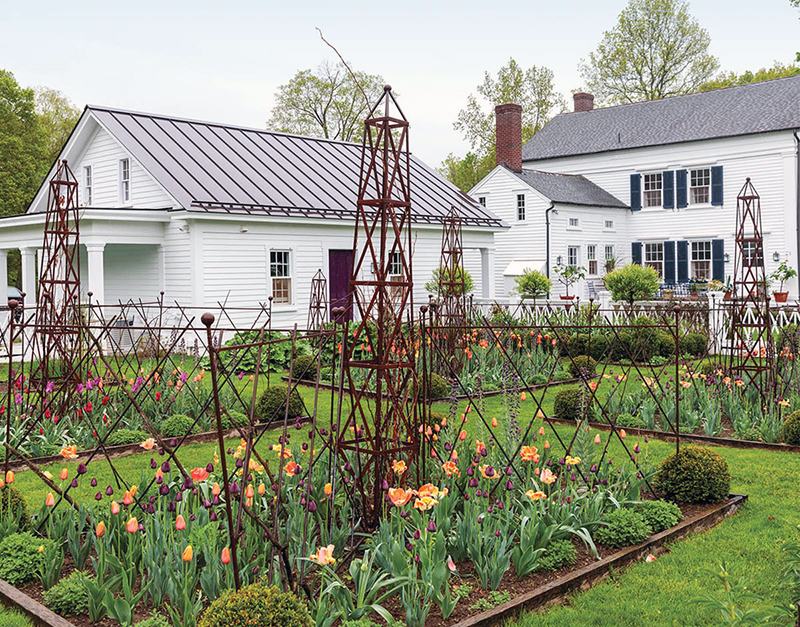 In the design world, Christopher Spitzmiller is best known for his ceramic lamps with gem-like glazes that grace the tables of homes designed by the best designers in the business. These jewels have had a supporting role in images of the Oval Office for the last three administrations.
But Spitzmiller is not all work and no play. As a way to escape the frenetic energy of New York City, where he keeps main residence and studio, he purchased Clove Brook Farm in upstate New York and has been lovingly restoring and enhancing the property in a thoughtful and engaging way.
It was not an overnight transformation, but a slow and steady process of updating the house, plotting the magnificent gardens, designing the pool and pool house. Spitzmiller shares his story in his new book, A Year at Clove Brook Farm – Gardening, Tending Flocks, Keeping Bees, Collecting Antiques and Entertaining Friends. Lacking bravado, Spitzmiller shares his intention, his second guessing, and the gracious results. This book is a don't-miss for traditional design lovers and those who believe an escape outside the city and their regular life may be the answer to everything.