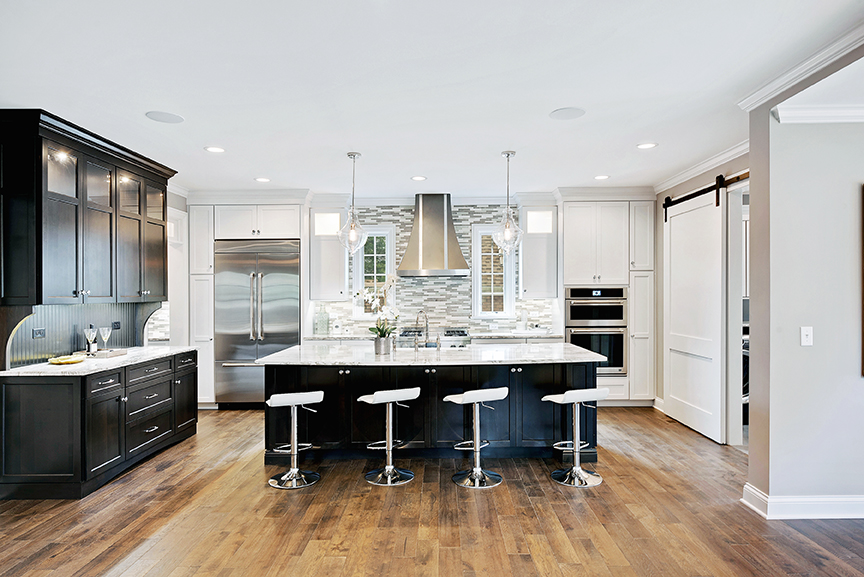 Sponsored content:
The temperatures are dropping, and the leaves are falling—and that means it's time to look ahead to the new year for interior design inspiration and guidance. 
Karin Ross, owner of Karin Ross Designs, keeps a careful eye on trend forecasts as part of her annual commitment to industry education. Given her eastern European roots, Ross is often ahead of the trends that begin overseas and eventually arrive stateside. She's also developed a deft understanding of her clients, dismissing trends that she knows won't be a fit in favor of ideas that spark and nurture a client's creativity. 
How would you update your kitchen? Peruse the following tips and let yourself be excited by what's possible. 
Top 10 Kitchen Design Trends in 2022
1. Commitment to custom: This is an exciting time to embrace your creativity and personal style. Instead of flipping through a magazine or catalog and replicating a full kitchen layout down to the last detail, Ross says the goal is to create a vision from multiple sources of inspiration—a swatch here, a photo there, scenes from a favorite travel destination—whatever you love can be reflected in this space that so many agree is the heart of the home. 
2. High contrast: In line with the focus on custom creations, Ross says contrast is more important than ever. Think contrasting colors, patterns, materials (even flooring). If you've ever considered yourself a bit of a rebel—or are ready to break some rules—this moment is for you.
"It's time to break some taboos," Ross says. "We're not going to shy away from strong pops of color or mixing metals. It's all about achieving a necessary contrast that feels rich and elegant but also embodies what the client wants."
3. Prioritize pendants: Ross has long been a fan of eye-catching lighting and says that pendant lighting is one of the most effective ways to add drama and style to your kitchen. Her preferred combination is oversized pendant lighting above a kitchen island. Don't worry too much about the lighting in the rest of your home. Sure, it's best for your lighting in other rooms to coordinate, but now, more than ever, clients are urged to express themselves in unexpected ways. 
4. Unleash your pantry: Those of you who can't live without your walk-in pantry might want to take a seat and steady yourself. As you take a hard look at your kitchen and really assess your space, it's likely that your walk-in pantry is actually decreasing your kitchen's form and function. 
"Walk-in pantries aren't as helpful as they originally seemed," Ross says. "No matter how organized you keep it, it's difficult to see everything and you lose a lot of space that could be reincorporated into your kitchen."
Ross's preference? Open up the walk-in pantry and add functionality with more cabinets and counter space. Not only will you increase your kitchen's efficiency; you'll make it seem much bigger with only a minor change to the room's layout. 
5. Return of the butler's pantry: How about this idea for your newly opened pantry? Ross says the butler's pantry is in the midst of a revival. And instead of tucking this useful combination of cabinetry and counter space in a hidden area between the kitchen and dining room, Ross recommends making the functional area a focal point.
"A butler's pantry gives you control and visibility and doesn't need to be a hidden space," she says. "Instead, we want to emphasize and bring attention to an area that offers such versatile uses."
6. A new Golden Age: Mixed metals continue to be a popular choice to add both contrast and polish to any kitchen layout. Gone are the traditional brassy gold hues that were once so prevalent. Instead, opt for updated champagne or gold tones that add warmth and a touch of modern flair. 
7. Two islands are better than one: The kitchen island isn't going anywhere—and in fact, Ross says trend forecasts continue to point to the popularity of double kitchen islands. Ross is a fan because double islands add versatile surfaces to the kitchen that can easily transition from meal prep space to a gathering area. Multi-faceted fixtures like kitchen islands can reduce your need for more furniture, which makes your space feel larger. 
8. Wood adds warmth: In continuing the emphasis on high-contrast kitchens, Ross says rich, warm woods like cherry and walnut are becoming go-to options. The key is to identify ways to let the wood really shine as a focal point: an oven hood, for example, or as part of a kitchen island. That way, you get the striking visual effect of the wood without having to use as much. 
9. Subway (tile) has left the station: The traditional subway tile that we all know and love is being replaced with new looks and applications, including irregular shapes that create a more dramatic backsplash. Choose tile that's glossy and rich in color or matte with an industrial appeal, depending on your particular aesthetic. And if you decide you want to mix things up in a few years? A backsplash is a relatively easy area to update. 
10. The enduring appeal of white: As you consider contrast, creativity and customization, rest assured that white kitchen elements—walls, cabinetry, etc.—are less trendy and more timeless. Instead of opting for an all-white kitchen, look for opportunities to add bold, dramatic elements that stand out even more when paired with neutral surroundings. 
Now that the ideas are flowing, reach out to Karin Ross to schedule a consultation. Is this the year you finally give yourself the ultimate gift of a dream kitchen? Let yourself imagine what's possible. Ross and her team can make it happen.