If you're still revved up and rarin' to go after Thanksgiving and/or Black Friday shenanigans, we've got a few things up our sleeve for you to checkout this weekend.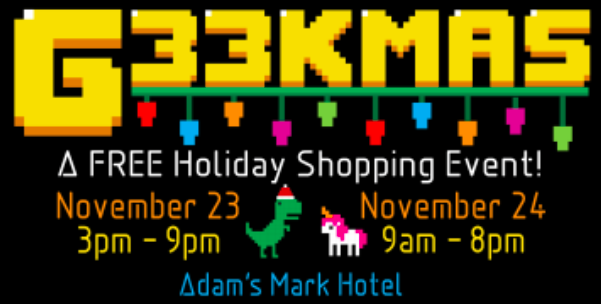 G33KMAS – Geek Holiday Shopping Event – 
Date: Friday November 23, 2018 through Saturday November 24, 2018.
Time: 3:00 p.m. – 8:00 p.m.
Location: Adams Mark Hotel
Address: 9103 E 39th St. Kansas City, MO 64133
Price: Free
Brace yourself, geeks. G33KMAS is coming! It's like a free Comic-Con and geek holiday shopping event all-in-one. Get ready for two days jammed packed with dance performances, a live band, light-saber academies, light-saber battle skits, face painting, photo booth and more! Bring the whole family and stay all day with so much to do. On-site food options available. Cosplay is encouraged. With a wide variety of local geek-centric businesses under one roof, you will find the perfect gift for every nerd on your list.
Small Business Saturday Crawl in Waldo – 
Date: Saturday November 24, 2018
Time: 10:00 a.m. – 4:00 p.m.
Location: Waldo-area merchants.
After the chaos of Black Friday, perhaps you need to slow things down a bit? The Waldo Business Association is hosting a Small Business Saturday Shopping Crawl. Peruse some of the metro's best restaurants, shops, and bars. Visitors can expect a great day of shopping and dining local this holiday season.
Even better? Visitors can earn free Waldo Bucks during the event. Shoppers may start anywhere along the route by picking up a Small Business Saturday Crawl Passport at any participating store. The more you spend, the more "Waldo Bucks" you snag. Shoppers can also be entered for their chance to win Waldo Bucks.
Mozart's Jupiter with Haydn's Trumpet Concerto–
Date: Friday, November 23 – November 25, 2018
Time: 8:00 p.m.
Location: Kauffman Center for the Performing Arts
Address: 1601 Broadway Blvd., Kansas City, MO 64108
Maestro Bernard Labadie returns to the Kansas City Symphony for this sparkling Thanksgiving weekend program. Haydn's Trumpet Concertois the best-known solo trumpet and orchestra work for good reason, overflowing with catchy melodies and featuring our Julian Kaplan, the James B. and Annabel Nutter principal trumpet. Equally stunning is Mozart's final symphony, Jupiter, an extraordinary work with a breathtaking finale. Tickets from $25.
Date: Sunday, November 25th
Time: 10 a.m. – 4 p.m.
Location: Kemper Museum of Contemporary Art
Address: 4420 Warwick Blvd., Kansas City, Missouri 64111
This Sunday, Kemper Museum of Contemporary Art wants you to get your shop on! They'll be joining over 1,000 Museum Stores representing all fifty states, thirteen countries, and four continents will offer relaxing, inspired shopping inside your favorite museums and cultural institutions.
Museum Store Sunday = Unique, often one-of-a-kind products from over fifty local artists in-stock. Kemper Museum of Contemporary Art—if you didn't know—is a destination worth visiting this holiday season for all your gift-giving needs. You'll find a smattering of fabulous jewelry, textiles, ceramics, and glassware, as well as a beautiful selection of art books and materials. Bonus! All purchases made at the shop are tax-free and support the educational mission of Kemper Museum.