You've recovered from New Year's. Now it's time to get back into the swing of things and we've got ideas for your weekend whatnot.
Progressive Insurance Kansas City Boat & Sportshow
Date/Time:   
Thursday, Jan. 9: 2 – 9:00 p.m.
Friday, Jan. 10: Noon – 9 p.m.
Saturday, Jan. 11: 10 a.m. – 9:00 p.m.
Sunday, Jan. 12: 10 a.m. – 5:00 p.m.
Location: H. Roe Bartle Hall
Address: 301 W 13th St., Kansas City, MO
Price: $12 for adult admission; Kids 12 and under are free with paid adult admission
Shop hundreds of the latest boats, outdoor gear, travel deals, and so much more at the best prices of the year, and get a taste of summer with activities and education for all ages and skill levels. Find out more about the show's exhibitors, event highlights, and seminars here: www.kansascitysportshow.com.
Date: Friday, January 10
Time: 7- 8:00 p.m.
Location: Lenexa City Hall
Address: 17101 W. 87th St. Pkwy., Lenexa, KS
Price: Free

Hailing from Kansas City, The Wires are an alternative exploration in string sound. The group performs original music for violin and cello and are inspired by a myriad of genres and eclectic sounds and styles—from tango to gypsy, jazz to rock, and infused with the precision of classical form.
Created, composed, and performed by Laurel Morgan (violin) and Sascha Groschang (cello). Grab a drink or bite to eat from the Lenexa Public Market and come see the show!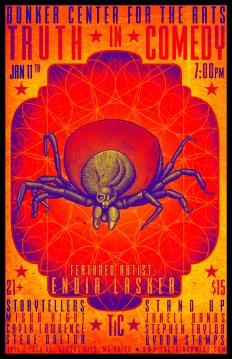 Date: Saturday, January 11
Time: 7- 9:00 pm
Location: The Bunker Center for the Arts
Address: 1014 E 19th St., Kansas City, MO
Price: $15
Truth in Comedy, or TiC for short, is a storytelling, stand-up comedy and art show where humanity is the muse. It's a raw and beautiful experience. Three individuals will tell a very personal story from their life, aka their truth, where they will be very open, honest, and vulnerable.
Afterwards, a comedian will perform a set inspired by the story. At the end of the night, an artist will present a triptych they created inspired by the stories as well. It's a unique experience to see why no matter what humans go through, they can always find something to smile or laugh about.
Date: Saturday, January 11
Time: 7:30 – 9:30 p.m.
Location: MTH Second Stage in Crown Center
Address: 2450 Grand Ave., Suite 301. Kansas City, MO
Price: $20 – $35
The Rude Revue and Burly Q is a modern vaudeville show featuring burlesque and variety acts of all kinds. Every performance is different and can be tailored to a specific venue or audience. From classic to cosplay and fantastic to freaky, the Rude Revue is sure to wow you. Beautiful ladies, clowns, flow artists, sideshow acts, comedians, jugglers, crooners, and more!
This is not your Grandma's night out (unless your Grandma is awesome). The Rude Revue and Burly Q has been known to spontaneously combust children and make adults 18 and over very happy. These two symptoms are unrelated—but just to be safe, please leave the kiddos at home.